Photo: Motherboard Staff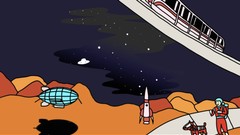 Moveable explores the future of transportation, infrastructure, energy, and cities.
In October, SEPTA, the Philadelphia-area transit agency, replaced benches in two transit hubs with a different kind of design. The 25 new "benches" had seats at severe angles, without a back, mounted at the top of three poles. These modified benches are called, for obvious reasons, "leaners."
At the time of their installation in the 69th Street and Frankford Transportation Centers, the pilot program received little attention. This is likely because it was launched in the middle of the pandemic, when transit ridership was at an all-time low, and perhaps because it was launched in hubs at the far ends of the system, where politicians and reporters are unlikely to spend much time. That lasted until a local NBC affiliate reported in April how much everyone hated the leaners. "The elderly, they can't even sit down. It don't make no sense," fumed local resident Anette Seville. 
Publicly, SEPTA defended the leaners by claiming they will improve passenger flow at busy stations when people come back to transit and are easier to clean. "The benefit that we think people can see, especially as we start getting more crowded and people start coming back to the system, is the leaners take up less space than the benches do," SEPTA spokesperson Andrew Busch told NBC 10 at the time.
But documents obtained by Motherboard through a public records request suggest an agency motivated by different concerns. Specifically, SEPTA installed the leaners—which are sited outdoors, in areas which do not require paying a fare to access—to keep the homeless from sleeping on the benches. 
The agency, though, subsequently claimed it was actually to encourage social distancing during the pandemic. "Due to the pandemic, we determined that traditional benches do not encourage social distancing, nor do they discourage sleeping by individuals that are not SEPTA customers," customer service reps told people who submitted negative feedback about the leaners in June.
Advocates aren't buying the COVID excuse. "It's just a tactic on SEPTA's part to cover what they're really trying to say," said Yasha Zarrinkelk of the Philadelphia advocacy group Transit Forward, which is, according to Zarrinkelk, that "they're not welcoming everyone to SEPTA."
The pandemic-related excuse definitely does not accord with the timeline of when SEPTA actually bought the leaners and the specifications they laid out for contractors. SEPTA put out a detailed listing for "leaning rails at various surface transit locations" in April 2020, just weeks after the pandemic hit. It includes details like the exact kind of steel and aluminum to be used, how the aluminum surface should be prepared, and what the "zinc rich epoxy primer" should be. However, the specifications give no indication of COVID-related health and safety protocols. Plus, the specifications call for the leaners to be six feet wide. With three clearly designated "seats" per leaner, they are obviously not designed for social distancing.
Busch told Motherboard that pandemic-related protocols "would not be addressed in technical specifications for a product like this," and defended the characterization of the leaners as a COVID-related purchase. "Early in the pandemic, SEPTA looked at all facets of its operations to find ways to enhance the health and safety of passengers who needed to use public transportation to travel to essential jobs and services. While the leaning benches are part of a larger and longer pilot program to test their efficacy, we also thought there could be some shorter-term benefits to installing them to help open up more space at these locations to promote social distancing."
SEPTA is not the first transit agency to use hostile architecture, and specifically leaners, in an attempt to discourage homeless individuals from sleeping in stations. In 2017, New York City's MTA installed leaners at stations redesigned under an Andrew Cuomo-directed renovation program called the Enhanced Station Initiative. Similarly to SEPTA, the MTA said the leaners were "for the convenience of subway users, providing them with options while taking up very little floor space in the process." Both agencies, in customer responses and public comments, have claimed the leaners are international best practice and merely provide additional options to customers. However, unlike SEPTA, which removed benches and replaced them with leaners, the MTA claimed the leaners were in addition to any existing benches. Other Cuomo-directed infrastructure projects, like the Moynihan Train Hall in Midtown Manhattan, also suffer from a lack of seating options for customers in order to discourage the homeless from resting there, to the detriment of paying customers who simply want or need somewhere to sit. 
The feedback SEPTA received on the leaners has been virtually all negative. "Put me on the list of people who strongly object to them," wrote Alfred Achtert in a representative comment. "They demonstrate disrespect for passengers, seniors and others, who have difficulty standing for long periods of time. You say that you removed the seats because of people sleeping on them. The seats on the trolley platform were small and backless. There is no way that they could be used for sleeping. These learners should be removed and replaced with the old seats."
A customer service representative thanked Achtert for his feedback and added, "The leaning rails you referenced are now in widespread use across the country. They allow customers to recline and relax until their bus arrives."
SEPTA paid $16,750 for the 25 leaners, or $670 per unit. But Zarrinkelk said they're so uncomfortable and disrespectful SEPTA shouldn't have accepted them even as a gift, something they might have known had they done any outreach before buying them. But, both according to Zarrinkelk and the documents obtained by Motherboard, no such outreach appears to have ever taken place. When asked why not, Busch said, "Certainly, the needs of the vulnerable population were, and are, taken into consideration."
Instead, SEPTA decided to learn the hard way. And it didn't take long. On October 19, 2020, just after the leaner installations were finished, the customer service email account received a complaint from a rider named Aimee Desjardins. 
"This situation is unbearable," Desjardins wrote regarding the "removal of benches." She anticipated—or perhaps played an unwitting part in the crafting of—SEPTA's future excuses, by saying "The benches have not been used by people sitting too close together, as I travel Septa daily. There are more than enough Transit police standing around in groups of 5 or more mornings and afternoons to deal with the homeless people sleeping on benches.
When you remove benches to solve one issue, you are taking the benches from paying customers. Seniors, small children, riders who have all sorts of back, leg, knee and feet pains and medical conditions. Waiting for busses 5, 10, 20 to 30 minutes is an extremely long time to [be] waiting standing on your feet when in pain."
"This was a very poor choice and the wrong one, to take away from your customers," Desjardins concluded. "| am well aware of the problems and issues at [Frankford Transportation Center] with the vagrants and derelicts, seeing it every day in my travels. But don't make life harder on your paying customers to try to deal with some other issues. Bring back the silver benches for your riders to use."
Her email was forwarded to nine people at SEPTA, including Crystalle Cooper, the agency's chief officer for the Broad Street and Market-Frankford lines, on the latter of which the leaners were installed. It was then forwarded one more time by David Backers, a clerk dispatcher, to Kate O'Connor, SEPTA's chief engineer. "Just some interesting feedback regarding the benches at FTC," Backers said. 
Currently, the leaners account for one percent of all benches in the SEPTA system, Busch said, and the agency is still evaluating feedback it gathers as it develops long-term plans. 
But Zarrinkelk said this isn't a complicated issue. "I think it's really, really clear where riders stand on the issue. It's literally in black and white in front of SEPTA that riders are opposed to these leaner rails."