A version of this article was originally published on Motherboard Germany.
It's very likely that you're reading this article on an Android phone, since Android runs on most of the smartphones in the world. If that's the case, you're holding a powerful tool in your hand.
But Android doesn't always make it easy for users to unlock its full potential. Smartphone manufacturers can, after all, reconfigure their operating systems however they want or equip them with additional software. That's why Android user interfaces don't always look the same.
Whereas Apple does its best to make sure that every iPhone is running the latest version of iOS, 70 percent of Android users are still using Android 6 (Marshmallow) or older. The latest version of the operating system, Android 8 (Oreo), was released in 2017.
That's why we're going to show you some tips that will help you get the most out of your Android, even if you don't have the latest Android device.
Developer mode: controlling your phone with precision
The developer mode is a sort of cheat code for your phone, but the interface is hidden from normal users. To activate it, you have to go into Settings/About Phone and tap "Build Number" seven times. Only then will you see the hidden settings.
With developer mode, you're able to change the user interface. For example, you can reconfigure your phone to grayscale, meaning everything on the screen will be displayed in black and white. The theory is that stripping the colors from your apps will make you less tempted to check them obsessively. The Center for Humane Technology promotes grayscale for a more mindful use of social media.
You can also turn off animations in developer mode. Android always uses fragments of a second to fade windows in and out. It might look nice, but it also takes time. You can change this under: Developer options, Window animation scale, Transition animation scale and Animator duration scale.
How to find your lost Android device
If your smartphone's suddenly disappeared, there's no need to panic. You can find your phone via the internet in a matter of seconds. You just have to go to android.com/find and log on with the Google account registered with your phone. If GPS is turned on, you'll immediately see a map with a pin showing where your device is located.
The convenient function, however, also has its risks. If people access your Google account, they'll be able to find your phone (and you) and even delete your account. Here you can learn how to turn off the "Find My Device" function.
If you think you might lose your phone, you can leave behind a message with your email address or a second phone number that'll pop up on the screen for the good samaritan who finds it. You can find this function under Settings/Device Security/Info and App Shortcut/Owner Info.
Instant translation with Gboard
The Gboard keyboard developed by Google doesn't only provide an integrated gif and emoji search function, but a translation tool as well. You can download Gboard from the Play Store.
You can activate the translation tool in the search bar underneath the keyboard's keys. To open it, all you have to do is tap the Google symbol. Google Translate will then translate whatever you type in and will save you the hassle of having to copy and paste between different apps.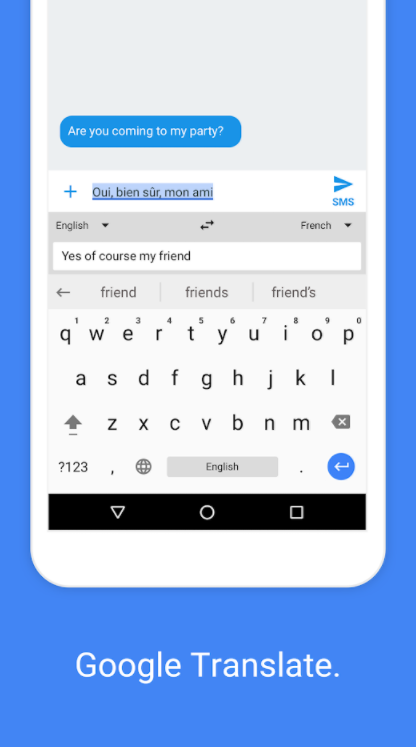 Limit what apps get your data and send push notifications
Apps on most Android devices have more rights than you'd probably like. If you don't actively do something about it, apps are generally allowed to send push notifications, take your data, and use up your device's processing power.
That's why Android 6 and newer versions allow users to prohibit individual apps from reading certain data. Your Firefox browser wants to access your contacts? You can turn this off if you go to Usage Manager/Firefox/Authorizations. Sadly, there isn't an option for turning off authorizations for multiple apps at once. It'll take you a bit of time to go through the process for every app, but it's well worth it if you value your privacy.
Less dangerous but just as annoying are push notifications, which almost every app wants to send you now. You can set up a push notification profile for every app in the "Notifications" submenu under Settings. There you can determine whether an app can send you notifications at all or only for specific occasions.
One-handed mode
Phone screens are getting increasingly larger, which makes it difficult to use them with only one hand, but Android has a solution.
Those who want to be able to type with only one hand can turn on one-handed mode in the Gboard keyboard. To do this, hold down the virtual enter key to the right. That'll open up a menu where you can tap the hand icon, which will shift the keyboard to the left or the right side of the screen, allowing you to reach it more easily.
Samsung users have even more options for using their devices with just one hand. The function can be turned on in Settings/Additional settings, then pressing the Home button three times.
Record your screen with YouTube Gaming
Want to capture a Snapchat story or record the path to accessing hidden Android functions? Then it might be worthwhile to record your smartphone screen.
YouTube Gaming allows players to stream their games live and spectate others' games. But the app also allows your to record other activities on your screen.
To begin recording with YouTube Gaming, press the symbol with the arrow pointing up, select "Record," and then choose which installed app to record from. At the end, you'll see a menu with a record button at the top of your screen. You can upload the finished video as a private video to your YouTube channel and then share the link. The video files can also be found in your photo gallery folder titled "Screencasts."
Get more storage and use less data with Files Go and Datally
In 2017, Google released two tools that allow you to improve the performance of your smartphones. Datally is a mobile data manager that allows users to monitor and control how much data different apps on the phone use. If you open an app that wants to access the internet, such as WhatsApp, then you'll first have to give your approval through a pop-up window.
Files Go can get rid of all the junk data on your device. The program locates duplicate files and well as functions you hardly ever use. Anything superfluous can then be deleted or backed up to Google Drive. Files Go can also send files to other users who have it installed via a local Wi-Fi hotspot, kind of like Apple's AirDrop function.
Copy and paste better
If you find yourself copy pasting text all the time, it might be time to take advantage of the benefits of Clipboard, which can save more than 20 entries automatically. It's short-term memory allows you to quickly access copied phone numbers, addresses, or quotes.
To access all the entries on the Clipboard, just hold down anywhere in the text box until a menu window appears. There you'll see, in addition to "Cut" and "Copy," the "Clipboard" option.
Teach your Android how to carry out small tasks
If this tips above didn't solve whatever problem you have with your Android device, you should try IFTTT. Following the programming principle of "if this, then that," you can teach your Android how to carry out a number of different tasks: mute your phone when you're at work, save notifications in a Google spreadsheet as soon as they arrive, automatically post Instagram photos to Twitter, and more.
The small IFTTT commands are known as applets. You can program your own as well as browse hundreds of other users' applets.