Courtesy Monkey Punch
At the dawn of his career, Hayao Miyazaki leapt from directing anime TV shows like Future Boy Conan and Lupin III to writing and directing feature films. His first shot, Lupin III: The Castle of Cagliostro, was released in 1979 and has since become a cult classic for Miyazaki devotees and animation aficionados alike. You can catch the film in theaters this week thanks to Fathom Events, which is putting on the first US theatrical release of the film since 1991.
Back in 1979, the second film installment in the Lupin III franchise was a total flop. Miyazaki was only 38 when the film came out, and glimmers of his later genius are present: flying machines, stunning castle vistas, and other hallmarks of Studio Ghibli films like Princess Mononoke and Castle in the Sky comprise a major part of the film. It tells the story of gentleman thief Arsène Lupin III's daring attempt to rescue Countess Clarisse of Cagliostro from an evil count. Long before he would join forces with producer Toshio Suzuki and fellow Lupin III animator Isao Takahata to form Ghibli, the most lauded animation studio since Disney, Miyazaki both wrote and directed the film.
If you're already a fan of The Castle of Cagliostro, you're in good company. Steven Spielberg is an alleged admirer, and in an interview to be screened alongside the film, Pixar head John Lasseter says he wishes he could trade places with people who had never seen the film before. Cartoon Network, Nickelodeon, and LAIKA animator Shannon Tindle also sings Cagliostro's praises: "If you want to see something you've never seen before," the 18-year industry vet, who wrote and designed characters for Miyazaki-influenced Kubo and the Two Strings, told VICE, "watch Cagliostro."
Tindle uses the Japanese concept of ma, which translates to "the space in between claps," to describe the magic of Ghibli films. "Major studios feel that they need to be constantly clapping to keep the audience's attention," Tindle says. "But Miyazaki feels the silence between claps is what keeps you interested and focused." In the middle of a scene from Spirited Away, for example, the young girl Chihiro stops, pulls on her shoes, and taps her toes on the ground to make sure they're snug. The brief pause in action offers a breath before she sprints to the next scene.
Miyazaki already recognized the value of these moments by the time he directed Cagliostro. In the beginning of the film, right after Lupin and his cohort Daisuke rob a casino, they stop in a field. "There's an amazing shot of birds flying over a big vista of the field," Tindle described. "Miyazaki lets you settle into that world and get used to it. It allows you time to process and enjoy what you're seeing."
"Cagliostro represents the first fully-fledged Miyazaki world, not only in the castle setting but its use of space and place to build and nurture character," writes British journalist Andrew Osmund in his book Spirited Away. But the film is an outlier in the Studio Ghibli founder's repertoire. While Miyazaki has adapted books such as Anne of Green Gables and Howl's Moving Castle, Cagliostro is one of his only features that was previously part of someone else's canon. Lupin III, the grandson of 1900s French celeb author Maurice Leblanc's character, Arsène Lupin, first appears in a Monkey Punch manga that ran on and off from 1967–2014.
It's also hard not to notice the absence of Miyazaki's trademark female protagonists and complicated villains. Arsène Lupin III is a freewheeling womanizer; his goal is to rescue a damsel in distress, and for most of the film, his motives are unclear. He faces an unambiguously evil count with a German-accented bodyguard, and an army of faceless bad guys who drop like flies at Lupin's righteous hands. The film is a classic caper, but Lupin lives on not within Studio Ghibli. (The franchise is still active today, with a new film, Lupin the Third: The Blood Spray of Goemon Ishikawa, having debuted earlier this year via Telecom Animation Film.)
Tindle says Miyazaki's experience with Cagliostro was integral to the foundation of Studio Ghibli. While Miyazaki evangelists like Lasseter later championed the film, it was a box office bust, earning just ¥600 million ($5.4 million) according to IMDb, which barely recouped its ¥500 million budget. In a shift Tindle says is similar to David Fincher's response to directing Alien 3, Miyazaki focused on his own creations afterward, including TV shows Future Boy Conan and Sherlock Hound, and the manga strip that would later become his first Ghibli film, Nausicaa of the Valley of the Wind.
Poor box office performance wouldn't hamper Studio Ghibli, either: Castle in the Sky earned ¥1.48 billion ($226,545,642), while 2001's Spirited Away would go on to take home an Academy Award, earn over $289 million in international tickets sales, and become the 13th highest-grossing animated film of all time. Of Cagliostro, Tindle said, "The failure of that film is the genesis of Studio Ghibli."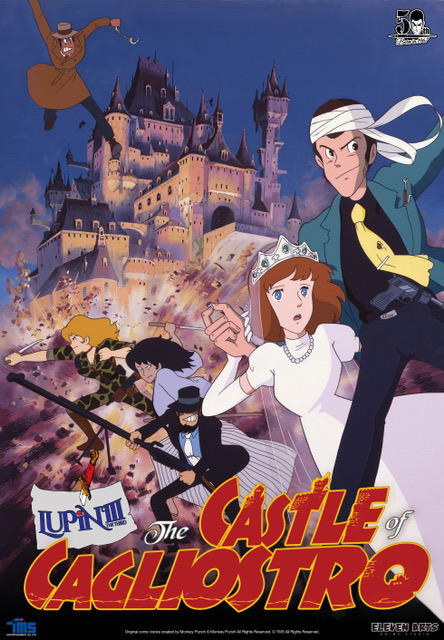 Lupin III: The Castle of Cagliostro is in theaters dubbed on Thursday, September 14 and subbed on Tuesday, September 19. Click here to find tickets near you.