That viral story of the five naked people arrested after a kidnapping-turned-car-crash managed to get a lot stranger.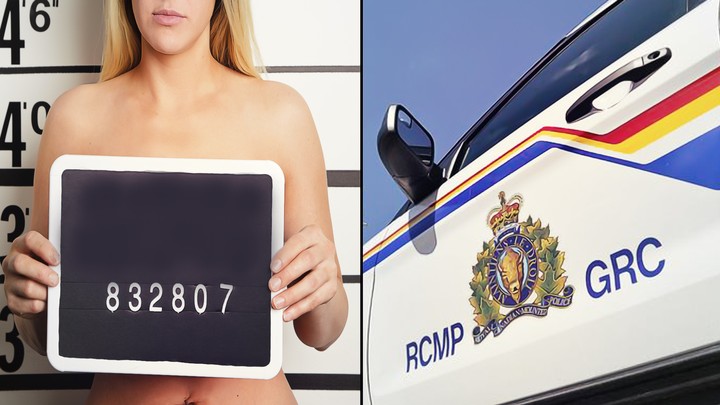 The viral story of five naked people arrested in a community south of Edmonton just keeps getting weirder.
Now there is a new twist—hallucinogens.
To catch you up on this story, on Monday morning five people were arrested in an industrial park—all of them were naked. With limited information, the story made the rounds online and was picked up by more international outlets than a story based in central Alberta ever should, with many making fun of the arrest.
One day later, on Tuesday, Alberta RCMP released an update that made the story seem far darker than originally thought. A press release stated that "an adult female and male, and a six-week-old baby were forced into a vehicle against their will and taken from the residence."
"While the car was being driven, the adult male, who was in the trunk, managed to escape. Shortly after the adult female escaped with the baby."
The three were allegedly kidnapped by the naked grouping of five—four women and one man—who were helped by a Good Samaritan in a truck. The naked five allegedly drove the car into the truck, hit the ditch, and were then thusly arrested. Three of the five were charged while two were released as they were minors.
Canadian Press journalist Chris Purdy outlines the new information in a story published Thursday night, and says that the nude crew may have accidentally drank a type of hallucinogenic tea during breakfast that morning. The information comes from a man who cannot be named because of a publication ban regarding the youths in the case, who is reportedly the father of two of the women involved, the former husband of the third, and friends with the couple who round out the five.
"It's a scary thought thinking, 'Oh, let's try this tea that we purchased,'" the man told the Canadian Press. "And then all sit down thinking they're just going to have a nice morning and end up in that circumstance."
The group, apparently ripped on the tea, reportedly thought they were saving the couple and their baby while they were kidnapping them. The man also told the Canadian Press that blood tests were taken from the suspects at the hospital and that the tea was brought back by the couple from India.
"Whatever potency that stuff had obviously is making it so it's just a big blur," the man told CP. "Nothing came back like illicit drugs, so they figure it may have been some type of herbal drug or something."
The man added that those who were kidnapped aren't holding a grudge against the naked, possibly-tripping kidnappers. All that taken in mind, we still don't know what the rationale was, high or otherwise, behind the five of them being naked.
Follow Mack Lamoureux on Twitter.