You can just about glimpse the shifting attitudes towards abortion in the few films that thoroughly consider it. Take, for example, the 1916 silent film Where Are My Children?, which poses a bitter warning against abortion and features a woman who is literally haunted by the ghosts of her unborn children. Over seven decades later, Dirty Dancing scriptwriter Eleanor Bergstein had to fight for the abortion scene to remain in the film.
The list of contemporary films that deal with the subject intelligently and sensitively is a short one, including Gillian Robespierre's 2014 comedy Obvious Child and Paul Weitz's 2015 road trip film Grandma. But they all owe a debt to If These Walls Could Talk, the 1996 Demi Moore-produced and Cher-co-directed HBO movie that busted taboos around discussion and went on to nab four Emmy and three Golden Globe nominations.
Moore—a newly minted superstar thanks to her starring role in Ghost—spent most of the 90s trying to get the pro-choice project off the ground. Co-directed and co-written by Nancy Savoca, who won the Grand Jury Prize Award at Sundance for her debut feature True Love, the movie starred Moore herself, Sissy Spacek, Anne Heche, Jada Pinkett Smith, and Cher—with Cher making her directorial debut next to Savoca.
Twenty-two years on, Savoca says that If These Walls Could Talk was a trailblazer in its frank discussion of abortion. "The issue was to be handled in a straightforward manner, which hadn't really been done before," she tells Broadly. "There was an urgent need for this to be seen and, more importantly, experienced in the way that film allows us to experience other people's lives."
---
Watch: Drone Delivered Abortion Pills & the Fight for Reproductive Rights

Spanning a period of four decades, the movie comprises of three vignettes set in 1952, 1974, and 1996 to look at how abortion has affected different generations of women. On its release, If These Walls Could Talk gained the distinction of becoming HBO's then highest-rated movie. "I heard HBO got some hate mail," Savoca remembers. "I think there were detractors while we were shooting. I couldn't pay attention to it as I was focused on the work. But it did affect us directly when we could not find any companies to give us product placement for the shoot."
Film critic Nikki Baughan attests to the movie's radical perspective. "Not only is the film groundbreaking in its depiction of abortion—something which still traditionally happens off screen—but also in its confrontation of the societal and religious norms that have made it so taboo," she says. "The idea that some women simply don't want to be mothers or have unlimited numbers of children is expertly explored, as is the insidious hypocrisy of religious fervor."
The top-tier actresses who signed on were "clear that they wanted to put a human face on an issue that had become so explosive, so violent," Savoca says. The 90s saw a number of violent attacks on American reproductive health clinics, including the shooting of Dr. David Gun, the first known murder of an abortion doctor in the US.
"I believe it was the subject matter that drew [the actresses] in," Savoca explains, "and Demi's courage to take it on inspired them. It was not uncommon to hear of a shooter breaking into a woman's health clinic and murdering people they deemed sinners. Doctors, patients and workers were gunned down."
At the time of its release, Cher said of the film: "I can't remember anything that even approaches this depth," she said. "I don't think you could get away with that on [network] TV."
The first vignette in If These Walls Could Talk stars Moore as a nurse and widower in the 50s who is pregnant by another man. She tries to administer a DIY abortion with a knitting needle and, unable to afford travel to Puerto Rico for a termination, ends up paying for a backstreet doctor.
"The research often had me in tears," Savoca says. "I saw films and documentaries and read oral histories. I also interviewed a wide range of women from diverse backgrounds. The most difficult interview was with my mother. She was a devout Catholic and anti-choice. She was not happy that I was doing this work but, when she saw it, she gave me a complicated and conflicted compliment. She said the film was honest.
"I also met with an elderly nurse who'd worked in a local hospital in the 50s. She was the one who told me how anyone with money just booked a flight to Puerto Rico, but everyone else had to find someone who knew someone. She called it the underground railroad for abortions."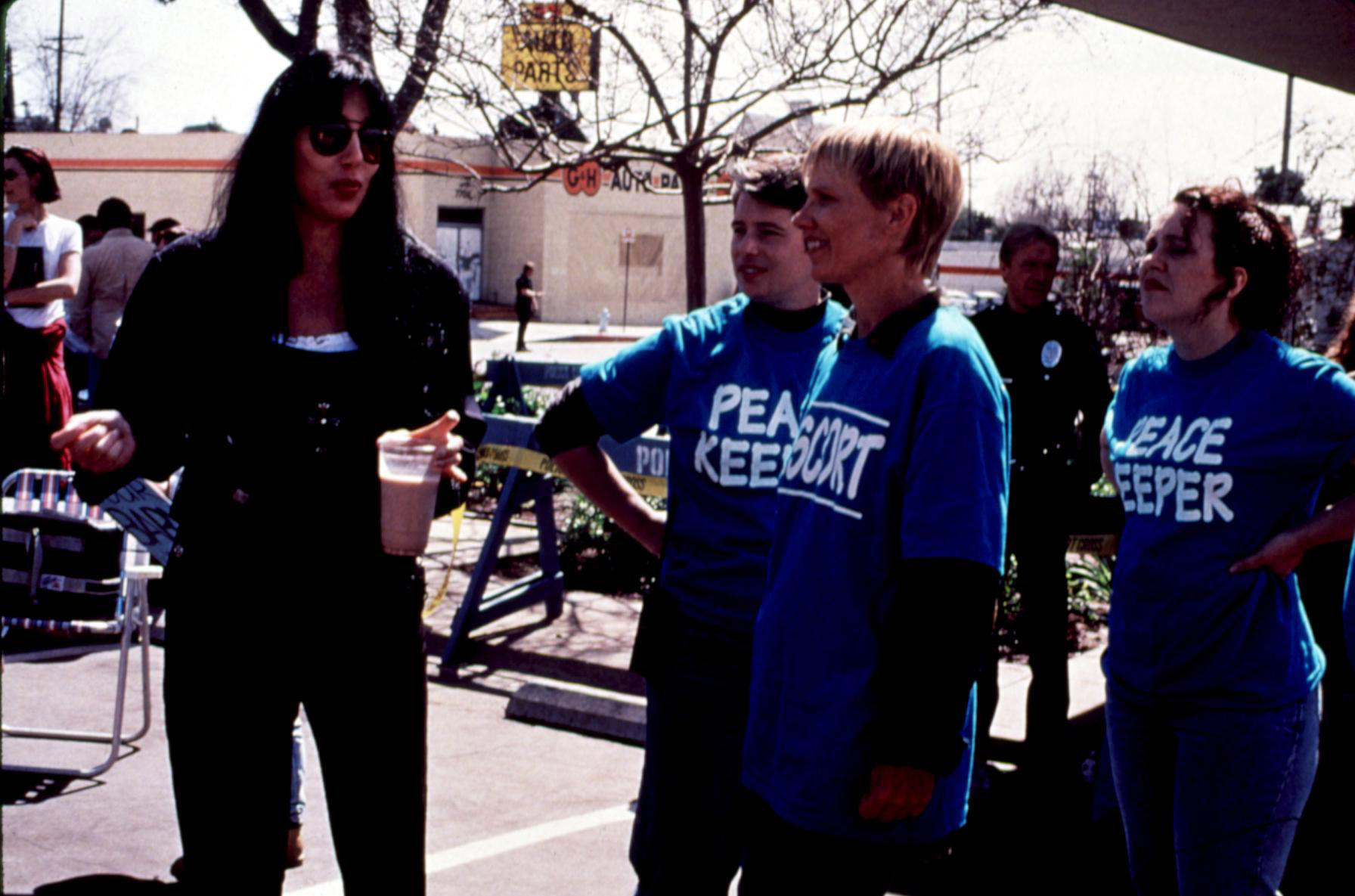 The second vignette stars Sissy Spacek as a 70s-era mother who must decide between pursuing further education or having another child. "The mood was lighter with all the kids around, fighting like siblings do, the dog barking, knocking over food, etc," Savoca says. "You felt this woman was struggling with so many vital issues inside herself, yet life was going on all around her. It wasn't the total isolation and dark judgment that Demi had."
Cher was brought on board to direct the third short, in which she also appears in as an abortion doctor whose dedication and passion is admired by her staff. Savoca recalls her delight at the casting news. "The day I heard Cher was on to star and direct the third one I just about fainted! It was like, wow! Cher! I used to watch her show! She was as cool as you'd imagine, but also down to earth and sharp and very funny. I think she did a terrific job—both on screen and behind the camera."
This segment also stars Anne Heche as a young woman who becomes pregnant by her college professor and visits a clinic surrounded by protestors who try to sway her decision. Set in the late 1990s, its bleak ending—Cher's character is gunned down by an anti-abortion fanatic at her clinic—is an alarming reminder of why women keep tirelessly campaigning for their right for autonomy over their bodies.
In 2018, how does Savoca feel about the fact that the right to abortion is still up for debate in the US? "I really believed that people [in our country], no matter what their personal belief, would come to understand that this is a private decision and government and society have no place in it," she says sadly.
In 1995, as she worked on the film script, Savoca visited one of the two Brookline, Massachusetts abortion clinics targeted by anti-abortion gunman John Salvi. The shootings, which both took place on December 30, 1994, resulted in the deaths of two women. "This is the climate we were in," she says. "I interviewed the founder of the clinic and asked her what she thought would be the most important thing we could show an audience with our stories. And, without hesitation, she said, 'We must trust that women are capable of making their own decisions.'"
Correction: The quote of the abortion clinic founder in Brookline, Massachusetts has been amended as Nancy Savoca misremembered the original quote.