Sungold Tomato Sauce
This simple sauce is excellent on toast, tossed through hot pasta, or alongside eggs for breakfast.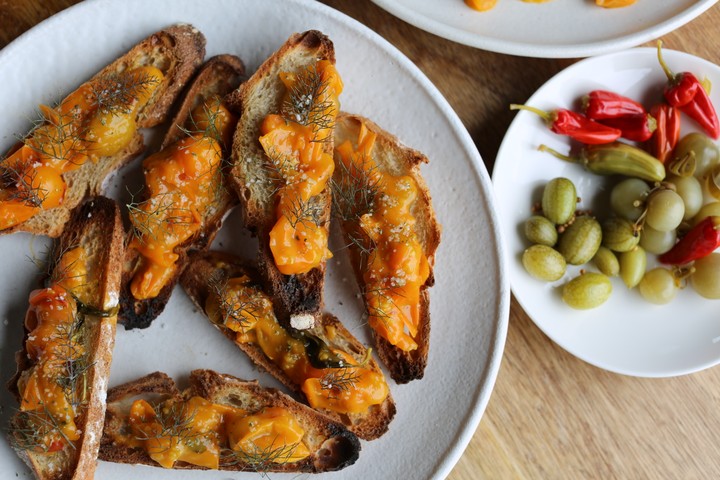 Photo by Sydney Mondry
Servings: 2
Prep: 10 minutes
Total: 25 minutes
Ingredients
for the herb salt:
2 tablespoons fresh rosemary sprigs
1 tablespoon fresh oregano leaves
1 tablespoon fresh thyme leaves
1 teaspoon fresh bronze fennel fronds
½ cup kosher salt, preferably J.Q. Dickinson cooking salt
for the tomato sauce:
3 tablespoons sunflower oil
2 cups Sungold cherry tomatoes
¼ teaspoon paprika powder
⅛ teaspoon fermented fish pepper flakes
kosher salt, to taste
¼ cup loosely packed basil, torn
toast, for serving
herb salt, for serving
Directions
1. Make the herb salt: Finely chop rosemary, oregano, thyme, and bronze fennel. Add salt, mix well. Salt can be made 2 months ahead. Store in an airtight container at room temperature.
2. Make the tomato sauce: Heat oil in a medium saucepan over medium heat. Add tomatoes, paprika, fermented fish pepper flakes, and 1/4 cup water. Lightly season with salt and cook, stirring often, until tomatoes burst, 10 minutes, pressing down on tomatoes with a wooden spoon to release their juices. Add basil, cook until thick, about 5 minutes more. Serve on toast with herb salt.