The Wildest Things We Learned from Bella Thorne's Profile
Yes, she has 19 cats. She also makes a vision board every year that "always includes her desire to win an Oscar."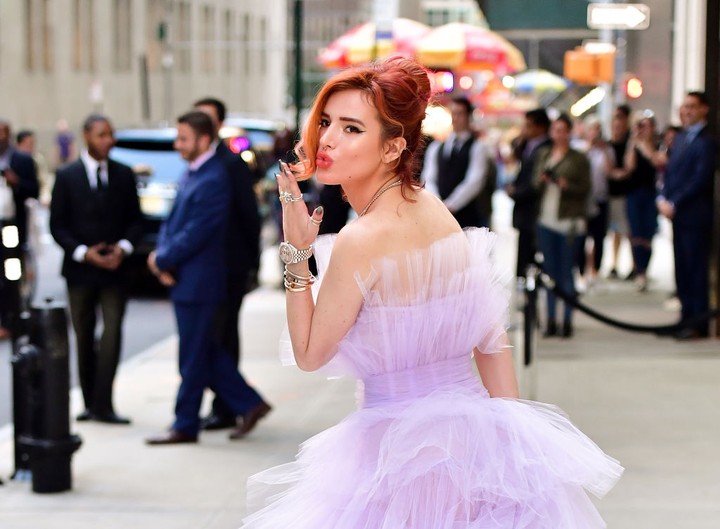 Photo by James Devaney/Getty Images
This morning, the LA Times entertainment reporter, Amy Kaufman, unearthed dozens of gems about young iconoclast, Bella Thorne, in a colorful profile. For the uninitiated: Bella Thorne is a 21-year-old celebrity who rose to fame by starring alongside Zendaya in "Shake it Up," a television show about two girls who become backup dancers for a local TV show. Like many Disney stars who came before her, she parlayed this exposure into Instagram fame—where she currently boasts over 12 million followers—and used the platform to break away from her good-girl image.
Here are a few of the most fascinating facts that Kaufman shared about Bella Thorne:
Her home "appears to be her canvas" and includes: a "hand-painted 12-foot unicorn statue," a violet exterior, "hundreds of felted roses," faux ivy, hand-written inspirational notes to herself, and rainbow colored stairs, each step painted a different whimsically bright primary color.
She has 19 cats. The progenitor's name is Lola, with the 18 others being her furry kitten offspring and grandkittens. Thorne didn't want to spay Lola because she found it "barbaric"—and the cats are four generations worth.
She makes a vision board every year, and "it always includes her desire to win an Oscar." We stan a goal setter.
She charges roughly $65,000 per Instagram ad blast. We also stan a hustler who stacks that paper.
There's an area in her kitchen "entirely devoted to marijuana," though she didn't smoke until she was 16. "At age 16, she was working on a movie that required her to cry," Kaufman reported. "She said she would get so into the character's emotional headspace that once she started crying, she couldn't stop." In response to the emotional upheaval, Thorne asked her brother for pot, to help her sleep.
Thorne is bisexual, and is currently boo'd up with a man and a woman. Her boyfriend is Mod Sun, a 31-year-old rapper. And her girlfriend is Tana Mongeau—Youtuber of the infamous Tanacon disaster. Together they are Bod Mon, which we just came up with.
At age 13, a photo of Thorne at the beach in a bikini was published by Perez Hilton, who aggressively shamed her for her wardrobe choice. Thorne alleged that Disney attempted to fire her. A Disney spokesperson told Kaufman, "[W]e discussed with the Thornes how they envisioned Bella's personal brand image and career goals and whether, at age 13, her immediate plans were compatible with a Disney-branded show for viewers as young as age 6."
Thorne opened up about suffering from depression, and told Kaufman about her alleged molestation. She cites the impact of this trauma as the reason she is, "just never, ever going to stay still again."
Thorne told Kaufman that her agents saw her "emulating Rachel McAdams and transitioning to romantic dramas and comedies." After taking on these kinds of roles, she realized she preferred darker characters (like the ones she is currently pursuing). Growing up, Thorne loved The Shining and The Grudge.
Sign up for our newsletter to get the best of VICE delivered to your inbox daily.
Follow Nicole Clark on Twitter.
Stories