Kate Allen / Contributor via Getty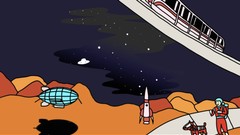 Moveable explores the future of transportation, infrastructure, energy, and cities.
In an apt metaphor for Elon Musk's transportation ambitions, SpaceX has demolished its Hyperloop test track in California and turned it into a parking lot for employees, according to a Bloomberg report.
Hyperloops are an entirely theoretical form of transportation that was hyped to be the "fifth mode of transportation" and alter the way humans move about the world. Various companies working on it have received billions of dollars in research and development and countless breathless media segments over the last decade but has yet to result in humans traveling between two places in anything resembling a comfortable, efficient manner or any real evidence that is an achievable goal at scale.
In 2018, Musk held an unveiling event for a different Hyperloop test track that turned out to be a Tesla moving along a sled at slow speeds. Subsequent tunnels built by his tunnel boring company have done away with the sled and are simply tunnels for cars. The track SpaceX demolished was used for student competitions since 2017 and the product of Musk's tunnel-building company, originally meant for building Hyperloop tunnels, is now building tunnels for Teslas to drive through which also suffer from traffic jams.
The demolishing of the SpaceX test track is yet another sign the enthusiasm for Hyperloops even among its truest believers is cooling off. 
In 2016, Musk said at the SpaceX Hyperloop Pod Design Competition at Texas A&M University, "I'm starting to think it's really going to happen. With this level of attention, it's clear the public and the world want something new and I think you're going to bring it to them."