Aja Monet in Miami. All photos by Rose Marie Cromwell
If you're a woman of color living through this political moment, it is incredibly easy to fall into a pit of despair, to feel as though you are being crushed from all sides. But while some of us might be content to disengage and even hide from the steady diet of agony being served up by American culture, Aja Monet uses her poetry to mobilize the public and face the miserable state of society head on. Her steady voice over the loud speaker at the Women's March last year brought a hush over tens of thousands of pussy-hat clad people when she calmly leaned into the microphone and reminded us, "It was language, words that got Trump into office."
---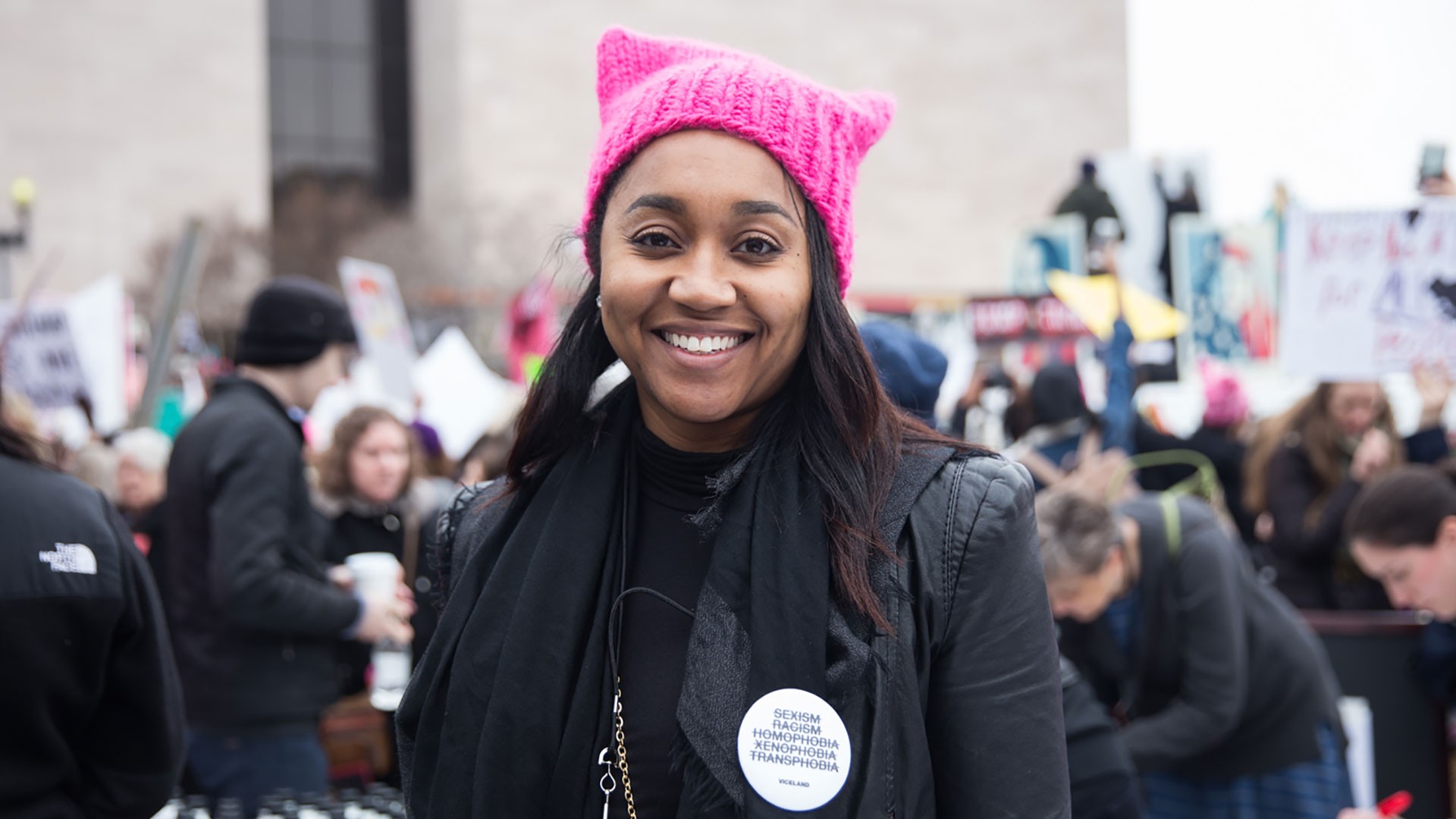 ---
I first met Monet in March 2009, when she was staying at the home of my best friend's parents in Chicago. With long, dark coils of curly hair and tattoos strewn across the small sections of her arms, Monet struck me then as the sophisticated, slightly aloof older sibling I never had. Having shuffled between predominantly white institutions for most of my life, I didn't think having natural hair was even an option, and yet there it was, staring me in the face, laughing at my straight strands.
Fast-forward to September of the same year. My English teacher, one of the few women of color on the faculty, turned on the projector and announced to the class that we needed to watch a short piece on slam poetry by a talented young woman who was already an award-winning artist. She flicked off the lights and I found myself looking at Monet on a stage. She'd been busy since our first encounter in Chicago, and I later learned that Monet had become the youngest-ever champion of the Nuyorican Poets Cafe Grand Slam at 19—two years prior to our first meeting.
Turns out the Brooklyn native's lifelong identity as a poet deeply intersects with her roots in activism, as she explained in her book, My Mother Was a Freedom Fighter. I recently sat down with Monet to gain a better understanding of what it's like for a poet, an activist, a newly minted author, and above all a woman of color to practice her craft at a time of such incredible, white supremacist-tinged turmoil.
---
---
VICE: I know you got noticed as a poet early on, when you were college-aged and won that prize. But you started younger, right?
Aja Monet: Really, I started when I was in high school. I was in love with Langston Hughes. Then I learned about Maya Angelou, and some of the [other] ones you learn in school, [like] Nikki Giovanni… And then I had written a poem for a poetry class, and it really compelled the teacher and they encouraged me to continue writing.
I competed with a poem for our school talent show, and won, and started to find ways to get more involved in the city. I looked up poetry and youth organizations, saw one called Urban Word NYC—they were a big part of making me believe that poetry could be a career, that poetry could be a real thing I could do in the world. I never [previously] really saw poetry as something beyond my own personal joy. Then I saw professional poets and started taking classes and being mentored and competing in youth poetry slams.
It really politicized me, too, because I learned a lot about issues that weren't just happening locally in New York, but also I went to Nationals—this organization Youth Speaks, they have a 'Brave New Voices' event they host every year, it's like a huge national youth slam. I remember that was my first time leaving home, I was like 17, on my own, and got to meet all these other kids across the country who were weirdos like me. It was from there that I just started to gravitate towards wherever I could find poetry in my life, and wherever I could be around poets, constantly reading and writing and reciting.
Dope. I understand that poetry acted as a bridge to your becoming more politically engaged, and ultimately an activist, but at what point did you feel that this was part of your mission? Was politicizing it always your goal?
I don't think I really ever had a mission. I wanted to connect to people, you know what I'm saying? I wanted to build bridges to change conditions I saw a lot of people struggling through. I don't understand people who do anything in their lives without some level of connection to how it affects other people. I never thought of myself as separate from everyone else. You're taught that poetry is an act that is often carried out in solitude, an isolating act, but in actuality it should bring people together, and it should be a part of how we address the conditions that we're facing—how we reimagine the world we live in.
OK, but how did you find yourself going from seeing poetry as just sort of a hobby to reciting to a massive crowd during the Women's March?
I think we can create more truth-telling in our society, so I was inspired by poets that never saw their work as separate from activism and organizing. The people that I looked up to, that was the way they saw the world. What's sad and unfortunate is that a lot of young people in schools and in formal education don't get told the whole story about how this country was founded, don't get told the real story about why education is the way that it is, and what education has been put in place to do…which is basically to numb and nullify a bunch of people into labor. We don't develop critical thinking skills in school! People are made to follow orders and do what they're told and not question or come up with their own ideas about how they see the world and how they would like to see the world, and to be curious about other cultures.
I've been hungry for information since I was little. I went to workshops where sometimes people left crying, sometimes people left feeling really good about themselves—there was always new profound things that happened in a workshop space or a poetry collective, and I got politicized there. One of my really good friends from high school, her name is Tahani Salah, this young, dope Palestinian chick from Brooklyn. She would read poems to me and talk to me about what her people were facing in Palestine. It made me care about it, and made me want to learn more, and it made me want to be an advocate. The work is not just a poem, you know? There has always been the question…like, what do we do beyond the poem, what do we do beyond? What do we do about changing the conditions we complain about, rather than just yelling about it?
How do you go about sitting down and getting something on the page that ends up being as impactful as it is?
I put a lot of pressure on myself. I feel like I am always not as good as I could be. Words are only approximations of feelings and thoughts and ideas and experiences, so they can never fully encapsulate a lived experience, truly, you know? So I think my creative process is constantly like, How do I deal with that frustration of the limitations of language? At the end of the day, I feel like a lot of the issues we have in society are a result of miscommunication. My process is basically like, How do I hold writing as a scared act?
I take on the responsibility of making sure I communicate words that are, first and foremost, freeing for me, and then: How do I communicate that feeling of freedom to others? Sometimes the words come easy, and other times it's excruciating. As corny as it sounds, I feel like there are people who have come before me who have endured more than I ever could have imagined, and the least I could do is sit down and write a fuckin' poem about it, you know?
That's the least I can do, offer some type of creative intention amidst all of this destruction and depression, amidst being told that there is so much we are not capable of. When I go and sit down to write a poem, all of that goes out the window. I feel more powerful when I write.
What would you tell a younger writer and activist who shares this frustration?
Well, Keorapetse Kgositsile just passed recently, and I don't know if you know about him…but he's actually the father of Earl Sweatshirt. A lot of people know about him because of that, but I think people should actually know about him because he's a pretty fundamental to the way we look at the world as black people. He was an incredible poet because he gave language to a really difficult time in South Africa apartheid—I think his words helped free people. One thing he wrote that was really powerful for me was that before one can be effective and instrumental in freeing a people, he must first himself be free. If you are truly free, there is no way you can live a life and see someone else who is oppressed or hurt and feel free. We don't realize our collective power as people. We need to stop being so individualistic. If your self care is not in the purpose of a collective, then its not self-care.
How do you cope with police violence against the black community these days, and how does it fit into your art?
Take it day by day. There is no way we will all wake up one day and have the solution. The people that I love and my community help me cope with the issues at hand. Also, music. I mean, like, good, live, music. That shit that makes you travel-somewhere-kind-of music, you know? It makes me want to do something different the next day, that should be the goal. I don't want to cope with this system, really. That's not why I'm here. I'm here to grow, and to change, and to heal. I just wrote a piece for Black Lives Matter, they asked artists and writers to write pieces as an homage to a black feminist future, and they wanted everything to be dedicated to Erica Garner. If I was hurting watching her father being strangled to death, if it brought me to tears, I can't even imagine where she was in that moment. This series of events has really woken people up. But this is also a generation of numbness.
How do you stay hungry throughout this constant barrage of negative news? How do you not become desensitized?
Well, there's levels to life. There is no way my life can be divorced from the struggle and the fight for liberation. My partner is an organizer, and I see his work and I see his sacrifices he makes everyday, and the investment organizers across this country make so that we can live better. I also know that there are people who are struggling more than me, so how can I become complacent? When I know I'm contributing, I feel whole.
Sign up for our newsletter to get the best of VICE delivered to your inbox daily.
Follow Maya Holder on Twitter.