Christina Aguilera is the Queen of Reinvention. Okay so, Madonna kind of has the trademark on that title, but they swapped spit once, at the MTV VMAs, so I figure they're down to share. Over the course of her career, Christina's experimented with every style in pop's lookbook: from bleach-blonde princess showing just a little bit of skin, to a leather chap-wearing pop provocateur, to a 40s-style, pin-curled, pin-up girl, to a latex madam and beyond. Just when you think you've got her pegged, she goes and uses a scarf as a halter top. Wild. The best thing about Christina is she doesn't give a damn what anyone thinks. Ever. She can sing one note and knock you into the next the next state. She is BEAUTIFUL, no matter what you say, and words can't bring her down. That's just a little something I wrote in tribute to Christina, because she deserves it. Anyway, let's take a look at her magical journey through time and space and too much tanner.
1999
Christina's debut video for her explosive single, "Genie In A Bottle," pretty much set the tone for her wardrobe for the next few years: coyly sexy—but not TOO seXXXy—and a whole lotta exposed midriff. You have to rub her the right way. You know, on the stomach. From her orange, drawstring pants and beaded tank top combo, to her hot pink cardigan and leopard mini skirt look, with a superfluous gypsy charm belt at the 99 Teen Choice Awards (above), Christina solidified her M.O. as a bare-bellied, teeny bopper.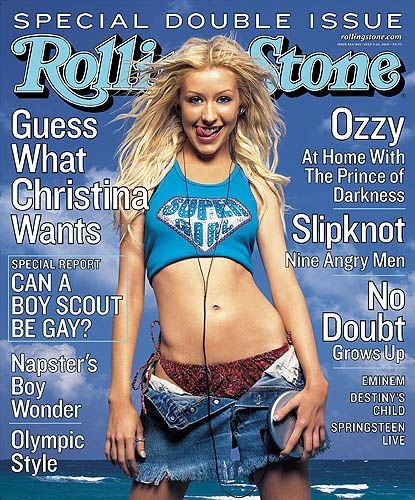 2000
But, as if we could forget, there was also another fresh-faced and doe-eyed teen on the scene: fellow Mickey Mouse Club triple threat, Britney Spears. Brit Brit's abs beat Christina to the front cover of Rolling Stone in 1999. Christina countered in 2000 with her own midsection, a sassily stuck out tongue, and the saucy strapline: "Guess What Christina Wants." (Oh hey there, Mr. Discman.) What did Christina really want? To distance herself from her appointed-by-the-media rival. In an effort to carve her own niche, in what felt like a split second, Christina went edgy. Like, "girl first discovers Hot Topic" edgy. She released her first Spanish language album, Mi Reflejo, and ditched her blonde locks. She began playing with color and hair extensions. She also made friends with a crimper. PSA: can we bring back crimped hair?
Christina also ventured into the world of corsetry, like this torturous looking one (above, right). Her bond with waist-cinching, boob-squashing attire would ride through to 2001 and "Lady Marmalade," but the year 2000 was a brief, but important window into the future of her style, for there would be plenty more hair colors and raccoon eyeliner in her future. She was morphing into a full-blown bad girl, but at this stage, we still had no idea what we were in for.
2001
In 2001 Christina was all about braids. She had braids braided into braids (braids of braids!), so blonde/blue/purple/red cornrows seemed like the next, natural progression in her hair evolution.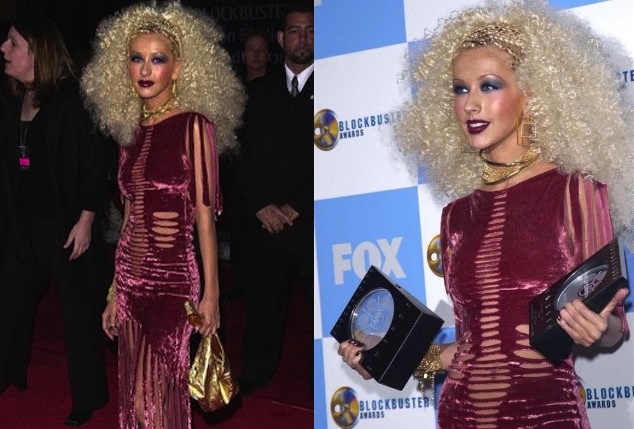 It was also the year Christina showed up to the Fox Blockbuster Awards in one of her most memorable looks: an ankle-grazing, crushed velvet dress slashed in all the right (wrong) places, with scalp-stretching cornrows that fanned out into a frizzy faux-fro. (On a sidenote: Blockbuster R.I.P.) That night she walked away with an award in each hand and her amazing look 100% helped her cause.
2002–2004
But braids were simply not enough of s style statement for Christina. She drew a line in the sand with her next album, Stripped, changed her name to Xtina, got a bazillion piercings, and dyed her hair black and white. Meanwhile, her wardrobe consisted of itty-bitty denim miniskirts, driver caps, and, sometimes, one-of-a-kind camouflage pants with plaid patches. I also want to give a special mention to the "top" she wore to the 02 MTV VMAs. This is clearly a simple scarf tied around her boobs. It's actually pretty brilliant and DIY-able… if you're currently in the market for clothing that will have you in constant fear of your breasts making an escape.
In some ways Christina hit her peak with "Dirrty" and it's accompanying David LaChapelle-directed video in which she spends a lot of time riding motorcycles and cage fighting in leather chaps and a bikini. Standard. Let's take a moment to agree that this is actually a banging pop song and one of her best. She was having a moment. Her moment.
Towards the end of her Xtina-era, Christina took her look down a few notches, dyed her hair black, removed her piercings, and had a little argument with her tweezers, which left her looking a permanently bemused. Her super-tan, however, remained, as did her penchant for experimentation. Dressing like a toxic flamingo is just another day's office attire for Xtina.
2005–2008
At this point Christina is 26. She's getting married. She's a woman. As befits her womanly status, Christina decided to hark back to a time when women were ladies. Inspired by the 30s and 40s, her album, Back to Basics, was a throwback to the jazz and swing music of the era—with a little Christina kick to it, of course. Teaming up with DJ Premier for "Ain't No Other Man"? A genius move. To complement this new era, Christina dyed her hair platinum blonde and adopted a classy Marilyn Monroe coif (she stole her beauty mark too).
In her video for "Candyman" she alternated between a 40s-style uniform with a peplum kick and a sweet sock hop-inspired ensemble. Christina looked pulled together and cute to boot, but she also couldn't resist a nod to her back-in-the-day persona, slipping into a latex, belly-baring sailor outfit for one scene.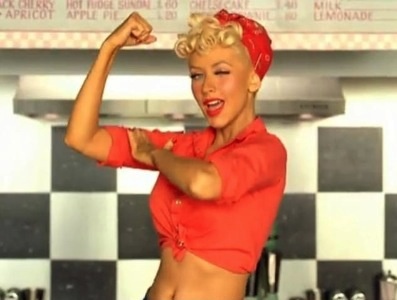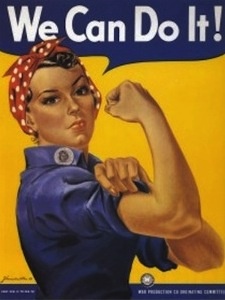 In this video she also took her cues from Rosie The Riveter, which almost made me want to go to back in time and fight in WWII, but then I remembered that was a horrible time. And I wouldn't have been allowed to fight anyway. Christina's appropriation of retro chic endured for the next three years. Red-lipped and white blonde, it was a far cry from Xtina. R.I.P. Xtina and your leather chaps, you will… not be missed.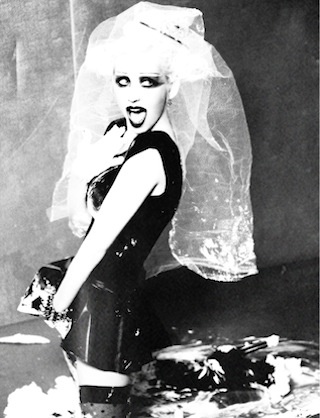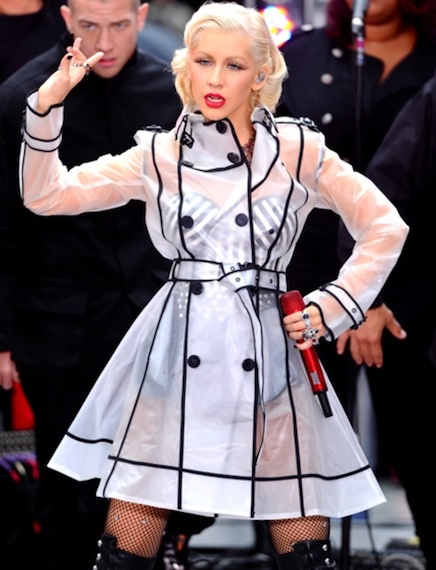 2010
Let's be real: 2010 was a sucky year for Christina. In an effort to rebrand herself yet again, Christina thought she'd struck sonic gold with her electro pop-favoring album, Bionic. With this new sound came her latest stylistic incarnation, which looked strangely similar to another popular singer, *cough* Gaga *cough*. In fact, her Bionic-era threads were really meant to be a tribute to Madonna (again). In the video for "Not Myself Tonight," Christina can be found writhing around in patent leather fetish-wear, simulating sexy times with other ladies, meanwhile, on her press tour, she wore see-through trench coats over corsets and fishnets. Met with mixed reviews by critics and her fans, no amount of latex-assisted raunch could keep Bionic in the charts. On top of that, Burlesque, her Diablo Cody-scripted feature flick with Cher, was gleefully harpooned. Oh, and then she filed for divorce. No doubt she was happy to finally see the back of 2010: that year blew major chunks for Ms. A.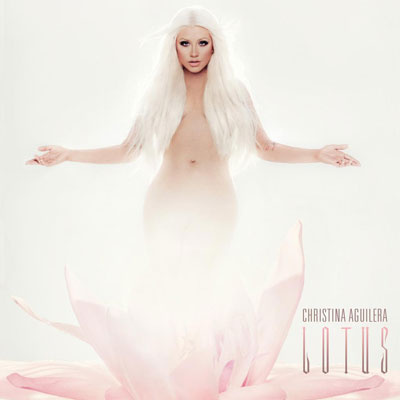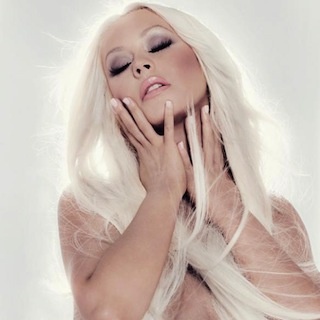 Now
These days Christina has been busy raising her son and coaching pop hopefuls as a judge on The Voice. Frankly, the show has been her career's saving grace. She climbed back into the charts last year, hitting number one with the insanely catchy (annoying) collaboration with Adam Levine on "Moves Like Jagger." Riding this new wave of public interest, she released her seventh studio album, Lotus, the cover of which saw Christina do away with clothes completely, emerging like Venus from a flower, her locks and some photoshop-conjured mist covering her lady parts. Lyrically—bar the sexually explicit "Your Body"—the pervasive themes were strictly on a self-help, stay-confident tip, an unsurprising preoccupation given what's been going down in both her personal and professional life over the past few years.
Through the belly-baring outfits, the leather chaps, the corsets, the retro threads, the feather dresses, and her spray tan; through her cornrows, dip dyes, thick bangs, mini-bangs, crimped extensions and Veronica Lake-like waves, Christina has always gone her own way.
When people started pointing out her weight gain, Christina said, "Let's make those bandage dresses a little bit tighter." (We're paraphrasing here.) When Chelsea Lately made fun of her for never wearing pants, she went on the talk show and made Chelsea dress like her—fishnets, no pants, chin-skimming cleavage. That's called dealing criticism with good grace and a sense of humor, and that goes a long, long way. Never change Christina, never change: U R beautiful.
Hazel has started a one-woman campaign to bring back crimping. She's on Twitter - @HazelCills.
Style Stage is an ongoing partnership between Noisey & Garnier Fructis celebrating music, hair, and style.