Photo: Esme Blegvad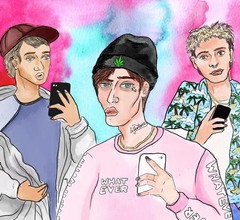 Welcome to 'Introducing', where we get acquainted with Britain's weird and wonderful new subcultures. 
You see the precision engineering on the jacket before you see the man.
He's playing with the StormHood™ on his Arc'teryx Dume Coat, riddled with concertinaed GORE-TEX, when he joins the hum of the group. He's still bothering a zip when he glances at you meaningfully in the eyes (importantly the StormHood doesn't obscure peripheral vision). "It really wasn't that expensive," he's saying.
Your mate is the Techwear Camping Guy, who is around at the right time in history to indulge his three passions: activity, fashion, and performative preparedness. Techwear Camping Guy has been stateside for a while, though with more of a venture capitalist background. Here, in the UK, he's doing pills on a Friday night and a bloody big old walk on the Sunday.
Think: extremely earnest cycling content, refined takes on psychedelics and an endless supply of long silver Rizla. He returns wide-eyed with only the early-morning whir of inbound planes for company, then he lusts after the transcendentalism of drawing a rock circle in a national park, alone.
He's got Salomon shoes on, which you consider as the anti-sex shoes, but he doesn't. These wears have consumed his thoughts and become his long-term allies across the uneven psychic and literal terrain of suburban British streets and country pathways. They are certain and steady in a random world. Big Stability Shoe's obsession with gait, pronation and breathability is a delicious tonic to his suspicion that nothing really fucking matters.
"Did you see this bit?" he's saying now as he produces a used Kit Kat wrapper from an elegantly hidden compartment in the jacket's sleeve. "Didn't even notice it at first. Just been putting Kit Kats in it." Perturbed by his ever-expanding wardrobe of high-spec items, you think about all the compromising material you could hide in his jacket so that if he eventually gets searched he'll go to prison. You try to forget about the forbidden compartment and ask about the Lake District.
"Managed Helvellyn and Scafell Pike on consecutive days," he explains, tracing the outline of his Fitbit with his finger. "40,000-odd steps, look. Just good to get outside." You notice one of his trouser legs tucked into his sock, yet you know he walked to you. This person was never very sporty, you're remembering, yet somehow athleticism, and the suggestion of it, is all you can think of in his company. "It actually folds away," is all you can imagine him saying.
You're studying him now as he fetches a fresh Kit Kat from the coat. "Little Oi Polloi sale on atm," he's saying as he breaks the fingers along their dividing line. "Got some nice bits, to be fair." You're certain he doesn't need any more technical "bits". You close your eyes for a second and see him wearing his Arnar Mar Jonsson trousers with more pockets than sense. You open them and he's removed the Arc'teryx coat to reveal a kaleidoscopic tech zip-up that's faded just so. 
There are "levels" to the Techwear Camper archetype. Style newsletter writer Blackbird Spyplane argues there's a "blessed" and "cursed" side. The blessed lot are concerned with interconnectedness, each other and the planet – oh, and lots of hallucinogens. Meanwhile, the cursed crew come from a "sick mentality, where someone regards garments as a pure status-symbol. [They're] disconnected from fellowship with others and, perversely, disconnected from the natural world itself." 
You're not sure where your mate sits on the cursed to blessed continuum. He owns and uses a single-man tent, but he's deferential to Musk and Bezos's ability to think their way out of climate oblivion. He does feel warm and safe in his Patagonia – the sartorial answer to an Ovaltine hug in a mug – but his job is primarily concerned with investing the money of people who already have loads of it. 
Klättermusen, Wander and Snow Peak all take pride of place on their clothes rail. Žižek and Throwing Fits content vie for late-night consumption. The answer is never not ergonomic fashion-forward trousers, and he'll always make time for the nice man in the low intervention bottle shop.
"I got my jacket stuck on a branch," he whispers, several pints down. Just you and him now. "Up in the Lakes. I couldn't reach around to free myself because the bloody StormHood wouldn't retract. I thought I'd wait for another ambler to see me, but no one came, and it got dark."
You're leaning in. Excited, your foot is tapping violently on the linoleum floor.
"I had to tear it off. Just a little tear at first, but I still couldn't free my arm. So I just jumped as far as I could. The whole thing ripped."
Both feet slapping the ground now.
"Really depressing," he says. "I felt like a speck and fucking Cumbria was the universe. I had to get another Dume, though. Just so practical."