In what appears to now be an annual cry for attention, the right-wing organisation Hindu Sena celebrated the 72nd birthday of US President Donald Trump today. In 2016, the non-profit group held a havan for Trump, wishing him well in the US general elections. The outfit was in the news recently for hounding Priyanka Chopra over a plot-line involving Hindu terrorists in Quantico.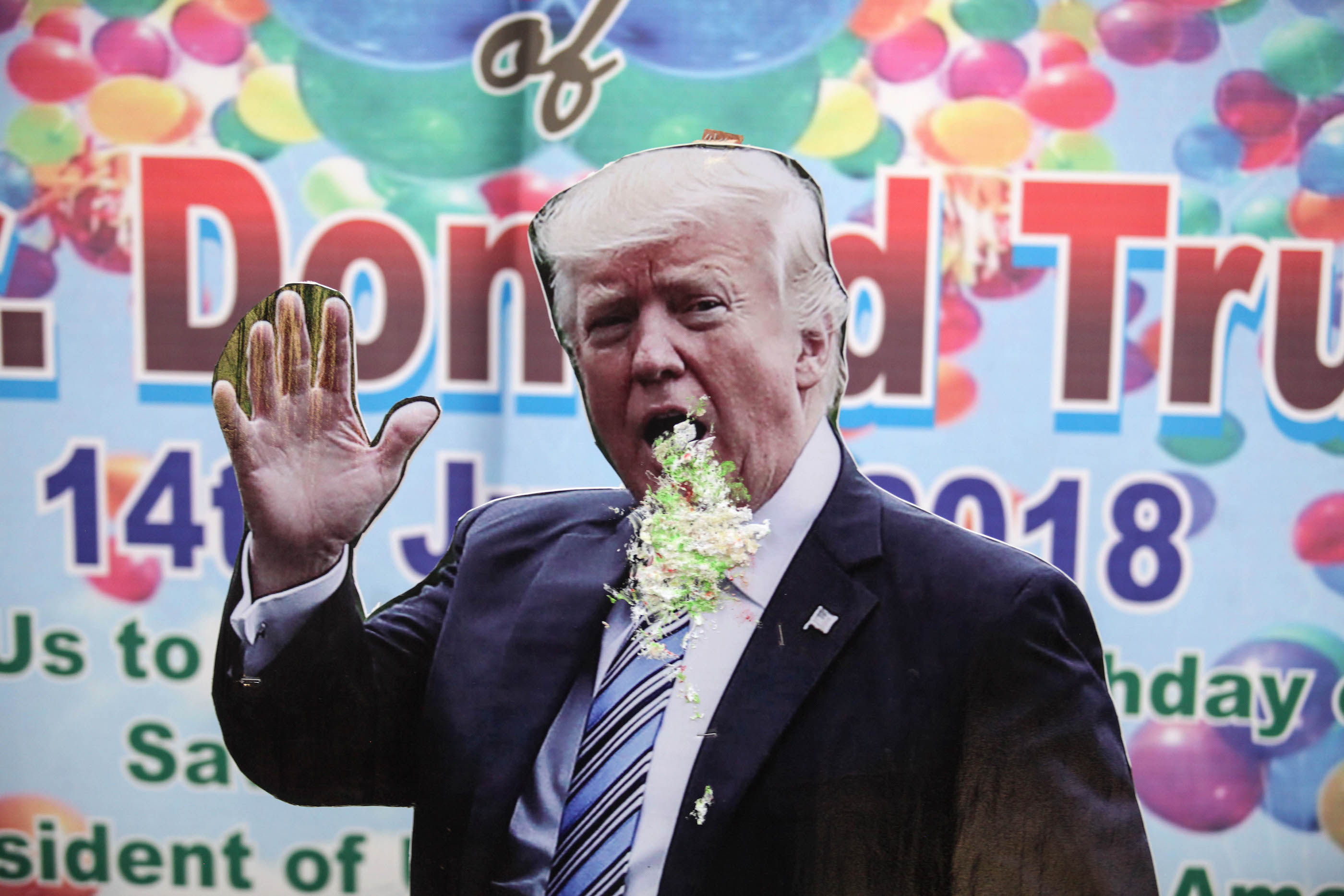 At the invitation of 33-year-old Hindu Sena founder Vishnu Gupta, VICE went down to the MP's Club, an event venue in central Delhi, to check it out. When we got there, people were still nailing down a table cloth, and the cake hadn't arrived.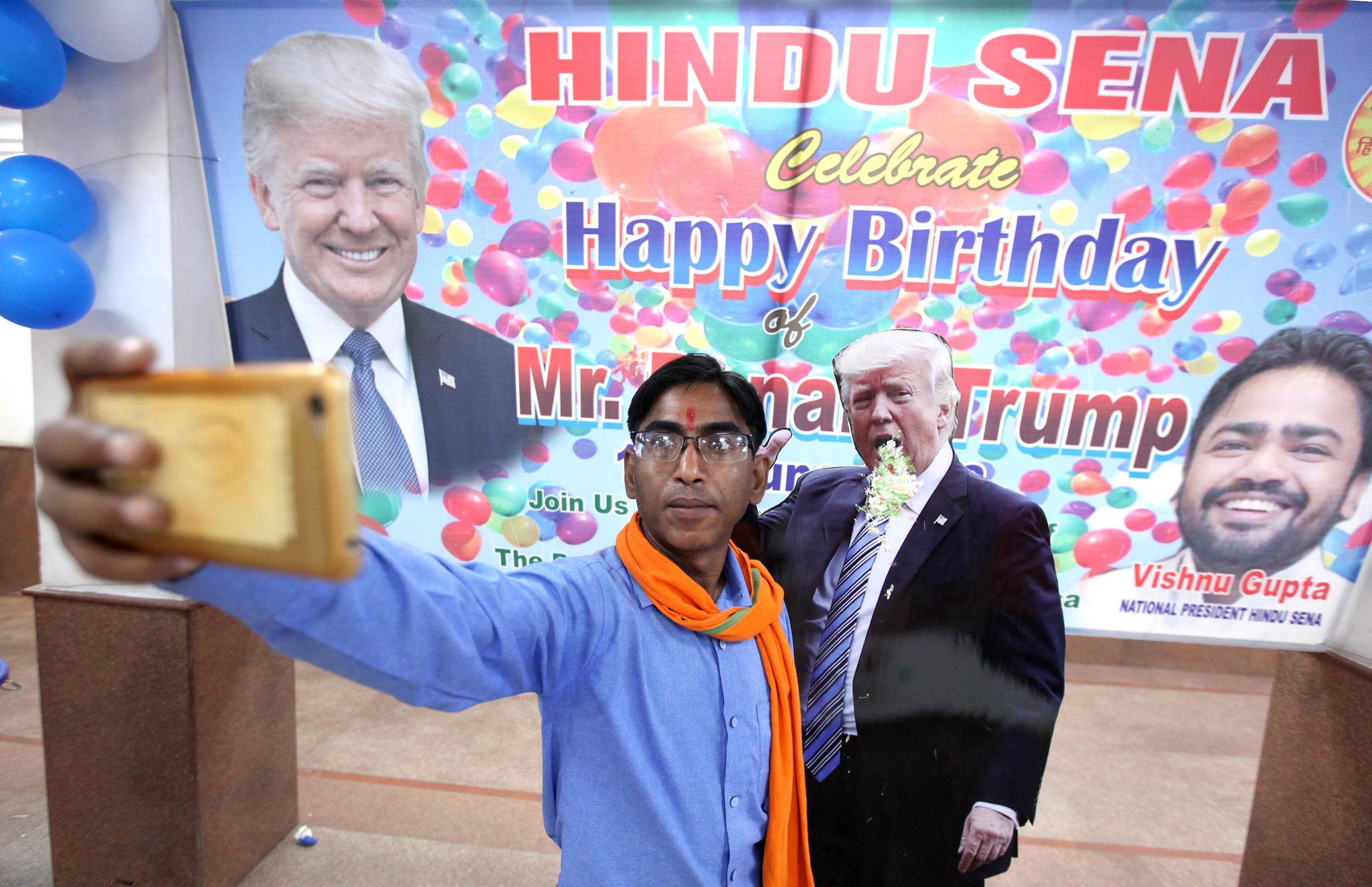 We tried to talk to some young people who said they had joined the organisation few months ago, but our attempts were frustrated by a group of hijras who barged in asking for alms—traditionally distributed during a newborn baby's birthday celebration. Vishnu Gupta's toddler, dressed up in an Apprentice-worthy suit was the main object of their attention. While they chased Gupta for some money, we chased him for a quote.
The cake still hadn't arrived, but the media had.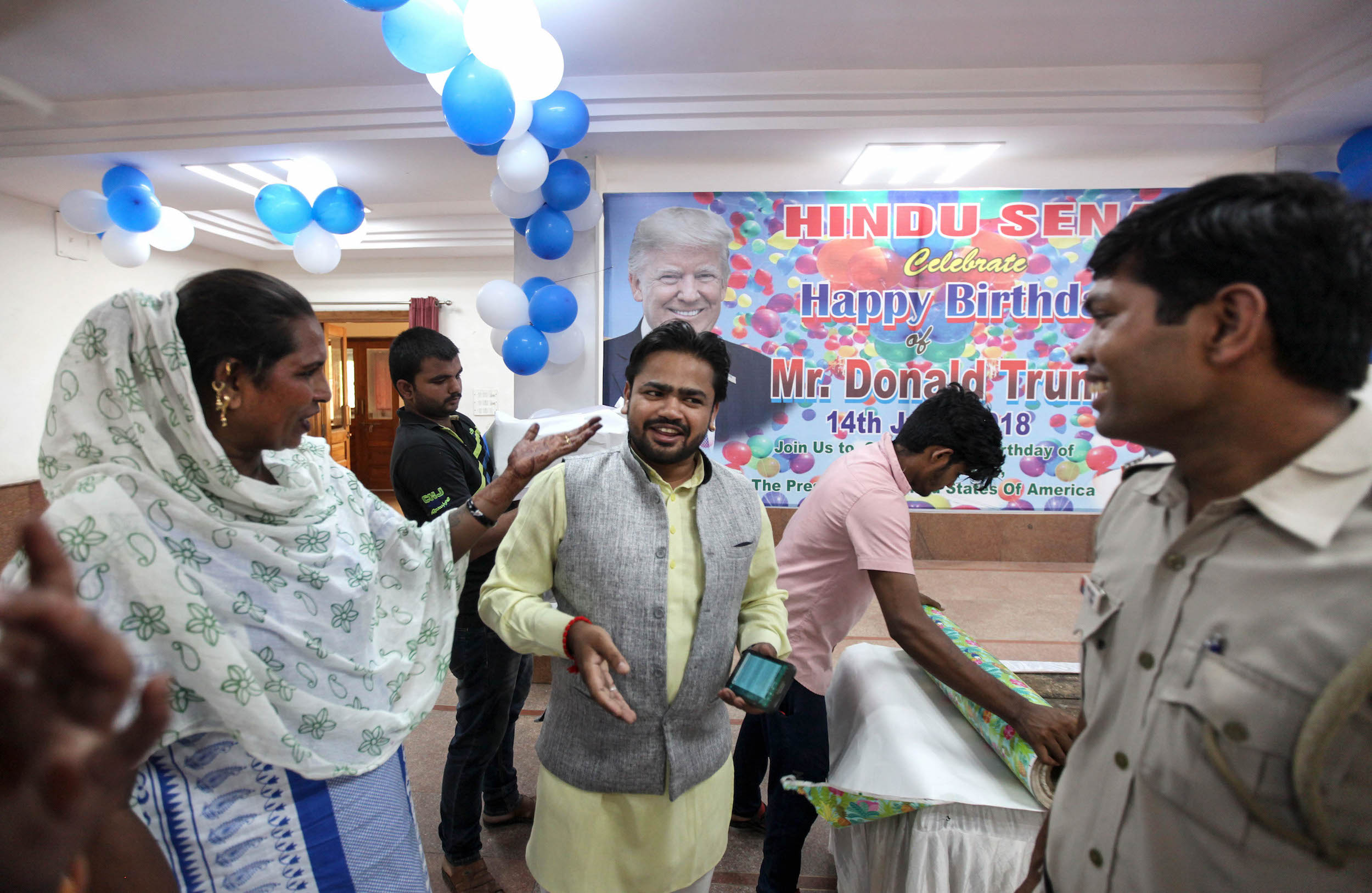 Finally, a big cake was brought in, and a cardboard cutout of Trump dragged to the middle of the room so he could be "fed". Gupta spent another five minutes looking for a knife. A hungry photojournalist shouted, " Itna kharcha kiya lekin ek knife nahi arrange kar paye?" (you've spent so much and you couldn't arrange a knife?). Someone rustled up a rusty knife. A guitarist began strumming happy birthday, the baby was made to dance, and the Hindu Sena sang: "Happy birthday Trump—we love you Trump."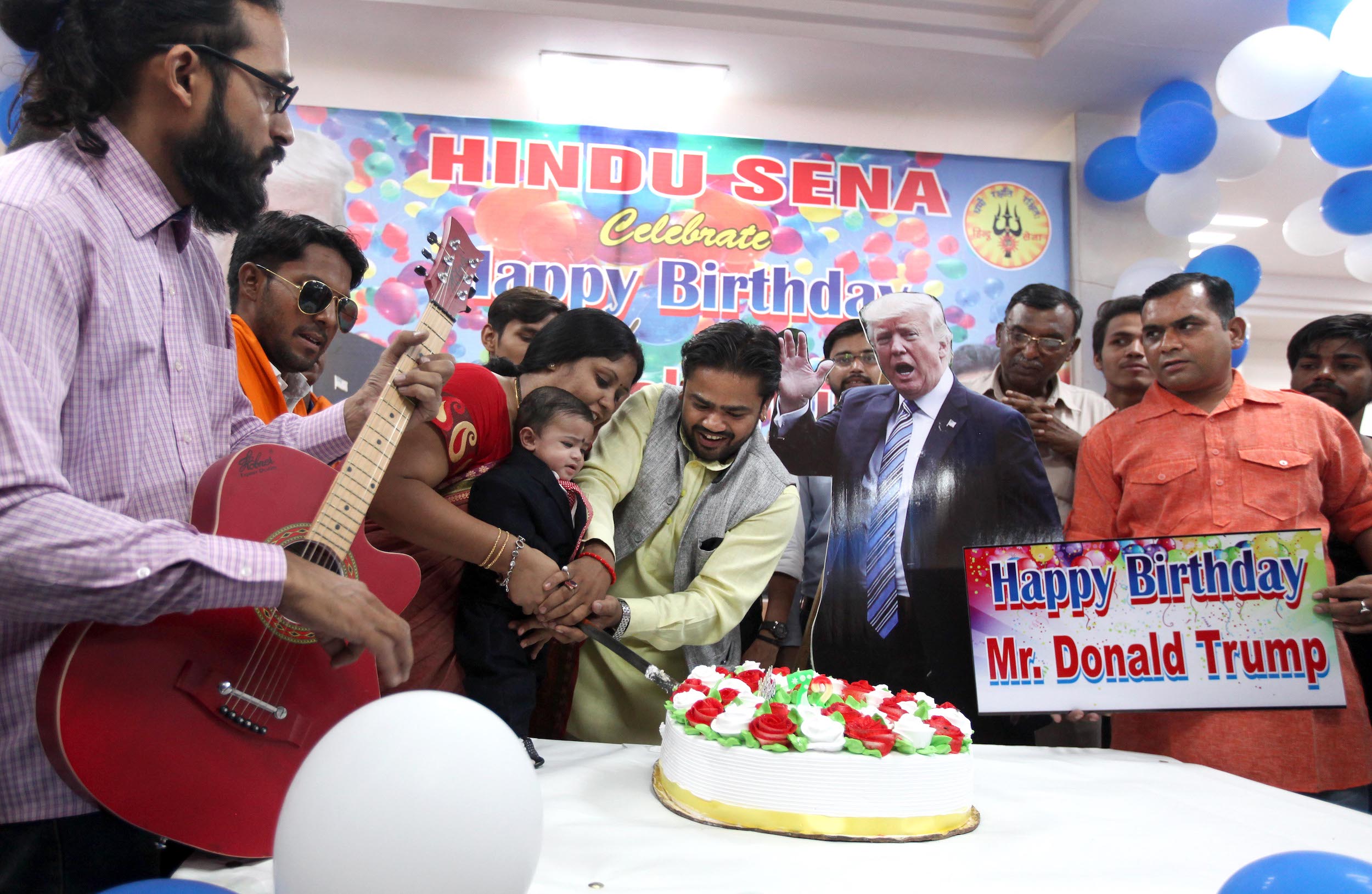 When we finally caught up with Gupta over some cake, we realised the event was something of a family affair. "I like uniformity in my family," he told us. "I like to assimilate them into the activities I'm involved in. For example, I support Donald Trump— so should everyone else in my family."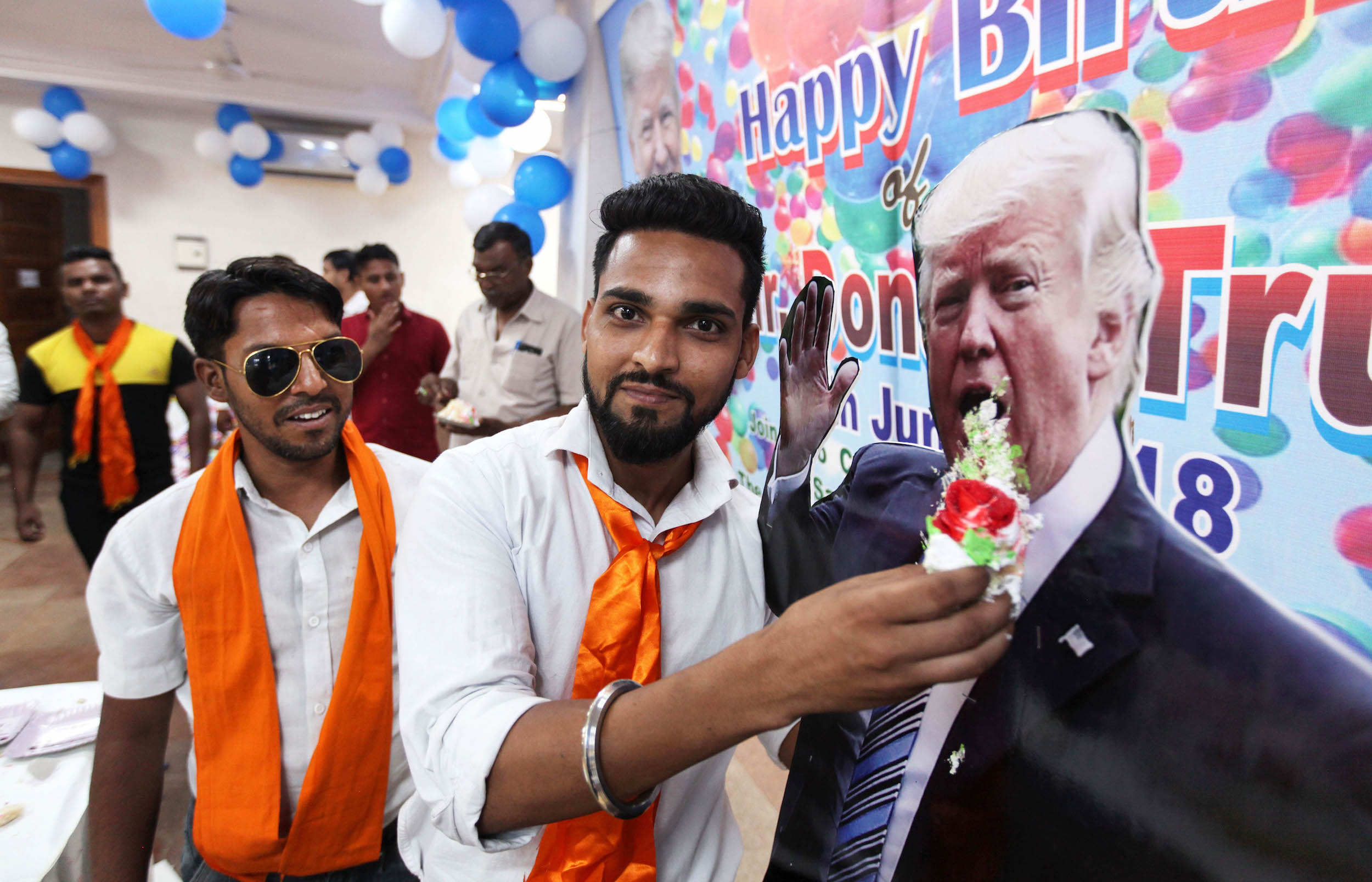 He considers Trump a part of his clan. "It's just like I would organise a birthday for a beloved friend," he said. "I wouldn't think about the money. Trump is my hero, what's the big deal in that?"

Gupta particularly loves Trump because "he keeps Pakistan at its proper level [aukat]." He hoped that "since Modi and Trump are now friendly, that influence now might help Modi be more like Trump."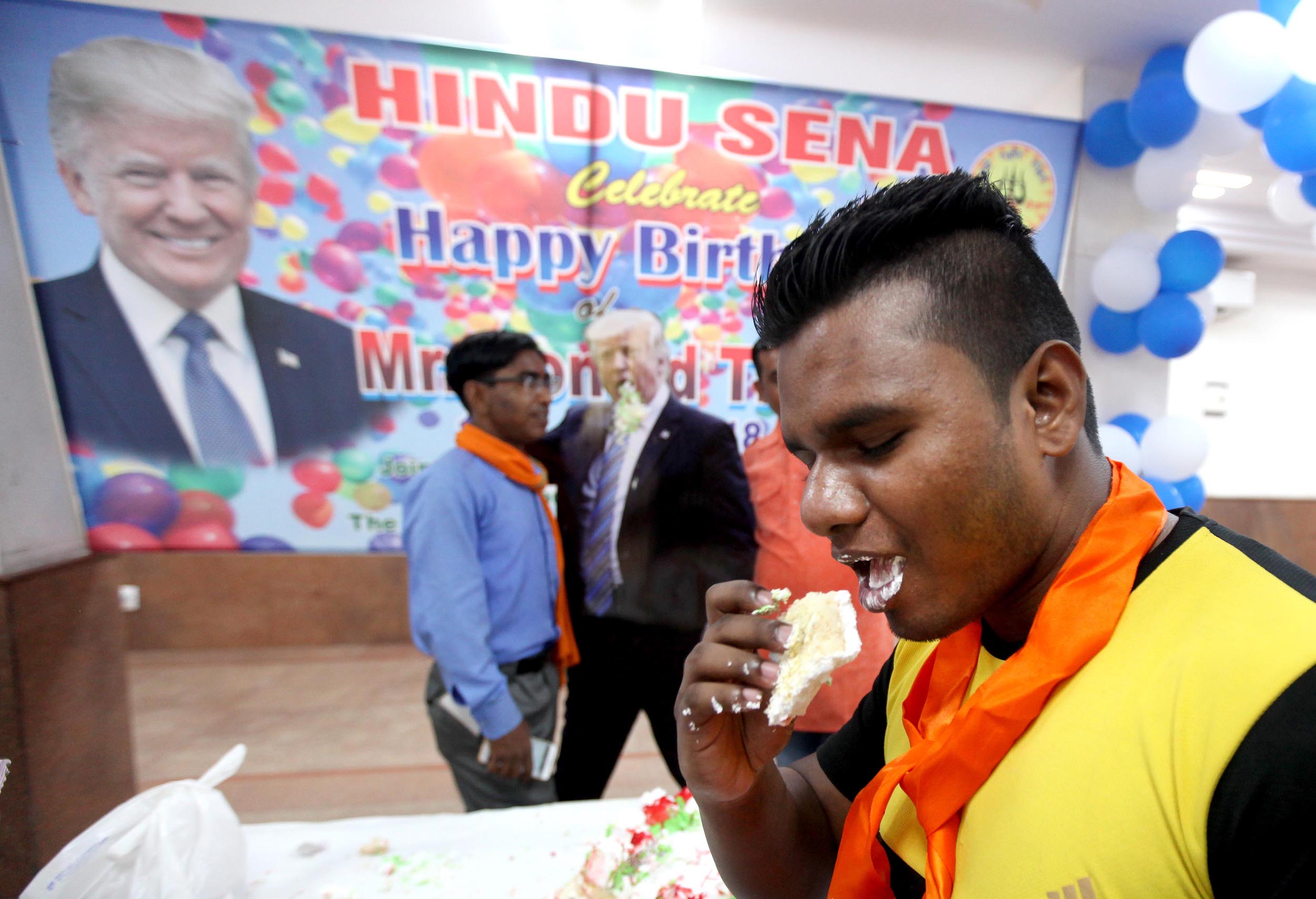 Follow Anup Tripathi on Twitter. Follow Vijay Pandey on Twitter.