People love collector's editions of video games and they've only gotten more elaborate over the years. The $249 Cyberpunk 2077's collector's edition—a game, we should note, about a bleak dystopian future where megacorporations run the world and use their power to influence and control people's likes and desires—will come with stickers, patches, books, and a statue of the main character running a dude down with a motorcycle. Cyberpunk 2077 fans will have to wait until next year to experience to get it, but one person didn't want to wait. Redditor Hary1495 has created computer-generated, photorealistic scenes of the Cyberpunk 2077' s collector's edition opened and strewn across a bed.
Hary1495 posted the scenes to the /r/cyberpunkgame subreddit. He said the renders took between 50 and 60 hours of work. "This scene is modelled completely in Cinema 4D [a 3D modeling software] and rendered using Octane Pathtracing engine," Hary1495 said in a comment on /r/cyberpunkgame. "Visualizing the release day was always in my mind to recreate! I tried to make it as close to authentic as possible with the images that are available."
Harry1945 is a freelance graphic designer who admires Cyberpunk 2077 developer CD Projekt Red's technical skills. He pays attention to the models, textures, lighting, and shadows of games and feels CD Projekt Red does astounding work. "The cinematic trailer...motivated me to do something in CGI which is quite realistic and believable for the game," he said in a direct message on Reddit. Hary1495 loves CD Projekt Red, but said this project was more about stretching his ability to create 3D art than it was a celebration of Cyberpunk 2077.
Some of the objects, such as the controller, the headphones, and the backpack in the second image, aren't official products, but Hary1495's own invention. He used an Xbox One controller as a reference. "It's the [ Cyberpunk 2077] background image of the poster that was released and I mapped it around the controller after making a few tweaks in Photoshop so that it fits correctly and doesn't have any texture glitches," he said in a comment on Reddit.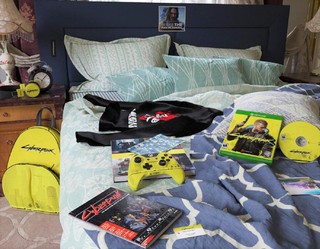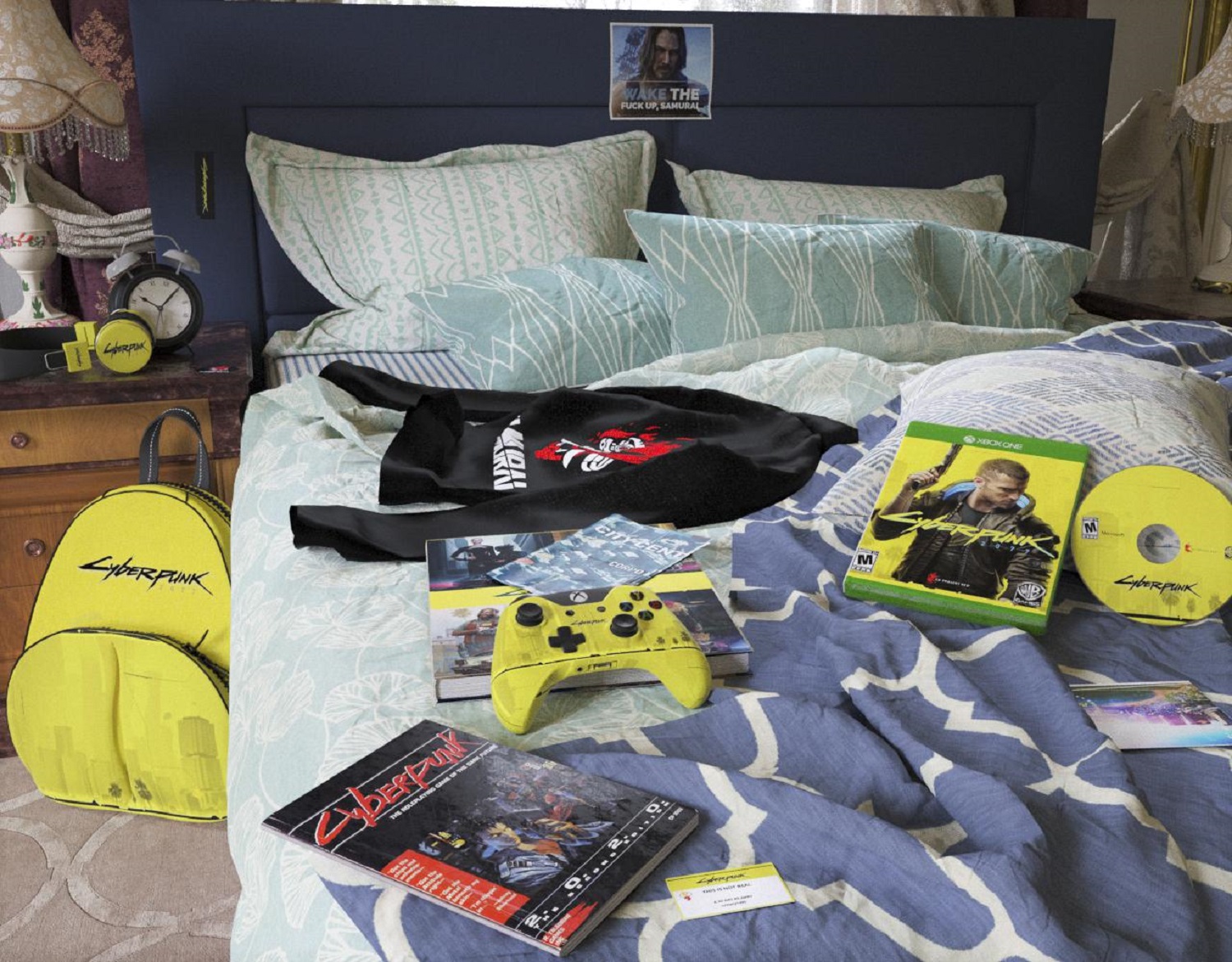 Hary1495 created the bedroom background of the second image in a computer over the course of two months, then tossed in his Cyberpunk 2077 renders. He's working on one last image that he said will incorporate the critiques he received on the first two. "The next project will conclude with the results I hoped for," he said. "And no, the new one I'm working on doesn't have the CDs or the game copies or collected edition stuffs. It's something entirely different but a part of [ Cyberpunk 2077.]"
"I haven't ordered the collector's edition yet," Hary1495 said. He told me his project is more about stretching his ability to create a photorealistic picture than it was his love of Cyberpunk 2077. He wanted to "push something that's not real into reality and get people's reaction to it."