Chuck E. Cheese recently announced that its always iconic, occasionally terrifying animatronic band would be phased out of restaurants starting this year, beginning a time of mourning for children across the nation. Sure, progress had to overtake our novelty pizza joints at some point, but at what cost?
The story of Munch's Make-Believe Band (yes, that's what it's called) runs far deeper than its egregiously loud, objectively scary robot skeletons may lead you to believe. While animatronics are only being ousted in a handful of locations to start, Chuck E. Cheese chief executive Tom Leverton told CNBC that it will be a change enacted across the board of over 500 locations in the interest of transforming the restaurant into a place of "muted colors, warm woods, and open kitchens." Kind of like a Panera Bread that smells like children's BO.
Yes, our beloved robot friends will be shown the door. Yes, the animatronics will be replaced with a more prudent dance floor for kids, and the costumed Chuck E., whose current incarnation is a rockstar mouse, will step out to take on a larger role. But before Munch's Make-Believe Band leaves for good, we humbly offer you the fascinating 45-year saga that has brought our bedraggled robot friends to the brink of extinction—a tangled web of ambition, rivalry, and a prodigal inventor who couldn't catch a break to save his life.
1972
Nolan Bushnell and Ted Dabney found groundbreaking video game company Atari and release Pong, the world's first popular arcade game.
1973
The tragic hero of the animatronics world, Aaron Fechter, graduates college at 19 in the midst of an oil crisis. As he explains in The Rock-afire Explosion, a 2008 documentary about Fechter's eventual animatronic masterpiece of the same name, he has an idea for a fuel-efficient car that he thinks could revolutionize the auto industry, and founds electronics company Creative Engineering to manufacture it.
1974-75
While seeking out one-off engineering projects to raise capital for the car's development, Fechter receives a commission to build his first animatronic. He's a natural with the fledgling technology and abandons his fuel-efficient car dreams to make it his mission to build a full animatronic band.As Fechter explained in The Rock-afire Explosion, "Some people say I'm a puppeteer, some people say I'm unemployed, but really what I am is an inventor."
1976
Bushnell and Dabney sell Atari to Warner Communications. One of the concepts purchased in the transfer is a pizza restaurant that doubles as an entertainment venue and, most importantly to Atari, a family arcade.
Shortly before the acquisition, Atari briefly uses a proto-Chuck E. mascot called "Big Cheese" as a company mascot in a handful of promotional photos. Bushnell gets permission from Warner to begin work on one Chuck E. Cheese location, but Warner is hesitant to greenlight any more.
Meanwhile Fechter, in the first of what would become a series of ill-advised business decisions (chronicled in a 2016 issue of Popular Mechanics) invents the Whac-A-Mole arcade game with Creative Engineering but fails to secure the patent before the concept is reverse engineered and monetized by an early buyer. Fechter openly admits to Popular Mechanics in 2016 that he had ripped the concept from a group of Japanese inventors at the International Association of Amusement Parks and Attractions (IAAPA) by the request of a client, but in making the game developed the same pneumatic tubing system that would make his animatronics so successful.
1977
The first "Chuck E. Cheese's Pizza Time Theatre" opens in San Jose, California, and is the first restaurant to integrate fast food, a video arcade, and live entertainment. Bushnell's restaurant chain was built in the model of any Silicon Valley startup by using vertical integration of Atari arcade games, developing in locations where it could cut out middlemen and reap the profits.
Animatronics at the first location were singing portraits of Chuck E. and the gang called "The Pizza Players," which would banter for the parents' entertainment while the kids played Atari games.
"The original genesis was to create a big arcade with food as a support structure, almost as an ancillary service," Bushnell told The Atlantic in 2013.
Unlike the skateboarding Chuck E. Cheese we know and love today, the character's first incarnation was a "Joisey rat" who smoked a cigar while hurling one-liners at the "slower" members of the band like Jasper P. Jowls and Helen Henny—characters still used today—
and discontinued characters Crusty and Cat, the Warblettes, and Madame Oink. A live Chuck E. costumed character also walked the floor of the restaurant.
1978
Fechter brings his groundbreaking animatronic band "The Wolf Pack 5" to IAAPA to mass acclaim, putting Creative Electronics on the map.
Meanwhile, Bushnell purchases the rights to Chuck E. Cheese's Pizza Time Theatre from Warner for $500,000 before severing ties with Atari. While the San Jose location thrives, Bushnell seeks out new partners to help franchise the restaurant.
1979
Enter financier and hotel franchiser Robert Brock, who pits Bushnell against Fechter in a battle for pizza parlor superiority.
Brock meets Bushnell and takes an immediate interest in the venture, signing on to franchise Chuck E. Cheese in over 200 locations in 16 states, and expresses a wish to take its animatronics to the next level. Bushnell keeps on programmer Mike Hatcher as the animatronics staffer for Chuck E. Cheese, and neglects to inform Brock that he has not only met Fechter and Creative Engineering's superior product, but has also made a rejected attempt to buy a stake in the company.
By chance, Brock then meets Fechter and the Wolf Pack 5 and recognizes the potential of full-bodied animatronics. Instead of attempting to bring Fechter over to Chuck E. Cheese, Brock used Bushnell's omission of having met Fechter as an excuse to cancel his deal with Chuck E. Cheese and starts a rival pizza chain, Showbiz Pizza, in partnership with Creative Engineering.
The first gauntlet in the Great Robot Pizza Wars of the 1980s has been thrown.
1980
Showbiz Pizza opens with an identical business model to Chuck E. Cheese in March 1980 to widespread enthusiasm. Bushnell promptly brings a court case against Brock and his company, Topeka Inn Management, over breach of contract, and Brock countersues for misrepresentation. The protracted legal battle costs both sides a fortune and lasts over two years.
The year also marks the debut of Fechter's masterwork, The Rock-afire Explosion, a fully programmed and customizable band that was modeled on the success of The Wolf Pack 5. Showbiz Pizza banked on kids and parents wanting the animatronics front and center instead of the framed afterthoughts of Chuck E. Cheese, and so flanked the stage with full-sized characters Fatz Geronimo, Duke Larue, Mitzi Mozarella, Rowlf Dewolfe, and Billy Bob Brockali (a nod to Robert Brock). Small adjustments are made to give Showbiz the edge over Chuck E. Cheese, including a room where moms can go to watch soap operas while the kids play.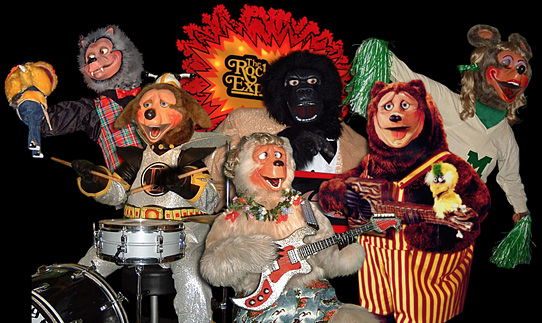 Fechter is given 20 percent and a position as a minority shareholder with Showbiz Pizza and continues to grow Creative Engineering. He refers to his contract with Brock as an "inventor's dream," and would later make the sunny declaration to Fortune that his partner was "a real inspiration, right up there with my mom and dad."
1981
While Showbiz and Chuck E. Cheese remain in fierce competition, both companies become solvent and Chuck E. Cheese becomes publicly traded. Start-up costs are challenging—a full Rock-afire Explosion band cost an estimated $90,000 in the early 1980s—but the restaurants stay afloat, eclipsing Pizza Hut and McDonalds in annual revenue.
While the legal battle continues, Bushnell hands off the day-to-day operations of Chuck E. Cheese to focus on other ventures but remains a part of the company.
1982
After two years in court, Bushnell prevails and Showbiz is required to provide a payout of an estimated $50 million to Chuck E. Cheese over the next 14 years.
Bushnell tells Fortune that "Bob Brock is a very greedy guy."
1983
Atari and the video game industry collapse, leaving both companies reeling from a reliance on kids' interest in new Atari arcade games. Expansion slows to a near halt for the two chains. Chuck E. Cheese loses $15 million this year.
1984-86
Bushnell's losses in the 1983 crash of the gaming industry lead Chuck E. Cheese to file for Chapter 11 bankruptcy. Showbiz snaps up its competitor and Brock rebrands the operation as Showbiz Pizza Time Inc.
At the time of purchase, Showbiz Pizza Time Inc. owned 359 locations between Showbiz and Chuck E. Cheese, and the 100 least profitable locations are closed. Fechter and Brock's relationship begin to sour once new Rock-afire Explosion bands stop being produced and Creative Engineering is downsized.
1989
While decisions on how to unify the Showbiz and Chuck E. Cheese brands are made, Fechter is asked to give the rights to the Rock-afire Explosion to the company in order to allow the characters to remain in the restaurant. He believes that the band had potential to expand into movies, cartoons, and record deals, and declines to hand over the rights. The Rock-afire Explosion is removed from marketing.
1990-1992
All Rock-afire Explosion characters are removed from remaining restaurants and their skeletons are refurbished with Munch's Make-Believe Band, a stage adaptation of the old framed animatronics that used popular Chuck E. Cheese characters like Chuck E., Jasper, Helen, Munch, and Pasqually to replace the Rock-afire robots. This results in terrifying hourlong "concept unification" videos detailing how to Frankenstein a Rock-afire character into a Chuck E. Cheese branded one by removing its clothing, fur, and rubber skin until it's a robotic skeleton:
By 1992, the name of every remaining location changes to Chuck E. Cheese and the Rock-afire Explosion is completely removed from the chains. Most of the originals are destroyed.
2008
Director Brett Whitcomb releases The Rock-afire Explosion. The documentary enjoys modest success, giving Fechter the opportunity to tell his side of the Great Robot Pizza Wars of the 1980s.
2009
Alabama DJ and Rock-afire Explosion superfan Chris Thrash purchases and assembles his own band from Fechter and posts a video of them singing Bubba Sparxxx's "Ms. New Booty" on YouTube. The video goes viral. A new generation is introduced to the band.
2012
Chuck E. Cheese's character is rebranded again, this time as a CGI-rendered rock star and gluten free options are introduced on the menu nationwide.
2013
Creative Engineering Headquarters in Orlando, Florida, explodes due to what Fechter refers to as "rust worms," causing significant damage to the remaining Rock-afire inventory, but much is salvaged.
Cee Lo Green invites the Rock-afire Explosion to perform with him in Las Vegas.
2014
Five Nights at Freddy's , a video game about a haunted group of animatronics that terrorize a nightwatchman, is released and becomes massively popular thanks to YouTubers like Pewdiepie. This reignites public interest in retro animatronics, and has spawned four sequels.
Chuck E. Cheese Entertainment is sold to Apollo Global Management, which also own the Claire's and Caesar's Entertainment chains, for $950 million.
2015
The Rock-afire Explosion documentary is released on YouTube and has been viewed over 320,000 times at the time of this writing.
2016
Chuck E. Cheese begins to phase out tokens in favor of a cleaner "PlayPass" card system. Adults are welcomed into the restaurant without kids and encouraged to drink coffee and use the free Wi-Fi, both of which are way better than you'd think. As a known entity of the Eagle Rock Mall Chuck E. Cheese in LA, you can take my word for it.
Meanwhile, Fechter returns to his arcade roots and releases a game called Bashy Bug at the IAAPA.
"I've had so many failures," he says in an interview with Popular Mechanics. "I'm so scared this is just going to be another."
To keep the Rock-afire Explosion alive, Fechter hosts Five Nights at Freddy's themed birthday parties at the near-abandoned Creative Engineering headquarters in Florida, where the Rock-afire Explosion performs before shutting off the lights to emulate the haunted, after-hours feel of the game.
Which brings us to today.
2017
Chuck E. Cheese announces that the animatronics will be phased out in the coming years.
"Animatronics was cutting edge when Chuck E. Cheese started," Bushnell told Gizmodo last week. "I try very hard not to live my life in the rearview mirror. I like change, I like progress, and I like new things."
Bushnell's lack of ostensible mourning for the animatronic band isn't surprising at all, as the animatronics were never the priority for the restaurant model he'd conceptualized during his Atari days. The animatronics were always Fechter's department, and Fechter's active YouTube channel continues to release Rock-afire Explosion themed videos from Creative Engineering headquarters as recently as four days ago. A Five Nights at Freddy's movie is also in the works.
As we mourn the passing of our great animatronic heroes, take heart. Maybe they'll replace them with equally terrifying holograms. You'll have to excuse me, I have to go weep into my overpriced mediocre pizza.