April 20 means different things to different people. For weed smokers, it's 4/20 Day; if you work at the the United Nations, you know it as Chinese Language Day. If you happen to be a neo-Nazi, things take a darker turn: it's an occasion to celebrate Adolf Hitler's birthday.
For that reason, hundreds, if not thousands of neo-Nazis from central Europe are expected to descend on the tiny east German town of Ostritz Friday to attend the Shield and Sword Festival — a far-right event that promises ultranationalists a full-spectrum modern festival experience, running the gamut of neo-Nazi subculture.
Held under the motto "Reconquista Europe," the Shield and Sword Festival's lineup reflects the organizers' attempts to "portray the diversity of our political will over a weekend." The result is an event combining speeches by senior figures from the National Democratic Party (NPD), a far-right political group typically referred to as a neo-Nazi organization; a concert by radical right-wing rock bands; an MMA tournament from a far-right promoter; tattooists and stalls with popular far-right streetwear brands.
"Most people believe that we are only pursuing election policies. But no, loving one's homeland also means that all life revolves around politics," reads the festival website. "Culture, art and way of life belongs to politics!"
The festival is expected to be one of the biggest events on the German far-right calendar, experts warn, providing an important forum for networking, fundraising and mobilizing for the radical right, in a country — and region — struggling to address the rising strain of militant extremism. Ostritz lies on the border with Poland, not far from Czech border, and the festival is expected to draw neo-Nazis from across those three countries and further afield, effectively taking over the tiny town of 2,400 people for the weekend. It's not known how many will attend; festival organizers have registered the event for 750 people, but boasted on Facebook that they have space for 10,000, while anti-racist groups anticipate 2-3,000 will show up.
"If neo-Nazis are able to gather and celebrate Hitler's birthday without any interruptions, there is something fundamentally wrong."
Experts say the ambition of the festival points to an increasingly emboldened far-right scene in Germany. One-off concerts by far-right bands aren't uncommon in Saxony, an east German state with an entrenched skinhead scene and a reputation as a stronghold for right-wing extremism. But grouping the bands together in a multi-day festival format with other strands of far-right subculture — MMA, streetwear and politics — represents a troubling evolution.
Opponents of the festival fear it will provide extremists from distinct far-right subcultures, and three European countries, a prime opportunity for networking, collaboration, and recruitment, all under a banner – of European nations "reconquering" their lands from an invading Islam – that is militant and inherently radicalizing.
"The event … will be the place where German neo-Nazis will meet to solidify and extend their cooperation with members of the Czech and Polish neo-Nazi scene," said Sascha Elser spokesperson for Rechts Rockt Nicht (Right Doesn't Rock), an antiracist initiative formed to oppose the event.
"They will turn their celebration of Adolf Hitler's birthday into a funding event for their organizations."
The prospect has angered locals, as well as left-wing and anti-racist groups, who are making their way to Ostritz from across Germany, Poland and the Czech Republic to hold their own counter-rally — a development that has raised concerns among locals about potential clashes between the groups.
READ: A lit fuse – how a far-right terror group's bombing campaign unleashed something sinister in a small German town
Critics have argued that a neo-Nazi event on Hitler's birthday should not be allowed to go ahead, but the organizers gained permission by registering the event as a political assembly. The extremists in attendance will take their customary precautions to avoid breaking German laws around the Holocaust; banned symbols like the swastika cannot be displayed, which means festival-goers who have them tattooed on their arms will have to wear long sleeves when police make their rounds of the venue. Otherwise, authorities say, the event is permitted to proceed in accordance with the country's Basic Law, which grants people the right to gather peacefully.
Festival organizer Thorsten Heise, the NPD chairman in the neighboring state of Thuringia, declined to answer VICE News' questions about the festival, saying they would be addressed at a press conference Saturday. His team said journalists would have access to the festival venue for a brief window on Saturday, and would be accompanied by security, for their protection.
The festival is taking place against a backdrop of rising far-right extremism in Germany. The number of right-wing extremists in Germany rose to 23,100 in 2016 from 21,000 in 2014, according to the latest report by the country's domestic security agency.
The radicals are also becoming more violent, according to the report, which classified more than half of the country's right-wing extremists as "violence-oriented," and said that the willingness to use violence against foreigners, or against politicians who advocate for migrants, was becoming more common. The surge in extremism has been spurred on, in part, as a response to the arrival of more than a million migrants, mostly of Muslim origin, since 2015, according to the report.
READ: Poland's populist government let far-right extremism explode into the mainstream
The report also found that more than a third of German extremists are involved in far-right subcultures like the skinhead or right-wing music scenes — movements with deep roots in the east German state of Saxony. Experts say the resilient far-right subcultural networks in the state stretch back for years, from the neo-Nazi hooligan firm "Fist of the East" that supports the Dresden Dynamo football team, to the growing radical right-wing music scene (at least 46 such concerts were held in the state last year, about twice the number of the previous year, according to local monitoring group Kulturbüro Sachsen.)
"Ostritz is not a Nazi town, not even for a weekend."
The state has also been home to far-right terrorists. The members of the National Socialist Underground – the country's most notorious modern far-right terrorists, responsible for 10 murders from 2000-7 – were based in the Saxon town of Zwickau, while just last month, eight members of a far-right terror cell were jailed for a bombing campaign targeting migrants and their advocates in a Saxon town.
Locals prepare to fight back
These cases have cast a long shadow on the state, and opponents and activists are determined to challenge the glorification of far-right ideology in the state this weekend. Elser told VICE News that Rechts Rockt Nicht intended to stop the neo-Nazis from turning the small, isolated town into a "safe zone for Hitler's fans" to celebrate his life and ideas, and "a fascist no-go area" for everyone else.
"If neo-Nazis are able to gather and celebrate Hitler's birthday without any interruptions, there is something fundamentally wrong," said Elser.
Local resident Michael Schlitt echoed Elser's general sentiment. He has organized a separate, apolitical "Peace Festival," which he says promotes values of tolerance and coexistence. The event, which will be opened by Saxony's top politician, Minister-President Michael Kretschmer, is to be held in the town's market square, a short distance from the neo-Nazi festival venue, a local hotel.
"We don't want to leave the town to the neo-Nazis this weekend so they can celebrate Hitler's birthday unmolested," Schlitt told VICE News. "Ostritz is not a Nazi town, not even for a weekend."
He hopes his rival demonstration will deter the Shield and Sword organizers from returning for a second festival in November, as they have threatened to do. "You mustn't wait until the snowball has turned into an avalanche," said Schlitt. "You have to stop the rolling snowball. No one stops the avalanche."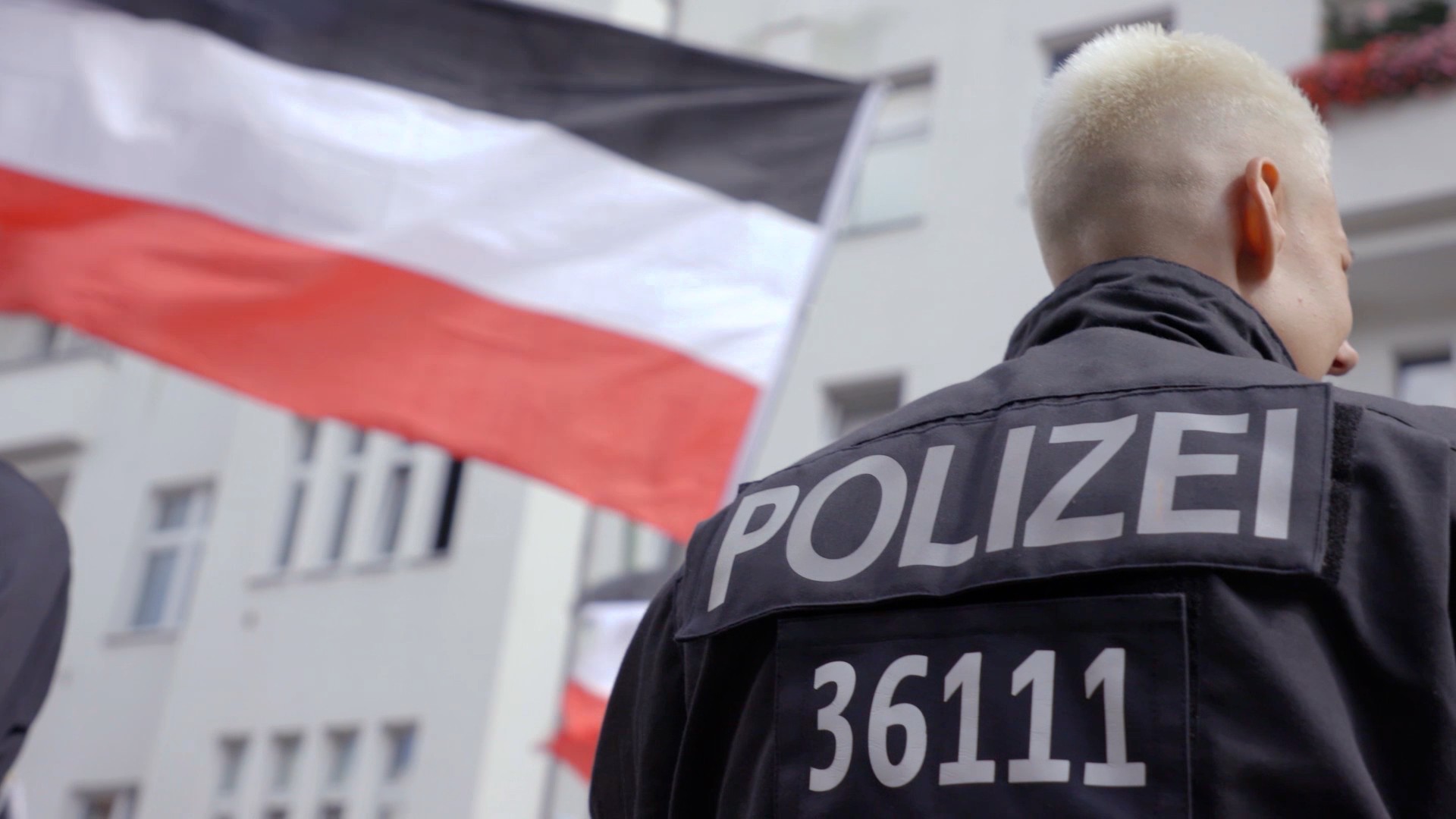 Cover image: A supporter of the far-right NPD party attends a rally in Berlin April 13, 2012. Some 50 extreme-right supporters of the nationalist National Party of Germany (NPD) marched on Friday through a Berlin suburb demanding Germany dropped the Euro currency and calling for delinquent foreigners to be expelled. REUTERS/Thomas Peter