Amy Drucker/Stocksy
Abortions—both medical and surgical—are safe, and complications are rare. Abortion is safer than pregnancy or childbirth. Abortions can be safely administered in outpatient settings. And though they are on the decline, they're common, with one in four women having an abortion by age 45.
And yet, a 30-year-old New York woman died from complications after getting an abortion at 25 weeks pregnant.
The doctor who performed the procedure was recently tried for second-degree manslaughter. While most medical malpractice suits are civil matters, a jury deliberated last week whether Robert Rho was criminally responsible for the 2016 death of Jamie Lee Morales of Buffalo, New York, for which he could have faced up to 15 years in jail. While the jury convened, Rho agreed on Friday to plead guilty to the lesser charge of criminally negligent homicide, which carries a sentence of 1.3 to 4 years of jail time; he's awaiting sentencing.
When Morales came to the now-shuttered Liberty Women's Healthcare in Flushing, Queens, she'd reportedly only learned a week earlier that she was pregnant. Rho performed a dilation and evacuation to terminate her pregnancy in one afternoon. When performed properly, this procedure is considered the safer and more common method of abortion in the second trimester. But the doctor is accused of causing "a laceration of the victim's cervix, a perforation of the uterine wall, and a disruption and transection of the uterine artery," according to the office of Queens District Attorney Richard A. Brown.
Morales was bleeding "profusely" in the recovery room and underwent a second procedure under Rho's care to try to stop the bleeding. Although she later collapsed in the clinic and was disoriented, prosecutors say she was sent home with her sister with instructions to go to the hospital if the bleeding returned. Morales reportedly passed out in her sister's car, and was brought to a Bronx-area hospital where she received six pints of blood before she died. The New York City medical examiner ruled that she died of hemorrhaging from injuries of the cervix, uterus, and uterine artery.
How could a botched abortion take place in urban New York, where medical providers are plentiful and the state is one of the least restrictive in the country—no waiting periods, mandatory ultrasounds, or TRAP laws to chip away at abortion access?
Few providers in New York were willing to perform the procedure because Morales was too far along in her pregnancy; the Associated Press reports that other clinics reportedly turned her away before she landed in Rho's office.
The reasons for this are more complicated than one might expect. Tucked in the state's penal code is a law that predates Roe v. Wade, and criminalizes abortion after 24 weeks unless the woman's life is at risk. When the law was first introduced in 1970 and abortion was illegal, allowing a "justifiable abortional act" was trailblazing: it permitted abortion "within 24 weeks from the commencement of her pregnancy," and at any point in the pregnancy if the woman's life was at risk. Not protected under this state law is an abortion if the woman's health is at risk, if the fetus isn't viable, or in the cases of rape. But since 1973, per the passage of Roe v. Wade, federal law—which does protect those situations and allows for abortion of a nonviable fetus at any point in pregnancy and a viable fetus at the states' discretion—came to supersede state law, though most clinics and hospitals base their policies on the state law.
But in Morales's case, her abortion was elective, per the medical examiner, meaning it wasn't based on a health risk and, as far as we know, there were no fetal anomalies incompatible with life. At her advanced stage of pregnancy, she was racing against the clock for a legal abortion, and her options in New York were limited.
"The New York State Department of Health has long held that 'commencement of pregnancy' means conception," says Katharine Bodde, senior policy counsel at the New York Civil Liberties Union, which has been fighting to remove New York's abortion law from the criminal code. That means while the medical profession typically measures pregnancy based on the first date of the woman's last period [LMP], "conception" is about two weeks after that. The fact that such a rule still exists in New York's criminal code is enough for providers to refuse abortion care after a certain date.
Morales is reported to have been 25 weeks pregnant LMP, or about 23 weeks pregnant based on conception. The abortion provided by Rho was technically legal under state law (the law should allow abortions up to 26 weeks LMP), but the window was narrow enough for her to be turned away by other providers.
Planned Parenthood in the Bronx, which reportedly turned Morales away, offers in-clinic procedures up to 12 weeks and 6 days after the start of the woman's last menstrual period. (Planned Parenthood's Margaret Sanger Center in Manhattan provides abortions up to 24 weeks LMP, but Morales was too far along for that, too.) After that, Planned Parenthood will refer the patient to a partner provider and, if a patient is past the partners' limits, referrals outside of the city or state are provided. Tonic has reached out to Planned Parenthood to inquire if the 24-week limit is related to state law; we'll update this story if we hear back.
"Every individual who performs D&E generally has a 'cutoff' gestational age beyond which he or she is not comfortable due to safety concerns," says Stephen Chasen, an OB/GYN and maternal-fetal medicine specialist at Weill Cornell Medicine in New York City, who also served as an expert witness in the case. He adds, "It's technically a more difficult procedure: There are fewer physicians who are trained to do it and there are more anesthesia requirements."
He also points out that, beyond 24 weeks LMP, a surgical abortion may be safer in a hospital setting than a clinic, but New York hospitals may have even more restrictive policies because of the state law, with rare exceptions for life-threatening conditions.
---
Watch More from Tonic: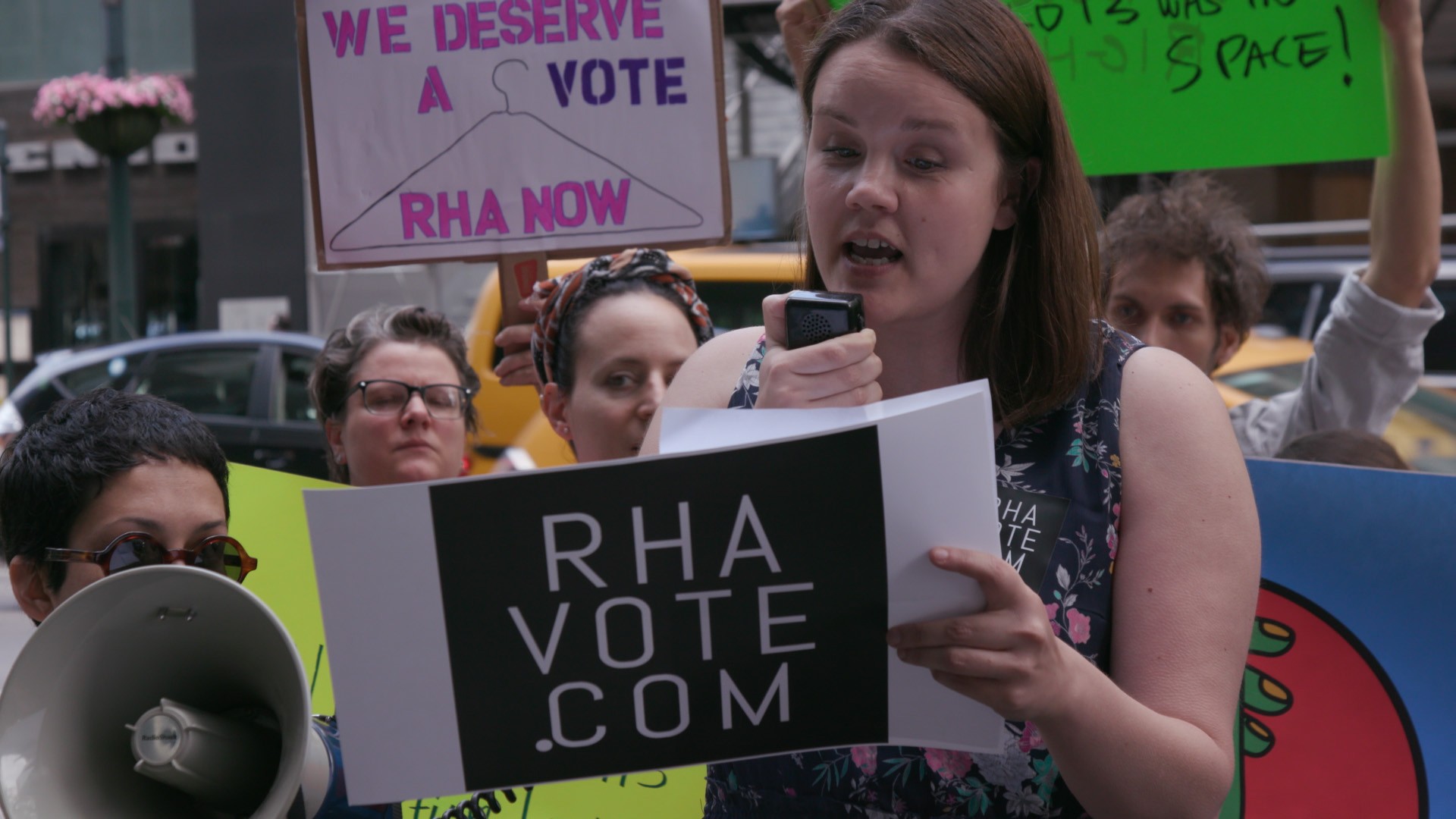 ---
While we don't know what options were presented to Morales or how she ended up in Rho's care, we do know that time is of the essence when seeking abortion care at that late gestational age. Women may be referred to a different provider locally, or they may have to travel out of state for the procedure. We've already seen dramatic rise in figures in so-called "abortion deserts" of women crossing state lines: in Texas, for example, women are being encouraged to travel to New Mexico where access is less restricted.
To get some insight into the real-world impacts of New York's law, I talked with Erika Christensen, a New Yorker who has spoken publicly about her abortion at 32 weeks. She discovered late in her pregnancy that her baby would have died shortly after birth and she and her husband chose to have an abortion.
Since Christensen couldn't legally terminate her pregnancy in her home state, she flew to the Colorado office of Warren Hern, one of the few remaining doctors in the US who provides late abortions. There, she received a shot to terminate the pregnancy and then—because of her complicated medical history—she flew back to New York that night and later delivered a stillborn in a hospital under her obstetrician's care. She paid out-of-network costs of about $10,000.
"It's shocking to have the law be something to consider in your medical decisions," Christensen says. "You're forced to manage the system, and if you remove any element that I had going for me—being educated, reading English, scraping together the money, having a wonderful doctor who worked to make this happen—you can see how someone might have to carry a pregnancy that is doomed or seriously threatens their health."
Chasen also points out that because late abortion is so stigmatized, it can have the effect of pushing away qualified providers. "I don't want to say it's being driven underground, because there are many reputable people giving good care, but there are those who are filling the vacuum." Although he doesn't think that pushing providers like Planned Parenthood to perform procedures at a later gestational age is the answer, he explains that with very few providers offering abortions at 24 to 26 weeks, there is space for less qualified providers to emerge.
Rho was fully licensed—though his medical license was suspended after Morales's death—and, according to his attorney Jeffrey Lichtman, he had performed upwards of 40,000 abortions over 20 years.
Nonetheless, Rho's public profiles tout his expertise as a plastic surgeon specializing in vaginal rejuvenation and liposuction, not abortion care. And anonymous online reviews alternate between glowing reviews of how "comfortable" his office was and scathing takedowns of his temperament. A report published after Morales's death says he agreed to a $2 million settlement with a woman who claimed that a failed second-trimester abortion caused her to prematurely give birth to a baby with brain damage.
But for Morales, who had only recently learned she was pregnant and was up against the legal abortion limit, those kinds of details may not have registered. Rho was licensed and experienced, and he was conceivably capable of performing a safe procedure.
It should be noted that the only outlet reporting on the trial in detail was the site of anti-abortion activist group Operation Rescue, but upon review, Chasen confirmed that the testimony details were reported accurately: Rho administered the anesthesia himself, without a certified anesthesiologist on staff, which defies medical convention. An expert witness for the prosecution suggested that based on the numbers presented, it's possible the anesthesiology reports were forged.
Then there's the mind-boggling speed with which the entire procedure took place. By all medical standards, at that stage of pregnancy, the surgical procedure should be done over a two-day period to make sure the cervix is dilated enough to insert the equipment for the evacuation, Chasen says. Even Rho's now-defunct website described abortions after 20 weeks as a two-day procedure, with laminaria inserted on the first day and evacuation on the second day. (Laminaria refers to a stick made from a particular species of kelp that's typically used to slowly dilate the cervix). According to the reporter at the trial, the abortion procedure began at 1:40 pm and Morales was wheeled out by 6:30 pm, after having undergone a second procedure to stop the bleeding. The Queens DA noted that the procedure began shortly after 1pm and Morales died later that evening.
"As a maternal-fetal medicine specialist, if you told me you're doing a one-day procedure at 25 weeks without preparing the cervix, I would say you're risking lacerating the cervix and this patient could bleed to death," Chasen says.
Was this a situation of one doctor's egregious mistakes or a sign of larger issues related to reproductive rights? "[While] Morales's death was not directly attributable to restrictive abortion laws," Chasen says, "more restrictive abortion laws can certainly lead to unsafe and illegal abortions."
In our current political climate, more conservative state legislatures are emboldened to pass abortion bans as early as 6 weeks, and 20-week abortion bans are emerging state by state. Though blatantly unconstitutional because they attempt to ban abortion before a fetus is viable—the foundation of Roe v. Wade—the long-term purpose of these extreme bans is to get before the Supreme Court to challenge the landmark ruling.
Even if the most restrictive laws were to go into effect, Morales's experience suggests that abortions—including the rare situations of late, elective procedures—aren't going away, even if access to quality providers is limited or nonexistent.
Correction 5/7/18: The original headline said other providers "refused" the woman and it has since been corrected to more accurately reflect the facts. This story has been corrected to reflect the fact that as far as we know, there were no fetal anomalies incompatible with life, not that the fetus was viable.
Sign up for our newsletter to get the best of Tonic delivered to your inbox.