VIRGINIA REPUBLICAN GLENN YOUNGKIN AT AN ELECTION-NIGHT RALLY ON NOVEMBER 2, 2021 IN CHANTILLY, VIRGINIA (PHOTO BY CHIP SOMODEVILLA / GETTY IMAGES)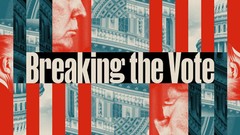 A series tracking the growing assault on voting rights, and efforts to undermine the democratic process in America.
Republican businessman Greg Youngkin easily dispatched Democrat Terry McAuliffe in Virginia's off-year race for governor this week. What happened? There were takes. So many takes.
Want Breaking the Vote straight to your inbox? Sign up here.
One Virginia man supplied the internet evidence that old-fashioned racist dog-whistling about "critical race theory" delivered the election to Youngkin. Some ventured that Youngkin won by disavowing Donald Trump (this didn't happen). Or maybe he won by farming out the Trumpism to Steve Bannon and a menagerie of pro-insurrectionists, who pumped it through their siloed media channels (this definitely did happen). If you feel like giving McAuliffe a break, President Joe Biden's approval numbers are awful, and that's all you need to know.  
But here's what I think is most important for us here at Breaking the Vote: 
Whatever their other concerns, a majority of voters in Virginia don't think an attempted coup by the current leader of the GOP, nor the party's ongoing efforts to rewrite and cover up that coup attempt, disqualify the GOP from holding power less than a year later. 
Most voters don't read newsletters. They have jobs and kids and everyday worries outside politics. They might be sick of COVID restrictions and rising prices and feel like punishing the party in power. So they might not be thinking about looming authoritarianism and insurrections. Many in the base that surged for Youngkin are among the 60 percent of Republicans who've succumbed to Trumpists' relentless lying about 2020 and believe Joe Biden stole the election. 
Biden beat Trump in Virginia by 10 points just a year ago. But in the end, a state full of Biden supporters didn't think the party whose leader tried to steal the last election and is enlisting that party to build the apparatus to steal 2024, is unfit to govern. 
Youngkin started his race by getting close to Trump and getting his endorsement, then acted more distant as the race progressed. That's pretty standard stuff, but Youngkin's version included refusing to acknowledge Biden's win for as long as possible, and harping on "election integrity" before leaving the Trumpist talk behind to be handled by others. 
It matters because governors play a vital role in running fair elections. Youngkin's pro-insurrection supporters on the right stumped for him because they expect him to use his power to launch Cyber Ninja–style audits, appoint partisans to the State Board of Elections, and ensure that any future win by a Democrat in Virginia is automatically suspect. 
I have no idea if it's realistic to expect authoritarianism and memories of the Jan. 6 riot to motivate voters in a state election while gas prices are at a seven-year high and crime is on the rise.
But Trump, who of course is trying to take credit for Youngkin's win, is telegraphing his plans to ensure victory in 2024 regardless of the vote count. He's recruiting candidates who are on board to help (more on that below). This week in Virginia, support from rural conservatives swelled to give Glenn Youngkin a victory, and the Trumpist surrogates who made it happen expect to be repaid. 
QAnon's Unholy Alliance
Don't miss VICE NEWS Tonight's look at QAnon conspiracies coursing through American evangelical churches. Correspondent Vegas Tenold spent time with Pastor Greg Locke of the Global Vision Bible Church in Tennessee, whose familiar charismatic, tent-revival style of preaching is shot through with apocalyptic warnings about pedophile Democrats, demon-possessed elected officials, and Trump-promotion. Locke denies any connection to Q-thought, but as you can see, the labels hardly matter.
Locke says Joe Biden's pedophilia, Kamala Harris' demonic possession, and Democrats' satanic evil are "fundamental staples" that he's certain of, all while radicalizing his rapidly growing congregation against Trump's political opponents. As many as a quarter of white evangelicals believe in "core tenets" of Q. And since the belief system has morphed from its antisemitic roots of infant blood–devouring puppet masters into a full-blown Trump radicalization cult, the political implications are profound. 
Jan. 6: A Springboard to Office
When you're done wondering if Virginia voters care about insurrection-supporting surrogates investing in their governor elections, take some time for Virginia's new actual insurrection-attending government officials. Three candidates who attended the Jan. 6 demonstration at the U.S. Capitol won election to the state's House of Delegates this week, according to this HuffPost report from Christopher Mathias. They include newly-elected restaurant owner Marie March, who bragged online about attending the "Stop the Steal" rally on Jan. 6 and also posted about a "coming Civil War" in which she was ready to die. Five other candidates known to have attended the Capitol riot but claimed to have not participated, won races for local offices in places like Idaho, New Jersey, and Connecticut. 
By the way, that's just the running tally of Jan. 6 rally attendees who won this week. HuffPost identified a total of 57 state and local officials who attended the rally, and a lot of them will be up for reelection next year.
Red Flags
If you looked around the crowd of current and future GOP elected officials and others on Jan. 6 and thought it was a protest of angry Trump supporters that spontaneously spun out of control, it's time to put that idea to rest. Spend a while with the Washington Post's "Red Flags," an exhaustively-reported timeline of the months leading up to Jan. 6, the terrifying and lethal 187 minutes of the riot, and the long aftermath, where the FBI tracked and arrested rioters, congressional Republicans moved to block bipartisan investigations and accountability, and Trump and his supporters set about building a Republican Party for 2022 and 2024 based on advancing the lie that started it all. 
One major takeaway from the new reporting: There were TONS of warnings that Trump's drumbeat of election lies, his demands for action and his promotion of that morning's "Stop the Steal" rally were attracting supporters planning on violence. Congressional investigations post-Jan. 6 focused mostly on one bulletin sent to the Capitol Police the day before from the FBI's Norfolk, Virginia, field office warning of violent threats. Turns out that warning was one of dozens that never reached Capitol Police or were never acted upon. 
It Was a Threat
Some of those efforts to intimidate officials in states Biden won came from Trump himself. Georgia Secretary of State Ben Raffensperger has a new book out where he brands Trump's now-famous call on Jan. 2 urging him to "find" enough votes to overturn the election "a threat." "Others obviously thought so, too, because some of Trump's more radical followers have responded as if it was their duty to carry out this threat," Raffensperger told AP. 
The district attorney in Fulton County, Georgia, is still investigating whether Trump or anyone else violated Georgia election laws by trying to interfere in vote counts and certification. Meanwhile, Raffensperger, who certified Biden's 12,000-vote win in Georgia, is Trump target #1 for 2022. He's running for reelection against GOP Rep. Jody Hice, Trump's handpicked primary challenger who voted to overturn the election results and has said 700,000 people voted illegally in Georgia. 
Voting Rights vs. the Filibuster 
Senate Republicans this week made it four straight filibusters on bills protecting voting rights, as states under their party's control wrap up a year of making it harder to vote. This time it was the John Lewis Voting Rights Act, an update of the existing Voting Rights Act (VRA) after the Supreme Court gutted its most crucial provisions in 2013 and then again this year (read this for a quick primer on Section 5 and Section 2 and how they function(ed).
The last time the VRA was reauthorized, in 2006, it passed the Senate 98-0. So you might predict smooth sailing in 2021. You'd be wrong! Instead, exactly one Republican, Sen. Lisa Murkowski of Alaska, voted to advance it. 
The obvious question now is, what's next? Reform-reluctant Delaware Sen. Tom Carper is the latest Democrat to come out in favor of killing the filibuster for voting rights legislation only and breaking the GOP's combination of state-level voter restrictions and federal-level blockade. "The filibuster must be confronted, it must be overcome," NAACP Legal Defense Fund president Sherrilyn Ifill told reporters Wednesday. 
Joe Biden has also signaled his support for a voting rights carve-out, but he's not the Joe that matters. Sen. Joe Manchin of West Virginia is the most visible of a small group of Dems opposed to altering the filibuster for any reason. Other Democrats hope the object lesson of a Republican blockade where there was once consensus will soften his view.
"Short of bloodshed, I don't know of any way to fix what we currently have going on. I'd take part in it. I'd just need someone else to be the leader."  -Wade Damms, 47, of Snowflake, Arizona, in the Washington Post's Red Flags interactive report.
Rick Barron Taps Out - The director of elections in Fulton County, Georgia, is calling it quits after a year of scrutiny, harassment, and threats stemming from the 2020 election. You might remember Rick Barron from this piece a couple weeks ago, where he helped kick VICE News' Breaking the Vote coverage by describing the intimidation and harassment Trump's followers heaped on him after Georgia went blue.
Barron says he's leaving to pursue other work. His department is also facing scrutiny under Georgia Republicans new voting laws, which allow the Legislature to enforce partisan control over county election officials, and ultimately, remove them. Fulton County, also known as Atlanta, is a heavily Democratic enclave that's been the focus of Trump's false narratives about 2020. 
Barron told VICE News Tonight's Madeleine May that the review isn't the reason he's leaving, he just wants to try something new. As for the many threats he and his family have faced, Barron said this: "I think we have a lot of elected officials who could have stopped this, if they had spoken out. A lot of elected officials are cowardly and being led by a small segment of their constituency. Rather than leading, they are following. I have lost a lot of respect for people who are in this. It is difficult to reconcile. "
Trumpism's Anti-Democratic Think Tank - Last week we introduced you to John Eastman, the right-wing lawyer who huddled in a "command center" with Rudy Giuliani and other Trump lieutenants in the Willard Hotel in the days before Jan. 6, and who, more crucially, prepared, disavowed, then re-embraced a road map for Trump detailing how then-Veep Mike Pence could overturn the election results on that day. 
VICE News' Cam Joseph has this piece going deeper into the Claremont Institute, where Eastman is just one of many thought leaders who played a role in events before, during, and since Jan. 6 at Trump's favorite think tank. The "after" in this case refers to providing the intellectual basis for an anti-democratic conservative populism to take power, by any means necessary. That apparently includes helping recruit candidates devoted to Trump's election lies for positions of power… over elections. Worth your time. 
Rage Against the Machine - VICE News' David Gilbert has the story on how a "Q-pilled' Republican election official in Michigan was stripped of her Election Day duties for refusing to allow software updates to voting machines under her supervision. Adams Township Clerk Stephanie Scott was removed, but then came the twist: a voting machine went missing. A police search ensued.
DeSantis' Office of Election Crimes - Florida GOP Gov. Ron DeSantis wants a new round of voting restrictions, and something original: an "Office of Election Crimes and Security" special police force to go after alleged voting fraud. DeSantis is up for reelection in 2022 and is eager to face down primary challenges in the heavily Trumpist Florida GOP. He's also eyeing angles into the presidential race in 2024, possibly as an alternative to Trump himself. DeSantis previously praised the efficiency of the 2020 election in his state and signed legislation creating ballot drop boxes, which he now opposes. To lend the proposal dignity, DeSantis rolled out the $6 million "election crimes" plan at an event that featured supporters chanting "Let's go Brandon!", in-group code for "Fuck Joe Biden."
DOJ Messes with Texas - When legislators label a bill with the number 1, you know it's their top priority. The Justice Department late Thursday sued Texas over Republicans' SB1 voting restriction law, arguing it harms voters' rights by cracking down on mail-in ballots, banning drive-thru voting, and making it harder to vote absentee. Texas Republicans passed SB1 after a standoff with Democrats over the summer, which saw Dems flee Austin and fly to Washington, DC to try and delay the legislation. GOP Gov. Greg Abbott is up for reelection in 2022 and pushed hard for the new restrictions. You can read the lawsuit here, if that's your jam.
January 6 Committee May Finally Spur Electoral Count Act Fix
FROM  NYMAG INTELLIGENCER
Adam Kinzinger isn't ruling out a 2024 presidential bid as he considers his future after the House
FROM CNN