Left photo by Sean Zanni/Patrick McMullan via Getty Images. Right photo by Katie June Burton, courtesy of All-Wise.
Mead might be something you've only ever tried at a Renaissance Faire, possibly while wearing a corset, and maybe there was a drinking horn involved. All-Wise Meadery, a new mead brewery in Brooklyn, is here to change that.
The operation is the brainchild of Dylan Sprouse, actor and former star of The Suite Life of Zack and Cody, but it's not like this is just a side project. Sprouse started brewing mead when he was 16 years old and hasn't stopped since. At 25, he's the youngest master brewer in America, something he told MUNCHIES over the phone left him feeling both humbled and a little frightened. "I'd be lying if I said I didn't feel a little bit intimidated at times." He told me that his age and celebrity has "shined a spotlight" on the new operation, but is firm in his assertion that this is more than just a passing phase or a financial investment.
"I definitely don't want people thinking this is an investment for me and my money," Sprouse explained. He's currently filming a project in China, but as soon as he's back in the States he made it clear "I'm going to be there as much as I physically can, brewing and trying to get this thing off the ground. This for me is a passion project." And, he pointed out with a laugh, "If I was going to just be a celebrity investing in something, I probably would have done something a little more popular than mead."
Then why make mead in the first place? Sprouse had a few answers. One was the simplicity. Mead fundamentally has only three ingredients: honey, water, and yeast. "It has a low skill floor, but a high skill ceiling," Sprouse told me, adding that he's "very much involved in the process of where we get the honey for our mead." They currently work with a group of local beekeepers Sprouse first met as an NYU student. Mead also has spiritual importance to Sprouse: he identifies as a Heathen, a form of Norse Paganism, and says the decision to relate the brewery to his spirituality was "very poignant." Both the name and symbol for the brewery come from Heathenry, and according to Sprouse, he doesn't relegate his religion to one tiny part of his life "For me, and for many Heathens…I don't think you ever really divorce yourself from your spirituality, what you are is your spirituality, and a lot of the times the things that I do are spiritual in nature just because I'm doing them."
Sprouse did, however, make it clear that he and his team wanted to separate their venture from the more "gnarly" parts of the community, however, referencing the growth of white nationalism within parts of the Heathen community. He stressed that he wants to move mead in a "different direction," and create an "open-minded, melting-pot establishment."
All-Wise itself is a small, sleek operation in the Greenpoint neighborhood of Brooklyn, with just four brew tanks and a soon-to-come tasting room. Brooklyn Brewery is just across the street, so the young meadery has some pretty famous neighbors to contend with, but so far, it's felt less like a contest and more like a community. "Some of the guys [from Brooklyn Brewery] saw us when we were moving in and recently reached out to us," Doug Brochu, one of Sprouse's two co-founders of All-Wise told me. "We went over there and they were totally cool. They were saying, 'If you ever make mistakes or have any questions, ask us, because we've made every mistake you can make.'"
---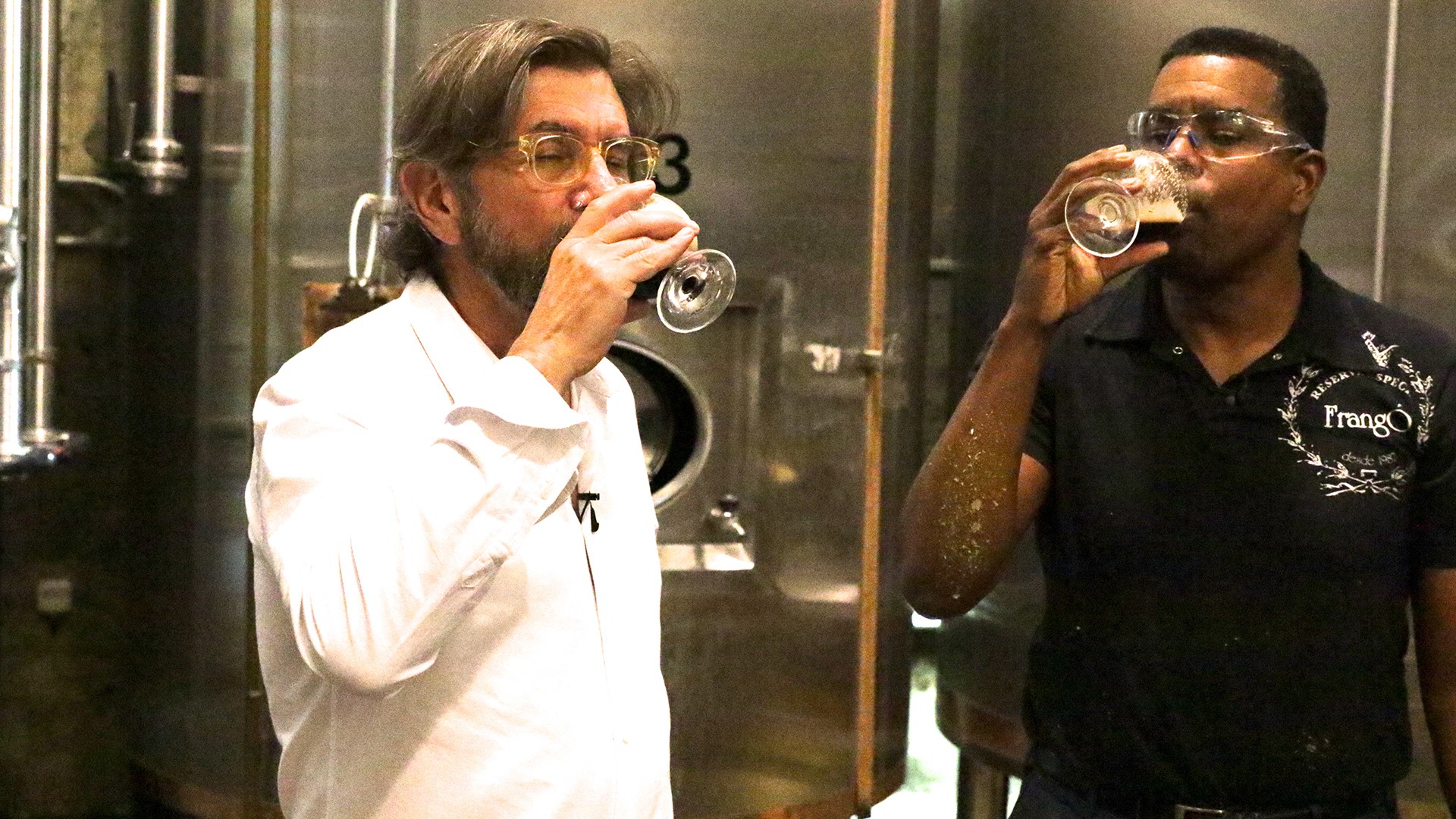 ---
So how does the actual mead taste? When I went to visit All-Wise they were just getting ready to bottle their two "show meads," which they let me try in their pre-filtered and -bottled state.
The first was a standard dry mead aged in oak which, while brewed with honey, had all the sugar removed from it. It's a little disconcerting to taste something with all the flavor and smell of honey, but none of the sweetness—but the lack of sugar actually lets the different and varied floral notes of honey that usually get lost in the sweetness shine through. The second was brewed with oolong tea, which does retain a little of the honey's sweetness along with a bracing tannic backbone from the tea. It's a little deeper and earthier than the first. There is a stronger, slightly more earthy flavor to the oolong mead that balances out the still present floral notes from the honey.
And sure, drinking mead in Brooklyn made by a current-actor-former-Disney-star who hates Nazis might be the most 2018 thing I've ever done. But I'm excited to see what else All-Wise brews up in the future.
---
Pre-order All-Wise meads at allwisemeadery.com.