Last night, a suicide bombing at Manchester Arena killed at least 22 people – including children – and injured over 50. The attack – which took place at 10:33PM in the foyer area of the arena, as guests were leaving an Ariana Grande concert – was the deadliest on UK soil since 7/7.
At 5:25PM, Manchester Police confirmed the attacker was 22-year-old Salman Abedi. He was the second youngest of four children. His parents were Libyan refugees who came to the UK to escape the Gaddafi regime.
At 11:10AM, Prime Minister Theresa May gave a speech outside Downing Street. She said many of those injured are being treated for life-threatening conditions. She also announced that the police believe they know the identity of the perpetrator, that it is a man, but will not reveal his identity at this stage. She said that all terrorism are cowardly attacks on innocent people but this attack stands out for its "appalling, sickening cowardice" and its targeting of children. She will travel to Manchester later today and chair another meeting of Cobra.
Two of the victims have now been named. They are 18-year-old Georgina Callander and 8-year-old Saffie Rose Roussos.
According to Reuters, the so-called Islamic State has claimed responsibility for the attack via the messaging app Telegram, saying a "soldier of the Caliphate" was behind the bombing. This could mean that the man was inspired by ISIS, rather than being directly involved. ISIS supporters have been celebrating on social media all this morning. In one video, a masked man holding a dated sign reading "Manchester" said, "This is only the beginning. The lions of Islamic State of Iraq and Sham are beginning to attack all the crusaders."
Witnesses on social media reported hearing a loud bang after the house lights came up at the end of the concert, with some posting videos to social media of the ensuing panic. One concert-goer, Jessica, told BBC Radio: "I just heard this massive bang and then everyone just started running towards us screaming and crying. Everyone just trampled over us just to get out."

As the night went on, more reports started to emerge, with witnesses describing the scene after the explosion. "Everybody was panicking," concert-goer Isabel Hodgins told Sky News. "The corridor was full, it smelled of burning, there was quite a lot of smoke as we were leaving."
Andy Holey, who had arrived at the venue to pick up his wife and daughter from the concert, told the BBC: "An explosion went off and it threw me about 30ft from one set of doors to the other set of doors. When I got up I saw bodies lying on the ground [...] It was definitely an explosion and it was some force. It happened near the box office at the entrance to the arena."

Other witnesses report seeing nails and bolts strewn around the foyer area after the blast, suggesting a nail bomb was used.
There will be a vigil held in Manchester's Albert Square tonight at 6pm, the mayor Andy Burnham has said.
In a statement issued just before 3AM, Chief Constable of Greater Manchester Police, Ian Hopkins, said, "We are currently treating this as a terrorist incident until we have further information. We are working closely with national counter-terrorism policing network and UK intelligence partners."

At 7:04AM today, Hopkins said there was one lone male attacker carrying an improvised device, which he detonated. He died in the blast.
Emergency services flooded the area soon after the explosion, with 60 ambulances and 400 police officers deployed. North West Ambulance Service has said it had transported 59 casualties from the explosion to hospitals and treated a number of walking wounded, including for "shrapnel-like injuries", according to the BBC.
At around 6:30AM Home Secretary Amber Rudd issued a statement, saying: "This was a barbaric attack, deliberately targeting some of the most vulnerable in our society – young people and children out at a pop concert […] Later on this morning I will be attending Cobra, chaired by the prime minister, to collect more information, to find out more about this particular attack, and I can't comment any more on that at the moment."
She added: "The great city of Manchester has been affected by terrorism before. Its spirit was not bowed; its community continued. This time it has been a particular attack on the most vulnerable in our society. Its intention was to sow fear; its intention is to divide. But it will not succeed."
The Metropolitan Police tweeted that more officers will be on the streets of London today, following the attack. Police Scotland has also stepped up police presence today, with Chief Constable Phil Gormley – a former Met counter-terrorism – saying: "As part of the UK-wide response to these events, Police Scotland continues to review all safety and security plans and operations. This includes ensuring our armed policing and specialist resources are appropriately deployed."
Manchester University has warned students that some exams may be disrupted today, but that they should attend their exams at the scheduled time and location.
Because of the attack, British political parties have suspended campaigning for the general election. In a statement, Theresa May has said: "We are working to establish the full details. All our thoughts are with the victims and the families of those who have been affected." Jeremy Corbyn tweeted a statement, the beginning of which read: "I am horrified by the horrendous events in Manchester last night. My thoughts are with family and friends of those who have died and been injured."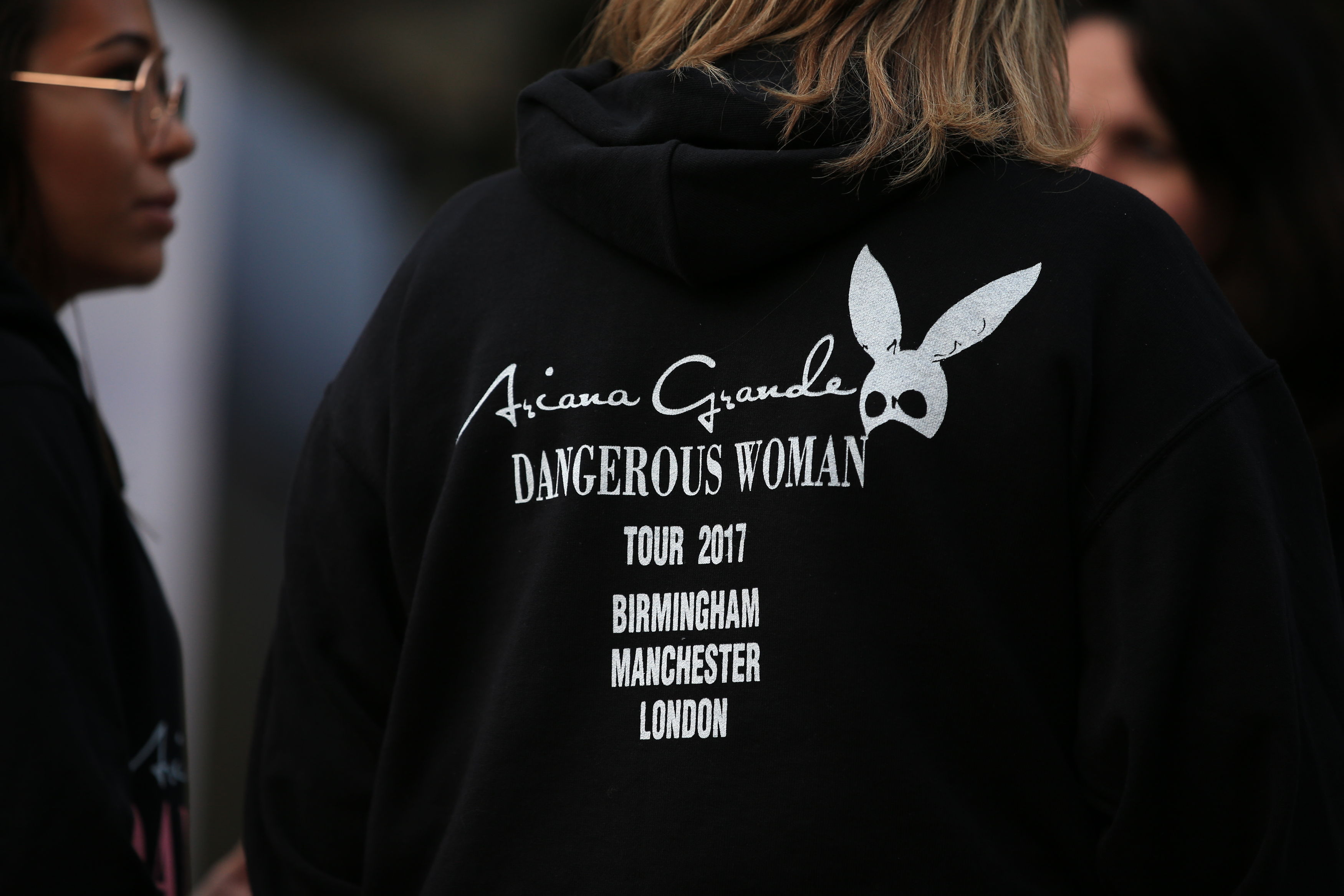 Mayor of Greater Manchester, Andy Burnham, has made a statement, saying: "London pulled together [after 7/7], and in the exactly same way, Manchester, in its own unique way, will pull together and will stand strong and stand together. That's what we are. That's what we do. They won't win. We are grieving – we are hurt today – but as I said at the beginning, we are strong and this city has dealt with difficult days in the past and we will do so now."
World leaders, including Canadian Prime Minister Justin Trudeau, Japanese Prime Minister Shinzo Abe and Chinese President Xi Jinping, have sent their condolences. Donald Trump has issued a statement, saying: "We stand in absolute solidarity with the people of the United Kingdom. So many young beautiful, innocent people living and enjoying their lives murdered by evil losers in life. I won't call them monsters because they would like that term. They would think that's a great name. I will call them, from now on, losers, because that's what they are. They are losers. And we will have more of them. But they are losers, just remember that."
He added that "this wicked ideology must be obliterated and I mean completely obliterated".
This morning, concert-goers have criticised security at Manchester Arena, claiming bags were not properly checked. One person on Twitter said: "Being there at the concert in Manchester, I'm not surprised someone was able to take something into the arena. Security was horrendous… Only a bag check, no metal scanners or pat downs for anyone entering through the Manchester Victoria entrance of the arena," the Guardian reports.
This story is ongoing and will be updated with new information as it comes in.
Anyone with concerns over loved ones can contact 0161 856 9400 or 0161 856 9900 for assistance.