Armado O'Caña has lived in Mission, Texas, his entire life, and has been a city councilman for the past decade. Since kindergarten, he has prayed in La Lomita Chapel, a modest white stone sanctuary with a handful of wooden pews and flowers draped on the altar. But O'Caña has recently discovered that the church—which predates his border town's 1908 founding and grounds him in his past—could become impossible to visit, since President Donald Trump's proposed border wall would divide it from the rest of the United States.
"I was perplexed when I saw the government's plans. Our city was named after this chapel, and I want to make sure it's not blocked off," said O'Caña, 63. According to him, dozens of Mission houses would be south of the wall according to a map the Department of Homeland Security released last month. "As an elected official, I say to President Trump, 'Don't wait to contact the locals. Include us in the planning process.'"
The specter of Trump's border wall—both a centerpiece of his campaign and one of his seemingly most impractical promises—has loomed since his election in November. But it's only in recent weeks that the notion that the wall could become reality has set in for Rio Grande Valley residents, who are concerned that it would cut off a butterfly center, wildlife sanctuary, and many homes from the rest of the US.
"My family's land is south of where they want to build the wall. The Rio Grande is our backyard. My grandmother bathes there and does laundry there, and we fish there," said Lissette De La Cruz, a bubbly 23-year-old advertising student who just saw the map last week.
"When my grandmother found out about the wall, she just said, 'Wow. How much time do we have? Maybe they could built a little gate for me,'" De La Cruz continued, as she stood outside La Lomita Chapel at her first ever protest this weekend. "I feel overwhelmed. I have this weight on my shoulders. I need to do something."
The threat has prompted the community to band together, and last weekend hundreds of people gathered for two days of rallies that included a five-hour procession, a service at La Lomita Chapel and a hike to the future site of the wall at Santa Ana wildlife refuge.
"I've never seen such strong action in Mission for something so core to our identity," Mission resident John Michael Torres, an activist of 14 years who now works for the grassroots organization LUPE, told me, marveling that Catholic priests, indigenous tribes, politicians, and even some former Trump supporters processed in solidarity to La Lomita on Saturday. "The two symbols for Mission are La Lomita and the butterfly—and both of those are being threatened."
---
---
The butterfly is an integral symbol for the town because of the nearby National Butterfly Center, a privately owned sanctuary where Customs and Border Protection (CBP) contractors began chainsawing down trees in late July. When the center's executive director, Marianna Wright, approached the contractors they left, she said, but soon after Manuel Padilla, the US Border Patrol chief of the Rio Grande Valley, returned to the property with a warning.
"Padilla said the crew would be back with CBP officers," recalled Wright outside La Lomita at Saturday's protest. "He said the wall would be built on the levy."
CBP spokesman Roger Maier told me that the contractor had been completing "routine" maintenance and repair work on a road in the butterfly center—not preparing for construction of the wall. He also denied that Padilla had said the contractors would return with CBP officers, and said Padilla's meeting with Wright had "seemed very collaborative."
"CBP does have a license with the Butterfly Center to conduct the [maintenance] work," Maier said in an email. "Typically, part of the process includes notifying the Butterfly Center about the work before it takes place, which unfortunately did not occur in this instance. Local officials from the U.S. Border Patrol engaged leadership at the Center and are actively working to avoid this issue in the future."
Maier also said that wall construction could not begin until Congress approved additional funding for the next fiscal year, which begins in October (the House has approved a $1.8 billion package but the Senate has yet to approve that funding). He said that the wall would not be built on the actual border because "in Texas the actual border is in the middle of the Rio Grande." A nearly 700-mile border fence, spearheaded by former President George W. Bush, exists, much of it also north of the actual border in Texas.
"We are in the research and planning process for construction of new wall so is would be premature to speak about specific locations," Maier said, calling the current CBP maps "pre-decisional."
But Jeff Glassberg, the center's owner and founder and president of the National Butterfly Association, told me he would "not be surprised if they show up tomorrow with bulldozers," since the government has not communicated with him.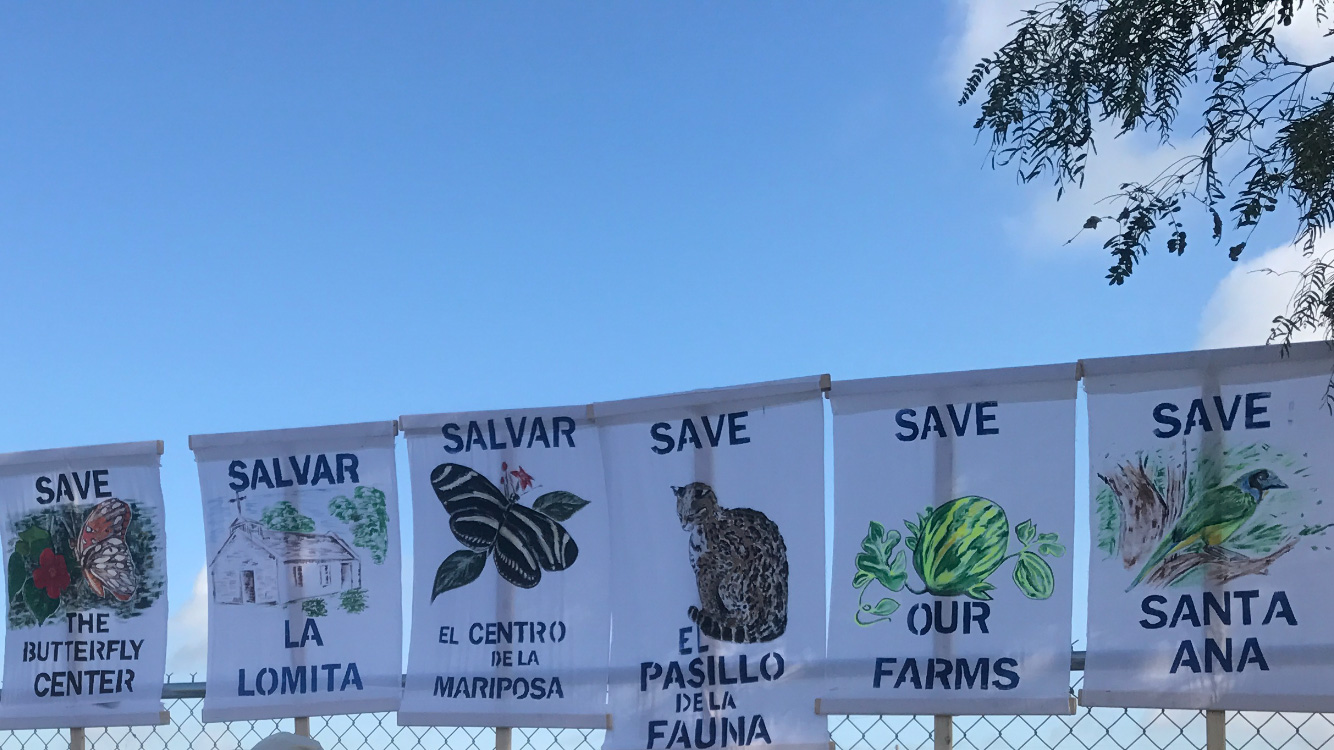 Glassberg said the proposed wall, slated to cut 70 of the center's 100 acres off from the rest of the country, would have severe environmental impacts. It would threaten butterflies, the plants they pollinate, and the many songbirds that eat caterpillars. And it would destroy a world-class destination whose visitor pavilion was designed by the same architect who designed the Holocaust Museum in Washington, DC.
For Glassberg, the threat to his sanctuary also hit a deeply personal nerve: The day after he learned of the contractors there, his wife, a fellow scientist who co-founded the center with him, died.
"I have a personal stake in the center succeeding," he told me between sobs in the sweltering sun outside La Lomita. "The wall poses it an existential threat."
The land at stake holds a world of memories for residents all over the border region. The wall would cut across the north of the 2,088-acre Santa Ana wildlife refuge, a rare public green space local families frequent for hiking, birding, and a chance to glimpse some of the 50 ocelots left in the nation.
Earlier this month, the Texas Tribune reported that CBP planned to begin construction in Santa Ana this fall, using funds Congress already allocated for this fiscal year. But Maier contradicted the report, telling me "there is no money in the fiscal year 2017 budget for wall construction."
Fearing immediate construction in Santa Ana, hundreds of people traversed a tree-canopied dirt trail Sunday morning in the refuge, climbing to link hands across the levy, the site of the slated barrier.
"In a family of ten kids we didn't have money so my parents took us here to educate us about nature, for biking, camping—that's what they could give us," Juventina Hervera, now 58, reminisced. She said her family of farmworkers would pile into a pickup truck and pay $3 for a day pass at Santa Ana.
"Then when I had my children, they had their first birthday parties with piñatas in this park," said Hervera, standing beside her mother Ulema Hernandez, 76, who leaned on a walker and had a "Save Santa Ana" sign pinned to her leopard-print shirt. "The little we have, the government wants to take."
Further down the human chain of protesters, a group of high schoolers from the neighboring town Pharr told me they'd come to defend their recreational haven—and their community's rights.
"It's kind of scary knowing your president is doing all these things and you can't predict what exactly is going to happen," high school senior Tatiana Borrego, 17, told me as she giggled nervously.
Though Congressmen and scientists have expressed environmental concerns about a wall in Santa Ana, the federal government could waive environmental regulations to build there under the Illegal Immigration Reform and Responsibility Act. The Center for Biological Diversity "anticipates filing a lawsuit" against such a waiver, the center's engagement director Marta Segura told me this weekend.
"When you propose an 18-to-30-foot wall that's not enough for animals to pass through," said the center's public land specialist Paulo Lopes, who had traveled to the border from his base in Washington, DC to join the weekend activism.
The center has already filed a lawsuit against a waiver the government issued in San Diego for the wall. But Scott Nicols, president of the Sierra Club Borderlands, told me legal challenges to similar waivers in 2007 and 2008 for President George Bush's border fence failed.
"The wall is meant to stop human migration but it doesn't stop people. Instead more humans are dying trying to get around walls and checkpoints—but for animals this becomes insurmountable," Nicols, a lifelong Texan with a long ponytail and "Borderlands" hat, told me in the refuge. "We're one of the poorest counties in the nation and we need the influx of cash from this refuge. But now it will become Border Patrol's playground and nothing more."
Follow Meredith Hoffman on Twitter.