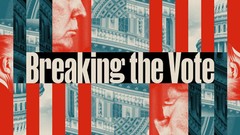 A series tracking the growing assault on voting rights, and efforts to undermine the democratic process in America.
"It's a cartoon. Everyone should just relax." 
That's what a spokesperson for Arizona Rep. Paul Gosar said after two accounts belonging to the Trumpist Republican posted a repurposed cartoon depicting him killing Democratic Rep. Alexandria Ocasio-Cortez and attacking President Joe Biden with swords. 
It all made me think of an essay by David Frum in The Atlantic this summer that I've had in my head (and in my tabs) ever since. There's a word for the embrace of violence and intimidation Trump's supporters have adopted as a political tool, Frum says. The word is "fascism." "What the United States did not have before 2020 was a large national movement willing to justify mob violence to claim political power. Now it does," he wrote.
That's a tough one. Neither Trump nor Gosar is Hitler. Frum acknowledged that throwing around the "F-word" is a good way to get dismissed for crying "Nazi!" And other writers warned this week that while the "fascism" label might be historically analogous, it can be unproductive. Still, fascism takes many forms, most of them not German. And to Frum, Trump's recasting of the deadly January 6 violence as patriotic virtue, the martyring of Ashli Babbitt, and the embrace of bloodlust against Nancy Pelosi and Mike Pence all add up: "It's time to start using the F-word again, not to defame—but to diagnose," he wrote. 
That was all before this week, when another lawmaker, longtime GOP Michigan Rep. Fred Upton, released one of the phone call death threats he got after voting for an infrastructure bill authored by other Republicans. Upton attributed the threat in part to Trumpist Georgia GOP Rep. Marjorie Taylor Greene, who tweeted the phone numbers of Upton and other GOP "yes" votes while labeling them "traitors."
Meanwhile, away from Washington, reporters tracked down Trumpists who threatened election workers, only to find many of them gleefully admitting to crimes and confident they'd commit them again (see below). White supremacists and candidates for federal office took to Twitter to not only praise Kyle Rittenhouse, accused of murder in Wisconsin, but also elevate him as a courageous example for other young men.
But I was stuck on Gosar, and how, after his incitement to violence against a fellow elected official, he cheerily mocked those who took offense. "Congressman Gosar cannot fly," a statement from his office read. "It's a cartoon. Relax," read a meme on Gosar's Twitter account.  
There's another relevant essay, one much older than Frum's. Paris had just been liberated from the Nazis when Jean-Paul Sartre wrote "Anti-Semite and Jew" in 1945. The essay-turned-book focuses on "the Jewish question," but it's really about the psychology of violence and hate in fascist Europe. People have rediscovered how Sartre pegged fascists' (in this case, antisemitic) tactics when their hatred is called to account: 
"[Anti-Semites] know that their remarks are frivolous, open to challenge. But they are amusing themselves, for it is their adversary who is obliged to use words responsibly, since he believes in words. The anti-Semites have the right to play… They delight in acting in bad faith, since they seek not to persuade by sound argument but to intimidate and disconcert. If you press them too closely, they will abruptly fall silent, loftily indicating by some phrase that the time for argument is past."
Sartre's France had pamphlets and newspapers, not dank memes and tweets. But a call to violence, followed by shock, followed by "It's a cartoon. Relax" and "Congressman Gosar cannot fly" is something I bet Sartre would recognize.
As of this writing, Rep. Gosar has received no official condemnation or true accountability from his GOP colleagues. Just this morning, we got new audio confirming Trump's view that the rioters chanting "hang Mike Pence" were justified, in fact just exercising "common sense."
And Sartre and Frum's diagnoses seem more sound than ever.
Want this content each week in your inbox? Please subscribe to VICE News' Breaking the Vote newsletter!
The Bannon Effect
If a federal prosecutor ever initials a document charging Steve Bannon with criminal contempt for blowing off of the January 6 committee, the M.G. won't belong to Merrick Garland but to Matthew Graves. Graves took over as the brand-new U.S. Attorney for the District of Columbia this week, making him the guy who officially decides if Bannon gets prosecuted. Of course, his boss, Attorney General Merrick Garland, is, shall we say, closely supervising that decision. 
Whether Bannon sees any consequences for his obstruction will likely have a big influence on other Trump insiders considering whether they, too, should participate in the cover-up. Their ranks grew by 16 this week when the January 6 committee issued two new rounds of subpoenas for people in Trump's circle to tell what they know. They range from lower-level staffers like Angela McCallum, who allegedly called state officials to lean on them about overturning election results; to Claremont Institute lawyer and insurrection architect John Eastman; to Trump Universe alphas like Michael Flynn, known to have participated in pre-insurrection Oval Office meetings where he urged Trump to seize voting machines, deploy U.S. troops on American soil, and declare martial law to "rerun" the election. 
People Magazine's Sexiest Man Alive™ Former Trump adviser Stephen Miller is on the list, and so is actual sexy-man Johnny McEntee, the former Trump body man who got fired from the White House for gambling problems but then got rehired as Trump's chief loyalty enforcer (read more about him below). Some of former Veep Mike Pence's staffers may be talking to the committee voluntarily, we learned this week. 
It's easy to see how high the stakes are for DOJ's decisions on Bannon. Actually, he might be feeling pretty good about his chances of staying out of jail, derailing the January 6 investigation, or both. Check out VICE News' Greg Walters rock n' roll take on contempt.
Doc Blocked
This week a federal judge ordered a big stack of documents Trump was trying to keep hidden handed over to the January 6 committee. Trump's lawyers tried three times to stop the order but failed each time. That means that as of this writing, roughly 750 pages of White House logs, phone records, draft speeches, stolen-election talking points, and handwritten notes are due on the desks of congressional investigators, though appeals to higher courts could slow things down. The documents were being held at the National Archives, whom Trump sued to prevent disclosure. The Biden White House sided with Congress, meaning the usual dispute between Congress and the Executive Branch didn't even exist here. "Presidents are not kings, and plaintiff is not president," D.C. District Court Judge Tanya Chutkan wrote in her ruling.
Violent and Uninvestigated
It would take a two-thirds House majority (and hence a House GOP interested in accountability) to expel Rep. Paul Gosar for threatening a congressional colleague. But it only takes one hearty detective to go after someone who threatens to kill an election official. Turns out, they're not that hard to find! The investigative team at Reuters tracked down nine people who tried to intimidate workers after the 2020 election because of the lies they believed. Seven admitted to apparent crimes on the record, and most were confident they'd do it again. 
This group was rife with QAnon-style delusions about Trump and the election. It's hard to decide what's more infuriating here: The brazenness and pride these people take in political violence, or the apparent lack of interest in accountability by police. Reporters were able to contact acknowledged harassers on numbers the police shrugged off as untraceable. And none said they'd heard from the cops at all.   
Hacking the Vote
Electronic voting machines are computers. Like all fellow computers, that makes them vulnerable to hacking. But what's proven a far greater threat to election security lately is not that the machines will be hacked but that the fear-mongering over the possibility will hack us. This phenomenon explains a lot, from running gags on The Simpsons going back to at least 2008, to 2020 panic-stoking by the likes of Mike Lindell, Rudy Giuliani, and Sydney Powell (the kind that gets you sued for billions). 
VICE News Tonight's Dexter Thomas and Jesse Seidman went out on the road to look at voting machines in the real world—the one where we have to protect against hackers but also protect against our own disinformation exploits. 
"I would just sit there at debate and play that fucking clip of him trying to fix the election (in Georgia) over and over again... There's no way I'd lose." — Howard Stern, speculating that he would consider running for president to block Donald Trump in 2024.
MAGA in the West — VICE News' Cam Joseph has the story on Idaho Lt. Gov. Janet McGeachin, who's running for governor and earned the endorsement of a Three Percenter militia leader who pointed a gun at federal agents in Nevada, and also the endorsement of Donald Trump. McGeachin's spent the last year or so trolling Idaho Gov. Brad Little with executive orders whenever he leaves the state. 
Meanwhile, in always-normal Arizona, a woman who was deemed too antisemitic for the 2020 Republican National Convention is back and running for the state House. Mary Ann Mendoza was

kicked off

the RNC speakers list for tweeting a thread promoting anti-Jewish conspiracies and the classically antisemitic hoax "The Protocols of the Elders of Zion." Today she's

kicking off

her campaign for the Arizona Legislature with "beautiful Arizona fall weather" and "light appetizers."   
And speaking of Arizona, because, of course, there's

this ad

from U.S. Senate candidate Blake Masters, whose opening pitch to GOP primary voters is "Trump won in 2020." 
"Authoritarian Wishcasting" — Claremont Institute lawyer John Eastman gets a lot of play in these pages, as the architect of a Trump coup playbook and speaker at the January 6 Ellipse rally might. Turns out Eastman and his intellectual fellow travelers were busy before the election fantasizing and gaming out what an authoritarian government takeover might look like. Their "79 Days" report reads like insurrectionist fanfic, complete with roadblocks, Proud Boy crackdowns on antifa, and police who break ranks to join the glorious cause. It's weird stuff, but also really disturbing when you consider that some of its authors were Trump's key advisers and remain his intellectual champions.  
Postcard from Belarus — A man wanted by the FBI for assaulting police officers during the Capitol riot has turned up in Eastern Europe, where he's seeking asylum and blaming his troubles on Black Lives Matter. VICE News' David Gilbert has the story. Evan Neumann, a 48-year-old from Mill Valley, California, appeared on Belarusan TV, where he said he drove across Europe and waded through a swamp dodging wild hogs and snakes to reach his destination. 
Liz C. or Die — Wyoming GOP Rep. and January 6 Committee ranking member Liz Cheney took another broadside at Trumpists and their GOP enablers this week. "We are confronting a domestic threat that we have never faced before: a former president who is attempting to unravel the foundations of our constitutional republic, aided by political leaders who have made themselves willing hostages to this … irrational man." Cheney said. Strong stuff, but it's where Cheney said it that caught attention. The remarks were delivered at the New Hampshire Institute of Politics, in New Hampshire. Cheney got a standing O after her remarks, and kicked off the inevitable (and, one has to assume, intentional) speculation about a Trump-blocking run for the 2024 GOP presidential nomination. 
Advice from RonJon — Wisconsin GOP Sen. Ron Johnson thinks Republicans should abandon the state's bipartisan Elections Commission and instead use their power in the state legislature to take over federal elections.
Desperate, Angry, Destructive: How Americans Morphed into a Mob
From THE WASHINGTON POST
From THE ATLANTIC