Art by Robesman
The rap fans who populate my Twitter timeline tend to cycle through jokes—one minute they're imagining spaghetti falling out of Joe Budden's pockets, the next minute they're taking pictures rap squatting, and the minute after that they're wishing he'd mackle less. One thing that has remained a constant, however, is that the collective rap internet has decided that Migos (the flashy, ebullient rap trio from ATL) are better than The Beatles. The seeds for the joke were probably planted on the track "Hannah Montana" from Migos' tape Young Rich N—gas, where Quavo raps, "I'm in London with the plug, gettin' the same car as The Beatles." That mixtape was released on June 13, 2013. On June 22, @Pipe_Tyson tweeted, "Migos best music group since the Beatles." By October 2013 the joke was gaining traction, especially after the haute streetwear boutique VFILES tweeted "migos > the beatles," which sent the meme into another echelon of popularity.
On first blush, The Beatles seem more obviously important than Migos. They innovated with nearly every song they made, their songs have been popular so long that we assume them to be timeless, and to many, they serve as an introduction to popular rock music as a whole. They have sold over 600 million albums, while Migos has sold approximately zero albums. On the other hand, Migos were tweeted about nearly 130,000 times more than The Beatles last month. Migos has gone Platinum on DatPiff; The Beatles have not. Migos' "Handsome and Wealthy" sits at spot #90 on the Hot 100; the last time a Beatles song charted was 1996.
This is part of why the joke is funny: Thanks to the joys of Big Data, you can cherry-pick the right reference points and make the case for pretty much anything.
The underlying truth to the Migos > Beatles joke is this: Migos represents the freedom that comes with being a young person in 2014 who has the power to choose their own canon, while The Beatles embody an idealized, old-school liberalism, where the liberties and concerns of marginalized groups, such as women and those who identify as LGBTQ, are framed by the tacit understanding that they are free to pursue these liberties as part of the privilege that comes hand in hand with being white. Over at Complex, Judnick Mayard writes, "We were born in a world where The Beatles were already revered, but we're all here to evaluate (and champion) "Fight Night" for ourselves." She added that "[i]t's also worth noting that The Beatles do not speak for a universal experience. I'm a NEGRO in AMERIKKKA. I cannot afford the luxury to 'IMAGINE.' I live within the STRUGGLE."
Lately, the joke has entered an even higher sphere of popularity. Tweets containing the words "Migos" and "Beatles" have been issued a total of 14,931 times in the past month. On October 18, Complex showcased a smattering of tweets proclaiming Migos' superiority. The next week, the web series Desus Vs. Mero aired a segment in which the show's titular hosts roasted The Beatles, with cohost The Kid Mero proclaiming, "Paul McCartney never finessed the plug in his life!" Desus added, "When was the last time you heard a song on the radio and Paul McCartney was really spittin'?" FADER used "migos-definitely-better-than-the-beatles" as the URL for their recent cover story on Migos. On Halloween, MTV produced a video showing the members of Migos discussing whether or not they are, in fact, better than The Beatles. "Only social media can tell that," Quavo says, somewhat bemusedly. "It's five of them, and it's a blessing it's only three of us."
"Dogg, when he said that, I audibly snickered," Desus—who in addition to co-hosting Desus Vs. Mero, is one of the high priests of Rap Twitter, where the meme has spread—told me over the phone from his day job in Manhattan. Discussing the popularity of the meme, Desus said, "I think it's a generational thing. If someone says The Beatles are great, that's the same thing as them saying that it's raining outside. The Beatles represent an older generation of white America. Meanwhile, you've got three dope dealers from Atlanta with a DIY kind of feeling. It's like a rebel youth culture thing, kids saying, 'We're gonna make up our own opinion, and fuck what you guys think.'" Later, Desus joked that conventional wisdom states, "You can't say Migos are more innovative than The Beatles, or else you'll get a thinkpiece written about you."
Desus also noted the aesthetic similarities between Yellow Submarine-era Beatles and latter-day Migos—each group sports long hair, wears flowing fabrics, and openly admits to smoking a shit-ton of weed. "I think there's an irony [in their similarities] that people are missing," he said.
.@fivefifths Beatles lyrics vs Migos lyrics. Not even close: pic.twitter.com/Fi328XoXoo

— Trey (@SlimiHendrix) November 3, 2014
Migos' meme-ability doesn't just extend to Beatles comparisons, however. Part of the group's appeal is they aggressively do not take themselves seriously. "You can throw 'em in pictures of anything," Desus said. "You can go on Twitter and say, 'I love Migos,' and literally a member of Migos will retweet you." A few minutes after Desus and I got off the phone, I tweeted about Migos. Sure enough, they RT'd me a few minutes later.
The constant meme-ing of Migos can, in a way, be dangerous—some who make Migos jokes do so because they confuse Migos' light-heartedness with unintelligence or a lack of skill. "They're quiet," Desus told me, "but once they start talking, they know their shit. People always point to the hook of 'Versace' [as prof of the group's stupidity], but I'm like, 'look at the actual lyrics.'"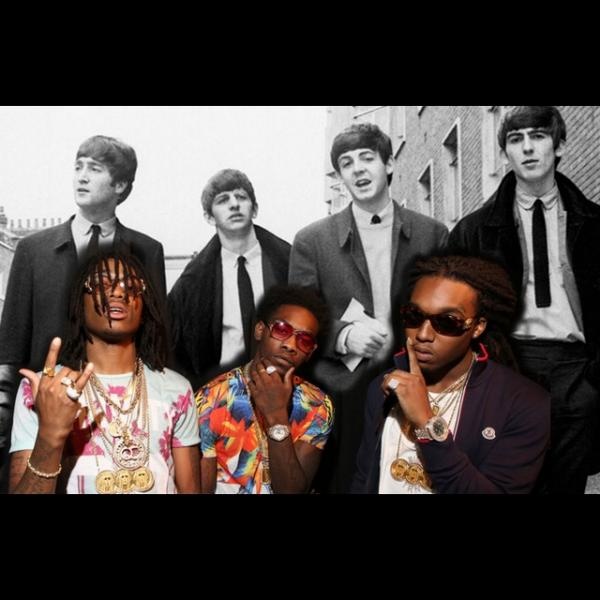 "The genius of Migos is their PR/Marketing/Ad Sales/Social Media/Philanthropic Street Team is everyone on Twitter," Grantland writer Rembert Browne joked recently. He's right: Twitter users like things they can agree on, and they like things they can talk about. A group like Migos, who are now a meme, can use that meme-ability to continue the conversation while they ready new music. As long as someone is tweeting about how The Beatles never used the Migos Flow, Migos stays in the public consciousness. Eventually, this leads to the meme feeding into the artist's myth: Listening becomes part of the meme, so in order to get the jokes you must listen to the music.
This happens often in hip-hop. Nicki Minaj had the internet talking about her single "Anaconda" before anyone had heard a note of the track, simply by posting the single's cover art; she kept the conversation going by reposting humorous takes on the cover. By the time the song's video was released, the hype was so frenzied that the clip racked up 19.6 million views in 24 hours, setting a new Vevo record for views in a single day.
Drake, memewhile (sorry), is a master of harnessing the power of the lighter side of his character, often to the point of outright self-trolling. He frequently uses Instagram to post memes of himself—recently, he's riffed on the infamous lap dance scene in Nicki Minaj's "Anaconda" video, his reputation as emotional, and his longstanding public crush on Nicki Minaj. In April, Drake managed to generate more press with the release of a lint roller than most rappers could dream of doing with whole projects. Because of stuff like this, Drake comes off as a harmless goofball with a soft side, a side he's then free to toy with and subvert in his music. Providing his fans with a steady stream of content helps sustain interest in him, even when he's not actively making music.
When Migos released their newest mixtape last week, the internet was ready. The hashtag #MigosSaid quickly flared up on Twitter, and the tape has been viewed nearly 800,000 times on LiveMixtapes, where it premiered. Its name, of course, is Rich N—ga Timeline.
Drew Millard is Noisey's Features Editor. Follow him on Twitter.
Special thanks to Bijan Stephen for contributing editing.