In late April, Sean Gray, founder of Is This Venue Accessible and a key figure in the DC-area punk scene, was making plans to travel from Washington DC to Brooklyn to see noise-rock band the Cherubs play a reunion show at Saint Vitus. It was a one-night trip, and Gray, who has cerebral palsy and uses a walker, sent a message to a potential host asking about accessibility. The exchange went like this: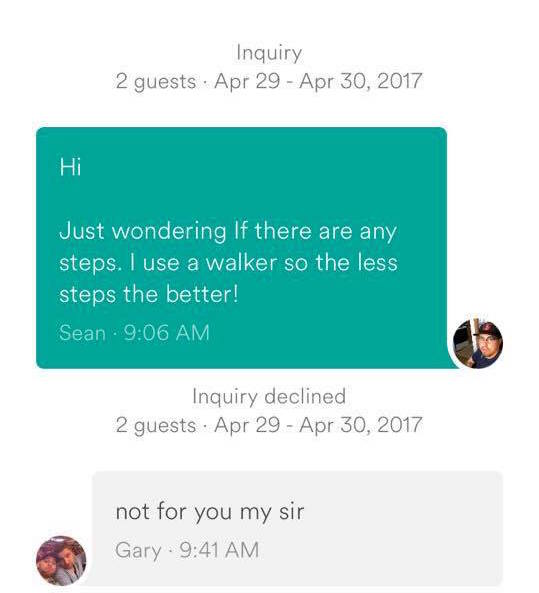 Gray had used Airbnb a few times in the past, but usually tries to stay in hotels. "I'm not a heavy user of it," he told me. "Mostly due to shit like this." This trip, however, he was strapped for cash, and, besides, hotel accommodations in New York City are a luxury commodity. He managed to book another Airbnb, but it "still had one or two steps and was a shithole."
Gray's experience is far from isolated, according to a new report from Rutgers University. Based on a randomized experiment consisting of nearly 4,000 booking requests, "Hosts were less likely to preapprove, and more likely to reject outright, the requests from travelers with disabilities than requests from travelers without disabilities," the study found. "The preapproval rate was 75 percent for travelers without disabilities, compared to 61 percent for travelers with dwarfism, 50 percent for travelers with blindness, 43 percent for travelers with cerebral palsy, and 25 percent for travelers with spinal cord injury."
The Americans with Disabilities Act of 1990 is designed to prohibit discrimination based on disability. It applies to businesses ranging from restaurants to airlines to hotels and theoretically ensures that reasonable accommodation will be afforded to those with disabilities, including those with wheelchairs, walkers, service animals, and the blind. Generally, the ADA did not anticipate the sharing economy. With respect to Airbnb, its protections do not apply to owner-operated lodgings with fewer than six rental units. Which is much of the service.
Nonetheless, Airbnb instituted its own non-discrimination policy last year. In a statement this week, the company said, "Discrimination of any kind on the Airbnb platform, including on the basis of ability, is abhorrent, a violation of our anti-discrimination policy and will result in permanent removal from our platform." I've reached out to Airbnb for comment on Gray's rejection and will update if and when it responds.
The Rutgers study concludes with some suggestions as to how Airbnb can address the problem. They range from simple education—informing hosts covered by the ADA that they are indeed covered by the ADA, for example—to the usage of "mystery shoppers" for checking disability policy compliance to developing principles in concert with disability advocacy organizations.
The real problem, however, is unlikely to be solved by Airbnb itself. The problem is instead the law that lets hosts off the hook in the first place. "If we're entering an era where these new types of hotels, which are essentially private homes, can't offer accommodations, it defeats and undoes all of the progress we've made with the ADA as far as equal access is concerned," Mason Ameri, co-author of the new study, told the New York Times. "The law needs to catch up with services like Airbnb."
Gray is skeptical that a fix exists at all. This is just the nature of the sharing economy, and, well, it's bullshit. Just a week before the Airbnb incident, he was rejected by an Uber driver unwilling to accommodate Gray's walker. "At this point Uber, Airbnb, etc are like Walmart of the sharing economy," he said. "Hashtag protest all you want but if getting a room through Airbnb is sometimes 75 percent cheaper than a hotel, there will never be a shortage of consumers.
"And people with disabilities are a very, very small amount of consumers," Gray added. "Until their backs are against the wall, [companies like Airbnb] won't do anything."