Image: Da Share Z0ne
If you, like me, spend too much time on the internet and go for the type of humor that would be impossible to explain to your parents, you've probably heard of Da Share Z0ne by now.
If you haven't, I'll do my best to explain (deep breath): DSZ is a Twitter account run by one or several people posting anonymously in character as "Admin," who is a skeleton. Like most of us, Admin hates going to work, just wants to chill, smokes weed, has occasional digestive issues, and is moderately socially awkward. The majority of the posts are in the form of memes (for lack of a better word) where captions about the trials of being Admin are superimposed over images that are an aesthetic mash-up of what guys who own Harleys and stoned 14-year-olds think looks cool. The posts really explain it better than I ever could:
"Da MFin Share Z0ne" has amassed a cult following, with almost 88,000 followers as of this writing, and a while ago they began to branch out into merchandise (full disclosure, I own a DSZ t-shirt and have been a fan of the account since its birth). A few days ago, Admin announced a Kickstarter campaign for "The Devil's Level," a Share Z0ne card game that looks kind of like if Magic: The Gathering was actually cool and dead easy to play. The project was fully funded in under 24 hours, and has already doubled its initial fundraising goal.
As the Kickstarter page explains (caps and spelling belong to Admin), "THE DEVIL'S LEVEL IS A CARD GAME WHERE YOU CONTROLL YOUR DEPRESSION LEVEL, HORNY LEVEL AND GENIUS LEVEL TO GET LEVELS OF 6/6/6 'THE DEVIL'S LEVEL'. WHEN YOU REACH 6/6/6 YOU WIN. THE GAME IS FOR 2 PLAYERS OR MORE. PROBLY AS MUCH AS 8 PLAYERS. YOU DON'T HAVE TO BE A Z0NE HEAD OR READ MY SIGHT, IF YOUR COOL YOU WILL LIKE IT."
A list of people who contributed art to the game reads like a who's-who of the funniest and best follows on Twitter—@dril, @bakkooonn, @weedguy420boner, plus comic artists Drew Fairweather ("Toothpaste for Dinner"), his wife Natalie Dee, Will Laren, and KC Green. (I previously interviewed Fairweather about his site "The Worst Things for Sale," and he helped connect me with Admin after the game was announced.) I reached out to some of them as well as Admin to find out more about the project. Since all of my interviews were conducted over email or Twitter DM, and because syntax and writing style is part of the humor for some of these sources, I have chosen to quote the text exactly as they wrote it. So slap a big [sic] on all of the following.
"I LIKE PLAYING CARD'S BUT NOT THE ONES THAT ARE TO HARD (MAGIC)," Admin told me. "ALLWAYS WANTED TO MAKE MY OWN GAME THATS MORE FUN THAT THE GAMES EVERYONE ELSE WANTS TOO PLAY. WHEN YOU MAKE A CARD GAME YOU CAN USE DIFFERENT PICS ON EVERY CARD SO ITS MORE INTERESTING THAN BOARD GAME WHICH IS ONLY 1 PIC LIKE MONOPOLLY (DONT LIKE MONOPOLLY)."
Admin was a pretty difficult interview subject—not because they weren't kind and accommodating, but because the nature of the character prevented me from getting a straight answer. For instance, I asked them what it was like to work with all the different artists—if they let people offer their own takes on the look and feel of da Z0ne, or if all the artists pretty much stuck to the classic Z0ne vibe. Admin's answer: "THE GUY WHOSE GOING TO MAIL THE GAME ASKED IF I WANTED SOME DIFFERENT ARTISTS AND I SAID OK. 'LESS WORK FOR ME' AND I GOT TO TELL THEM WHAT TOO DO. SO IM THE BOSS OF IT."
Before we signed off, Admin wanted to add one last thing:
"IFF YOU DO AN ARTICLE PLEASE INCLUDE THAT MY IQ IS 208. I TESTED IT ONLINE AND IT SAYS I AM PROBLY A GENIOUS. DONT JUST SAY ITS HIGH PUT 208 BECAUSE THEN EVERY ONE KNOWS. I HAVE A LETTER 'WELCOME TOO THE 200 CLUB" AT HOME BUT I DONT HAVE A PIC OF IT SORRY"
Oliver Leach, an artist who posts online as Bakoon and who contributed some art to "The Devil's Level," told me that working with Admin was fantastic. "He really is a skeleton," he told me in a Twitter DM. If he really is a skeleton, I asked, how does he rip bongs all the time? "It's sort of like a convection oven, in that I don't understand how either work," Leach said. "The game is genuinely weirdly fun though…like a therapeutic Go Fish. Getting this skeleton man's life in order."
Since the Kickstarter has reached its first stretch goal, all the games will ship in a foil-embossed skull box that Leach is really stoked about, since he designed it: "I sketched that out so high on edibles I could barely move."
I also reached out to Dril, the notoriously elusive father of shitposting, and I was shocked when he responded to me within minutes. "ididn't do any of the designs," he insisted, though the Kickstarter page says otherwise. "i dont believe in art. i wore a nice butlers outfit and brought fresh towels to admin and his friends. i looked very handsome." He also told me he hadn't had a chance to play the game, because "only other geniuses are permitted to play iot."
I told him I'd been thinking a lot about the game's concept of balancing your horny level. "It seems like a lot of problems are caused by unbalanced horny levels," I said. "if by balanced you mean at Zero, then yes," Dril responded.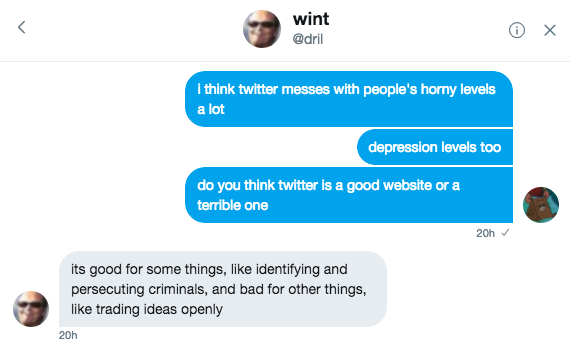 Since I hadn't really gotten a satisfactory answer from Leach, I asked Dril how he thinks Admin is able to rip bongs: "probably the same way the guinness world records guy rips phone books. check out the vids of that some time theyre very good."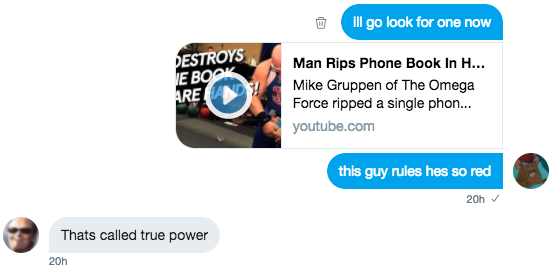 Since we were getting off-topic, I closed out our conversation by asking if he had anything he'd like to tell the world about "The Devil's Level." "Nope that's it….Wait a minute. I just got word that none other than Jeff Bezos has just played the game, and describes it as 'Phenomenal' and 'one to watch.'"
Motherboard has no reason to believe Amazon CEO Jeff Bezos said this, and we did not reach out to Amazon for comment because that would be incredibly stupid.
"The Devil's Level" will be out September 2018, but Admin said on Kickstarter it might come earlier: "I PUT SEPTEMBER 2018 IN CASE THE PRINTER TAKES A LONG TIME. BUT THEY SAID 90 DAYS SO YOU SHOULD GET YOUR STUFF ON TIME. YOU WILL PROBLY GET IT EARLY BUT IF IT ARRIVES IN SEPTEMBER 2018 THEN 'THATS WHAT I SAID.'" The basic game requires a pledge of $27 or more—additional pledge levels include expansion packs, a mat to play on, and original artwork.
"TELL YUOR FRIENDS TO GET THE HIGHER LEVEL SO I GET MORE $$. THANKS," Admin said.