The world in three dimensions only recently became a kinder place to animator Majid Adin. When he first arrived in London, a little more than a year ago, he had come by way of locking himself into a refrigerator, before spending the next four hours lurching around in the back of a cargo truck. A refugee from Iran who faced persecution for his writings and cartoons criticizing religious conservatism, Adin had smuggled himself to England from a refugee camp in northern France. The first few times, he tried clinging to the truck's underbelly. But the risk of falling onto the asphalt below, zipping by at 60 miles an hour, was too terrifying. The refrigerator, despite its ability to suffocate him, seemed safer. It's an experience that the 31-year-old carries with him in his art. "Even suffering can be beautiful," he tells me with a wry smile.
It's an unusually tropical June day in the north London borough of Islington, and Adin is in the kitchen of the home of Sue McAlpine, curator of the Migration Museum Project, a program dedicated to expanding awareness and appreciation for how migration has shaped the UK. McAlpine has recently commissioned Adin to design a stencil that captures the idea of mother. Adin smirks as he compares his creation to a younger-looking version of his own mother. When I point out that she doesn't look so young, he just laughs. "It's fine," he says, in Persian. (All our conversations were in Persian.) His mother would laugh, too.
---
Watch VICE News from the Calais refugee camp, from which Adin escaped: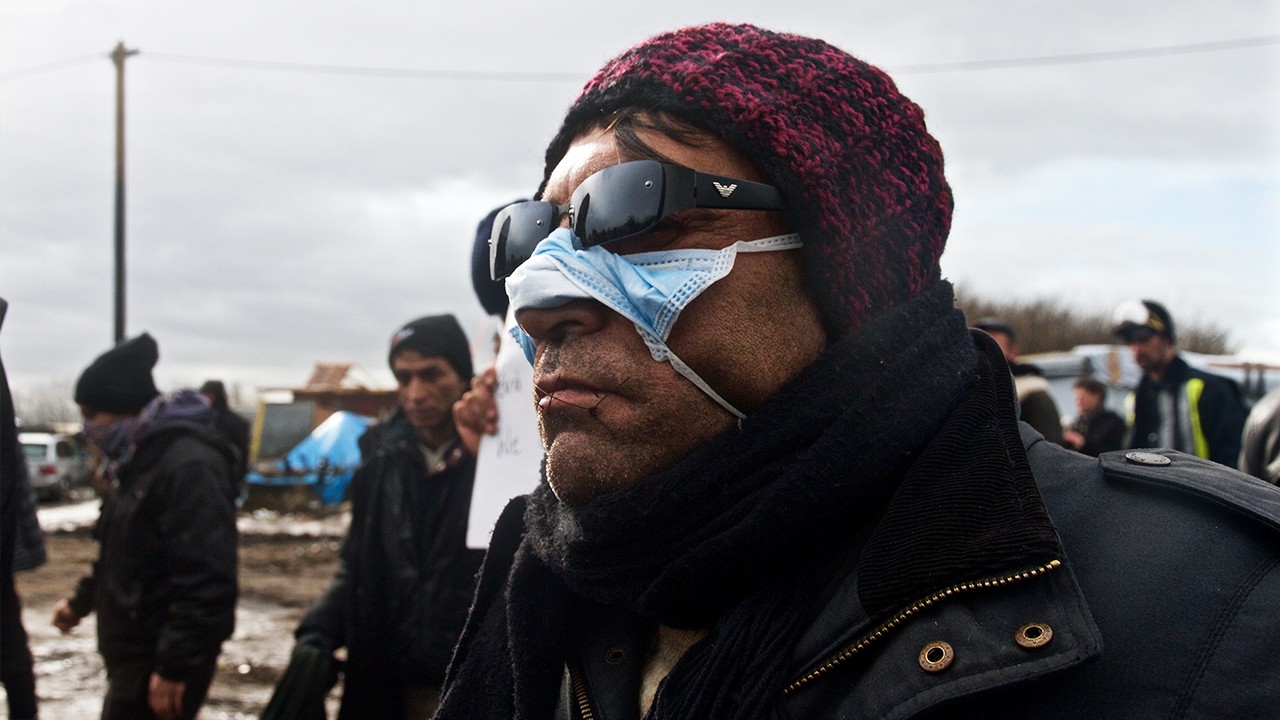 ---
Adin is working, stretched out with his entire body across the wooden dining room table in a way that makes me nervous, given the room's charming, quintessentially English décor. Though he is softened by playful facial expressions, shaggy hair, and geeky glasses, Adin is a tall and somewhat burly guy. Everything in the house seems so small and delicate around him.
But Adin is used to dealing with the delicate. Most of his time these days is spent working on building, organizing, and stitching images in a studio in Camden. He got the job, and an unexpected slew of attention, as the result of a contest he entered over the winter. The musical legend Sir Elton John, together with YouTube, had run a global, open competition to create the first-ever music videos for the singer's early 70s hits "Rocket Man," "Tiny Dancer," and "Bennie and the Jets." Adin had entered at the suggestion of a friend, without even knowing who Elton John was.
Last month, Adin was surprised to find himself among the three winners, with his animated entry for "Rocket Man" garnering over 7 million views. The video interprets the iconic song as the story of a refugee separated from his family as he journeys across the Middle East and Europe in hope of a better life in the UK. Presented as a moving watercolor, the animation alternates between the squalid conditions of refugee camps and smuggling routes and trippy visions of blasting off into the cosmos. John told Rolling Stone that he was "moved and amazed" by the films and the overall process.
I first met Adin in the winter of 2015, in a crowded tent in the Calais refugee camp in northern France. The Jungle, as the camp was known, no longer exists—not since the French authorities undertook a massive clearing operation last October—but in the few years that it was around, it thrived. The Jungle's refugees—more than 8,000 at the camp's peak—could easily have been the most diverse refugee population in the world. Walking through the camp was like taking a tour of the world's most egregious conflicts. In one zone, you would hear about the horrors of the Sudanese civil war from Nubian shepherds. In another, Kurds and Arabs spoke of the day their homes were bombed by the Syrian Air Force, or expropriated by ISIS. And in the tents that lined the camp's makeshift commercial alley, beginning in a muddy clearing called "Afghan Square," you could eat bootleg chicken prepared in improvised kitchens and served by Afghan "waiters" as they told you stories of life under the Taliban.
Today, northern France still hosts a sizable refugee population, but with no recognized campsite to shelter in, the refugees find themselves hiding in forests and moving to different sites every few days. "Back then," Adin tells me, as he continues carving the stencil in McAlpine's kitchen, "the camp was brutal, but it was still like a hotel compared to what's going on there now."
It was about 50 yards away from Afghan Square that Adin and I first met, seated side by side on a chipped wooden bench that was sinking down into the mud. It was below zero outside, and the frigid damp made it feel even colder inside.
We were sitting in a tent that served as a kind of makeshift foyer for a much larger structure—a 35-foot geodesic dome that functioned as a theater and art-therapy space started by two English playwrights, Joe Murphy and Joe Robertson, known affectionately throughout the camp as "the Joes."
At that time, Adin had been at the camp just a few months. The Joes invited him to curate and introduce a film screening at the dome, in celebration of Shab-e-Yalda, the Persian holiday marking the longest night of the year. Adin's selection—The Color of Paradise, an artsy Iranian film about the trials of a blind boy growing up in Tehran—was a bold choice in a room full of restless, mostly young men who had spent the last several weeks desperate and cold as hell. Too bold, evidently: "I took shit from everyone in the camp for that for weeks," Adin says.
Halfway through Adin's introduction, which was being translated into Arabic and English for the non-Persian-speaking refugees, a young Afghan man jumped onto the stage and grabbed a microphone. In a furious mix of Persian and Pashto, he let out a diatribe about how everyone here is wasting their time and that the delivery trucks to France, where the refugees would attempt to smuggle themselves aboard, were lining up on the highway. A dozen or so men left the dome, presumably to climb the fence separating the camp from the highway, followed by another dozen, after a second young man burst into the dome, shouting about the trucks. Then came a medical emergency involving a Sudanese man, and by the time the ambulance arrived, I had lost track of Adin.
"The camp was brutal, but it was still like a hotel compared to what's going on there now."
Now, a year and a half later in north London, as Adin cuts through the image of his young mother with an Xacto knife, McAlpine proposes that we retire to the garden for some lunch. Over homemade quiche, elderflower juice, and ice cream, he tells us about the "Rocket Man" competition. It was one of the Joes who had contacted him after he received asylum in Britain, and urged him to enter. With only two weeks before the deadline and not much equipment to work with, Adin had to submit his entry proposal in the form of hand-drawn sketches. He was told he had won just before the competition organizers planned to showcase the winners at the Cannes Film Festival, and Adin was flown to the south of France, where he met with Elton John at a villa in Nice.
After lunch, Adin and I discuss his ideas on art and animation in general. As a child, Adin worshipped Kamal al-Din Behzad, a 15th-century Persian miniature painter who was appointed by the Safavid Shah Ismail I to serve as director of the royal atelier in Tabriz. "To this day," Adin insists, "Behzad is the greatest artist to have ever lived." Adin trained in fine art and painting at Tehran's Tarbiat Modares University, but he became disillusioned with the elitism and pretentiousness of the painting world. He switched to animation in graduate school because he wanted to produce work "that everyone could see, not just some rich person who hangs it in their house."
"That sounds political," I suggest.
"I hate politics, but I'm from the Middle East," he says. "We're all political."
But back home, the politics are unlikely to change anytime soon, and Adin is reluctant to create problems for his family. I ask him whether he thinks he will ever be able to return to Iran. He laughs as he shakes his head. I can't help but recall the last line of the pop song that miraculously landed him here, with this new life, and I start to sing it. Seeing where I'm going with it, he interrupts me and finishes the line: "It's gonna be a long, long time."
Sulaiman Hakemy is a writer and journalist based in Istanbul and Toronto.