Images courtesy the aritst
The hand-drawn illustrations in Howie Tsui's 25 meter long video installation were inspired by a traditional form of Chinese martial arts fictions known as wuxia. The installation is the title work of Tsui's new solo exhibition at the Vancouver Art Gallery, Retainers of Anarchy, which explores the art of wuxia as a mechanism for insurrection and resistance. It is run through an algorithmic animation sequence and screened across a long, narrow wall through a five-channel projection.
The illustrations in the video depict daily life in the Song Dynasty (960–1279 CE), specifically within the confines of Kowloon's walled-off city, a mostly ungoverned settlement for refugees in Hong Kong that was ultimately destroyed in 1994. Tsui adopts the illustrative style of traditional Chinese scroll painting to capture the city's bustling multifaceted society while making ironic cross references between Asian history and pop culture.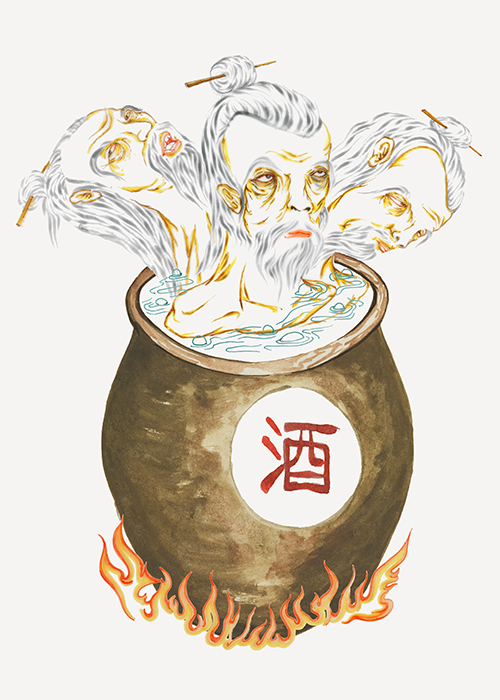 Born in Hong Kong and raised in Lagos, Nigeria and Thunder Bay, Ontario, Tsui's works contemplate not only his personal identity but the notions of statehood in China. The passion project, three years in the making, spotlights "the paradox of how self-governed harmony can exist in places of lawlessness, such as the controversial Walled City settlement in Hong Kong, and conversely, how rampant corruption may flourish in governed states." Watch the installation in action in the video below:
The Retainers of Anarchy is up at the Vancouver Art Gallery. Learn more about the exhibit, here, and check out more works by Howie Tsui on his website.
Related:
An Ancient Japanese Scroll Gets Pieced Back Together | Conservation Lab
How Japan's Master Printer Merged Modern Graphic Art and Buddhism
Chinese-English Calligraphy Literally Flies Right Off the Page