This article originally appeared on Noisey Canada. 
Photo via VICE.com Last week, Canadian rock band Alexisonfire announced a four-night residency in Toronto. Given the sparsity of the group's live performances in the last few years, demand was at a high—made no less evident just a few minutes, possibly even seconds, after tickets went on sale Friday, with all four dates sold out and tickets already appearing at an inflated price on websites like Stubhub. Like always, lots of people were upset about it. "Please know we're diligently keeping our eyes open for any tickets that ended up in the wrong hands," Alexisonfire posted on Friday. "We are doing our best and have a digital team scrubbing the system for any assholes re-selling tickets."
Fans in the band's home province may be getting some help from their government, though. Earlier that week, Ontario's attorney general announced a new effort to address the accessibility, affordability, transparency and enforcement of ticket sales, beginning with an online survey to learn about people's experiences and frustrations. Any new legislation that Ontario introduces would build on another bill that aims to ban ticket-buying bots used to automatically buy thousands of tickets at once to then resell them at a huge markup. Ticketmaster has estimated that 60 per cent of its most desirable tickets are bought by bots, according to the New York Times. In a move that was celebrated by Ticketmaster among others, Barack Obama signed the Better Online Ticket Sales Act that bans ticket-buying bots just before ending his term as president. But even with laws in effect, digitally based ticket resale brokers operate in a shadowy realm that spans across regional and national borders, making it a tremendous challenge to enforce those laws.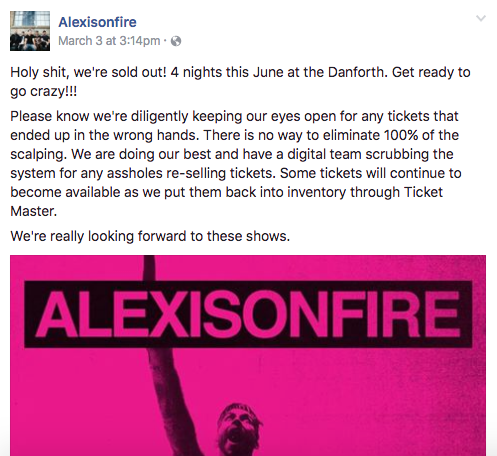 The province's call to action comes not long after the Tragically Hip's highly publicized farewell tour last summer when soaring resale prices brought the issue of ticket scalping to the forefront once again. Two-thirds of tickets were bought by resale brokers and automated software, according to CBC Marketplace. "Hearing that our tickets were being bought by scalper bots, leaving real fans shut out from our shows, was terrible," said Tragically Hip guitarist Rob Baker. "We've got an opportunity right now to do something about it."But that's much easier said than done, something Ontario's attorney general has himself already acknowledged. The deeper one dives into the practical and theoretical challenges involved in reforming the ticket resale market, the more it seems almost impossible. "There are really big limits on what the government can do," said Catherine Moore, an adjunct professor of music technology at the University of Toronto. "Questions of affordability balanced against allowing free-market forces puts governments in a really difficult situation."
In Ontario, the government actually amended its Ticket Speculation Act in 2015 to make it legal to sell a ticket for more than its face value. They did so after deciding, like other lawmakers before them, that existing laws were too ineffective and unenforceable, and that they would instead prioritize regulations focused on consumer protection such as fraud prevention. This is the type of attitude embraced by companies like StubHub. "We hope that governments will put the fan first when considering legislation," said Laura Dooley, senior manager of government relations at Stubhub. "We believe that any legislation should protect and preserve the free market because this is what works best for fans, as it means more competition from more sellers and therefore competitive prices," With regard to price caps on resales, "they simply do not work," she said. "All they do is drive the trade onto the streets and other parts of the Internet where there are no consumer protections."
Meanwhile, artists themselves have started taking things into their own hands. A number of big-league acts including Adele, Bruce Springsteen, Miley Cyrus, Tom Waits, Metallica, Iron Maiden, and AC/DC have used a "paperless ticketing" system that requires buyers to show their credit card and ID to get into shows. Others artists like Chance the Rapper, Tom Petty, Eric Church and Sturgill Simpson have canceled orders they found to have been made by bots. But even those measures have their own critics who say it violates consumer rights.
It's hard to predict what kind of legislation will come out of Ontario's crackdown; there are a number of different approaches the government could take, all with their own set of questions about whether they would be effective and potential criticisms about government interference, said Moore. The only thing that's really certain is that for fans who have anxiously waited to see their favorite artist perform, getting gouged on tickets is an infuriating experience.
Adam Feibel strongly considered buying Nickelback tickets. Follow him on Twitter.