The first time I ever listened to Prince I was dancing naked in a hotel bathroom, feeling like the finest little lady to walk this earth, the Gods of iTunes shuffle had thrown something undeniably majestic my way and I knew my hip thrusts would never be the same. My virginal ears were no match for his his sweet promises, moans and whispers, that sounded like they were riding on the backs of otherwordly cherubs…sexy, sexy cherubs. I just had to be his "Little Red Corvette".
Cut to a few years later (I am not at all embarrassed about this)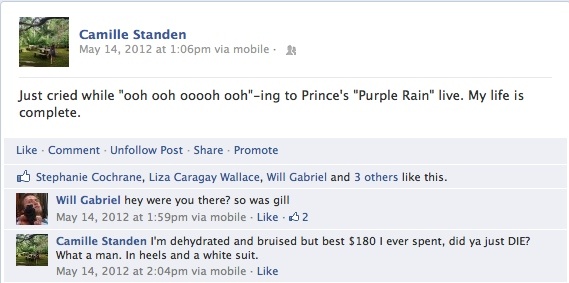 I bought a mud-stricken fake tour shirt from a pile outside the arena and wore it to uni the next day.
Now, I understand why some people may not "like" or "get" Prince. Sure, he's a bit unusual and maybe too off-beat for most of society to wrap their heads around. But who am I to deny his breed of intrigue that makes me daydream about running my fingers through his chest hair, in the champagne filled bubble bath of a flying purple limousine? Guys?
He's like the original Lady Gaga, but with hypnotising guitar riffs, a penis and less outfits made entirely from beef steak. So, I've put together a list of reasons that will hopefully inspire you to further love…or hate him. Because with Prince, there is absolutely no room for ambivalence.
THAT TIME HE "HAD A SPIRITUAL EPIPHANY" AND RECALLED AN ALBUM BECAUSE HE THOUGHT IT WAS EVIL
The Black Album was set for a 1987 release but was withdrawn just one week before the set date - depriving the world of its funk-oriented sounds for seven whole years before it went public. The entire thing sounds like an extended intro to The Fresh Prince except for the track "Bob George" which Wikipedia explains, is "one of the most shockingly unusual Prince songs … in which he assumes the identity of a profane, gun-wielding alter ego who murders a woman and dismisses the figure of Prince as "that skinny motherfucker with the high voice" Jesus Christ, that deviant sex-snake really can do it all.
To add to his mystique, the entire case and sleeve is black. For a moment, just close your eyes, please - just do it. Can you feel it? That is what it would be like to hold "The Black Album"… don't act like that wasn't a spiritual experience.
THAT TIME HE SAID THE INTERNET WAS "OVER" (AND RELEASED HIS ALBUM WITH A NEWSPAPER)
Prince is something of an oracle. In 2010 he prophesied the downfall of the internet, stating it was "completely over" in an interview, likening it to the downfall of MTV. As far as I'm concerned, and I'm sure many would agree, he was bang on the money - what is an "internet"?
THAT TIME HE CHANGED HIS NAME TO AN UNPRONOUNCEABLE SYMBOL
In 1993 he changed his name to a pointy squiggle. Basically, it was a massive fuck you to his record label Warner Bros. who were trying to get him to make less music. I am fairly certain that anyone with the balls to carry an unsayable symbol around for the sole purpose of watching corporate losers in suits struggle is just fantastic.
THAT TIME HE MANAGED CARMEN ELECTRA
Pre-Prince Carmen Electra is a pretty sorry story. Before he plucked her from obscurity, her name was Tara Patrick and she was a small town Ohio girl with big dreams and big boobs. Sure, post-Prince Carmen is a pretty sorry story too, but at least he gave her a stripper name and a music video to match. WARNING: The video is four whole minutes of Carmen Electra rapping about being a pole-hound…seriously. Carmen. Electra. Rapping.
THIS PHOTO
THAT TIME HE DATED A SLEW OF FUCKING HOT WOMEN
The more outlandish the story, the easier it is to believe with this man. Apparently in the 80s he had Kim Basinger under some kind of sexual "spell". However, the babes don't stop there. This prolific lover has been linked to the daughter of Mr. Let's Get It On (Marvin's kid, Nona), Carmen Electra (obvs), and the one that I personally find the most impressive: the both terrifying and sexy, Sherilyn Fenn. If you have ever watched Twin Peaks you know that this is the kind of woman you'd let treadon your nuts in stilettos.
THAT TIME HE JOINED JEHOVAH'S WITNESSES AND LIKENED IT TO THE MATRIX
In 2001 he became a Jehovah's Witness (if he turned up on my doorstep, the last thing I'd want to talk about would be God) after a lengthy discussion with his bassist, which he described as being like Morpheus and Neo in The Matrix. Totally see the comparison.
THAT TIME HE DID THE SOUNDTRACK TO A BATMAN MOVIE
Before Batman got all boring and serious (sorry Christopher Nolan) Tim Burton ran the show. Back in the 80s, under Burton's captaincy, Batman was a beautifully synthesised mess of colours, Jack Nicholson and Prince's pop soundtrack. If you want to be frightened and excited at the very same time, watch his 1989 video for "Batdance"
THAT TIME BILLY CRYSTAL PRETENDED TO BE HIM ON SNL
Not cute. Nope.
THAT TIME HE WAS VOTED THE WORLD'S SEXIEST VEGETARIAN BY PETA
Of course he subscribes to our planet's strictest and most exclusive method of ingesting food, veganism.
THAT TIME HE WORE ASSLESS PANTS TO PERFORM AT THE 1991 MTV VIDEO AWARDS
Why wouldn't a grown man have a yellow assless outfit in his closet?
THAT TIME HIS FAKE TWITTER ACCOUNT MADE TIME'S TOP TWITTER FEEDS
Somehow, a fake Prince Twitter account (@PrinceTweets2U) made Time's list of top 140 twitter feeds. With shit like, "i just gave a seductive wink 2 a drum machine", "playing a secret show 2nite on the moon" and a simple but solitary, "sensuality" it is easy to see how his breed of lazy sex-typing has appealed to many - and the man didn't even have to lift a finger.
HE'S THE UNDISPUTED KING OF SEX OFFENDER POSES
Fabio could pick up a few tricks from this master. Perverts, watch and learn.
HIS SCARY IMPERSONATORS
Who are they kidding? They look like David Chappelle, if David Chapelle was made entirely from candle wax and left out in the sun for a bit. I am so embarrassed for each one of them and this is just a frightening sliver of what's out there.
Finally…
THAT TIME HE WAS YOUNG AND PURE AND MELTED EACH ONE OF YOUR COLD HEARTS
How could you say no to those big beautiful eyes, you monsters?
Follow Camille on Twitter: @CamStanden
Do you like reading guides to things? Then check these out:
The Noisey Guide To Mariah Carey
The Noisey Guide To Sex Music
The Noisey Guide To Nardwuar Etiquette
Do you like reading guides to things? Then check out these: