Photo via Instagram
In nine months SAFE has gone from uploading his first track to Soundcloud to selling out Toronto's Mod Club. It's an impressive feat for anyone, but especially for an artist who is just 18-years old—three years younger than The Weeknd was when he held his debut performance at the same venue. I'm scheduled to meet with him not far from The Esplanade, the eastern downtown Toronto neighborhood where he was raised. When he finally arrives, he's clad in an olive bomber jacket and jeans with one of his managers in tow. His long hair is tied back in a bun, and his facial hair casts a faint shadow across his face as he smiles and extends his hand in greeting.
Originally born in Abu Dhabi, Saif Musaad's family immigrated to Toronto when he was just two months old. While Musaad carries himself with a reserved demeanor, he grows increasingly talkative as he and his latent confidence begin to makes themselves known.
Musaad began writing lyrics around the age of 13, despite basketball being his first love. "I used to go hard playing ball," Musaad explains, "but when I was in the 10th grade my league had a strike and there was no more basketball program." With his hobby put on ice, Musaad began directing more of his energy towards music. Writing lyrics became habitual and he tried his hand at recording, resulting in his first two songs. "They weren't bad tracks, but they had a sound that was similar to stuff that was already out. At that time I really wanted to do music but couldn't really find my sound." While Musaad is not overtly proud of his early recordings, upon listening to them, Drake's right-hand man Oliver El-Khatib detected that the young artist possessed a high degree of musical comprehension. But how did an unknown teenager get his music into the hands of the prized advisor of hip-hop's biggest star?
Musaad met El-Khatib at the shoot for Jimmy Prime's "Northside" video. They exchanged information, and soon El-Khatib invited Musaad to attend the opening of OVO's Toronto pop-up store. The two quickly developed a rapport, and Musaad was asked if he wanted to work steadily at the boutique, bolstering his profile in the local scene. "He asked me if I wanted to work at the shop and of course I said yeah; I knew it would be a good experience for me."
As he spent more time around the shop his relationship with El-Khatib continued to strengthen, however it took time before he felt comfortable revealing to El-Khatib that he himself was an aspiring artist. "Him and I had something before he knew I made music, so when I told him it was like a bonus—he was really excited to hear it." Brimming with the confidence that accompanies approval from an individual of El-Khatib's stature, Musaad proceeded to record more material until he pumped out the slow burning "Feel." "'Feel' had more of a singing vibe, I had never recorded anything like that." Realizing that he had created something special, Musaad quickly uploaded the track to Soundcloud where it received immediate recognition. "It wasn't even heavily mixed yet, but a lot of people were fucking with it.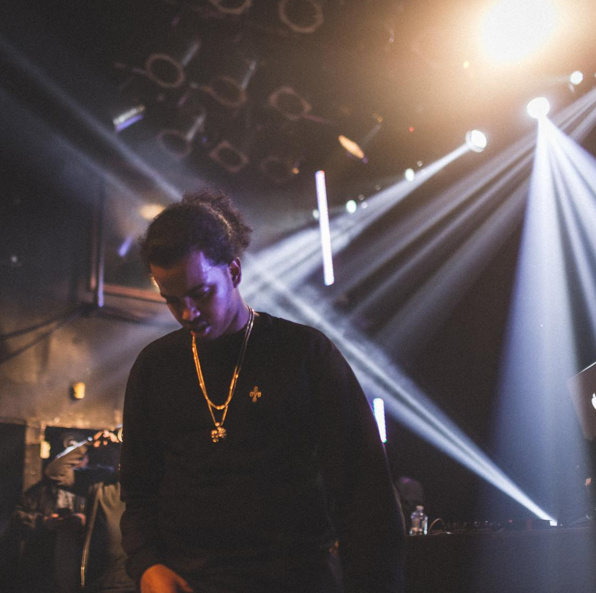 Photo via Instagram
As Musaad's star rose he found it increasingly difficult to work at the OVO store as fans would often visit the location solely to be in the up and comer's presence. "It wasn't like I was big or anything but some people would come in the shop and act like they don't know who I am and then DM me some weird shit afterwards." Growing tired of these types of interactions, Musaad decided it would be best to discontinue his duties at the store in an effort to keep a lower profile. While he no longer works at the store, his relationship with El-Khatib and Drake remains strong. When I ask him how it feels to have their support he can't help but grin. "It's surreal, it's like a blessing. Especially for the city, there's so many artists and the fact that Oliver, Drake and OVO are supporting us is the best thing I could ever ask for."
By "us" Musaad is speaking on behalf of 176 and 878, two intertwined collectives of burgeoning young rappers from The Esplanade and neighboring area Regent Park. 176 is named after a subsidized housing unit in The Esplanade where its members reside. "Basically it's myself, Donnie, Jay Whiss, that's basically it from esplanade. Jimmy [Prime] is Prime, he's not from Esplanade but he fucks with us." Musaad is also the only Esplanade resident who is part of the Regent Park collective 878 (a.k.a. Halal Gang) along with Smoke Dawg, Mo-G and Puffy L'z. "At the end of the day we're all here to help each other. We've known each other for very long, way before music, all of us. It's amazing seeing everything come together piece by piece."
It's just days after Musaad was joined by Eric Dingus and an ensemble of his aforementioned associates to perform songs off of his recently released Stay Down EP at his concert. His first project ever, the EP contains a diverse collection of tracks while maintaining the style that caught the attention of those who were drawn to his high register vocals over top of cloudy composition. "I honestly just wanted to give it a different feel, like one song would be kind of down and then the next would be uplifting. I wasn't really trying to go for a certain sound but it was more so all over the place. I just wanted to show people how diverse I can be." The most distinct song from the set is "Nuh Time," a 120 BPM electronic arrangement which sounds closer to pop than dark R&B or hip-hop.
Now that he has released his debut EP and sold out his own headlining show, Musaad plans to continue building a brand for himself beyond OVO's shadow. While he is grateful for the support he's received from El-Khatib and Drake, he's not signed to them and understands that they're preoccupied with extending their current winning streak. A cosign can only carry an artist so far, and it's important for Musaad to strike while the iron is hot. I ask him if he feels any pressure because of this, to which he shakes his head. "No, I feel more motivated to keep working hard. Every song I record I want to make sure is better than the last one."
Dean Rosen is a writer living in Montreal. Follow him on Twitter.