(Photo via Whatshername)
Today I am 30, which is something I have been building up to for a while, so it's fine. It's fine. I mean, I suppose if you really pinned me down and tied me to a chair in a concrete basement about it, whipping me with a belt, perhaps, zapping my testicles with electrodes, shining a lamp in my face after keeping me awake for 48 straight hours, I suppose I would break and say: mentally, I am halfway between "being absolutely fine passing from one decade to another" and "in constant fear of death, the ever blackness of death, and that somebody will tap me on the shoulder and whisper 'boy'" – although they will not use the word "boy" because despite everything I am now technically and on paper a man. "Man," they will say, as they pull a pistol up to my temple and shoot, ptt: I Am Dead, the overlords at VICE had to kill me for having the audacity to turn 30. I cannot relate to the youth any more. I don't really understand Snapchat and I don't take enough ketamine, And So I Have to Die About It. Death, O sweet death, the only thing I fear now are the million little hells of death.
But otherwise: it's fine.
Anyway, sadly, everyone has already beaten me to the punch in regards to turning 30 content, and there is not a scrap of it left to be had. Turning 30 is a reflective time, but that moment of reflection is important to no one but you. Nobody cares that you were a tiny baby three decades ago. That you are now at what feels like an exact halfway point between young adulthood and old, proper adulthood. Do you know what I have been doing recently? Listening to an old Spotify playlist of the music that defined my early twenties. And that music was new rave. If you see a haggard old man, weeping alone in his headphones, do not disturb me. I am too busy thinking The Klaxons were culturally important and wistfully remembering those Topman T-shirts that had two-toned primary-coloured granddad collars. And nobody cares about that. The point is not me, though, with my personal nostalgia. The point is that as a content creator I am hamstrung by a generation of people who turned 30 before me, got all reflective about it before I did, then fucking wrote about it.
The only way out of this tight corner (me: need to create content or I will be fired and/or shot; you: need to consume content, an appetite that grows ever larger and more monstrous by the day; the corner: all the content hath been done) is that I will just read all the content that's been done, process it, then regurgitate it out as some sort of catch-all turn-30 revue. Okay thanks:
METHODOLOGY
I will Google the words "what I learned 30" – I never Google in complete sentences and I'm not about to start doing it now! – and the five hits I either got from that or just had in open tabs here and can't remember how I got them will be our worksheet for today.
LESSONS:
YOU COME FROM SHIT AND YOU SHALL RETURN UNTO SHIT
I don't know, but for some reason a lot of these lists start with a real assertion that you have to remember your roots, and also your roots were shit, and so just – on this day, this special day – take a few minutes to remember that shithole town you came from and all the arguments over money your mum and dad had when you were a kid. Thank you, The Huffington Post! Thank you for this cheery start to turning 30!
THE IDEAL NUMBER OF LESSONS YOU SHOULD HAVE LEARNED AS A 30-YEAR-OLD IS 30, BUT SOMETIMES DUE TO DEADLINES OR A LIFETIME OF IGNORANCE THE NUMBER OF LESSONS YOU CAN ACTUALLY RUSTLE UP OUT OF YOUR ASS FOR A LIST IS LESS THAN DESIRABLE
One list had eight lessons on it. Eight. You live to 30 and you only learn eight things. Eight!
*EXTREMELY 'I BUY MY GELATO FROM A LITTLE GELATO JOINT THAT KNOWS MY GELATO ORDER, AND THEY ARE ACTUALLY FUCKING ITALIAN, SO…. YOU KNOW, LIKE, THEY SHOULD KIND OF KNOW ABOUT IT' VOICE* "GELATO"
For whatever reason, a lot of these lists also start with a really wistful retelling of an extremely basic transaction or conversation that you (a 30-year-old) might have had, or a treasured memory from a time when you (a 30-year-old) were not 30 that has made you really think about How You Are Turning 30, and I suppose the two takeaway lessons here are: i. there will never be a timeline, not in our world or the infinite mirror universes that bump up against ours, where white men who wear caps they got free in a tote bags given out at industry events do not think that a five-paragraph retelling of that time a waitress remembered their coffee order is anything other than extremely, extremely interesting; and ii. 30-year-olds are – and I apply this widely to every single one of them, myself now included – absolutely unbearable.
BEING THIRTY IS JUST A RACE TO AN ABSTRACT STAGE OF ADULTHOOD, A RACE YOU ARE SIMULTANEOUSLY LOSING AND WINNING, AND IT AT ONCE DOESN'T AND REALLY DOES MATTER WHERE YOU ARE ALONG THE METAPHORICAL PATH, IN THIS RACE, LIKE ON ONE HAND IT'S OK IF YOU STILL SOMETIMES EAT CEREAL FOR DINNER, BUT AT THE SAME TIME IT IS VERY BAD IF YOU HAVE NOT YET BOUGHT A HOUSE, THAT SORT OF THING
Being 30 right now is just a strange situation where people tell you, "Hey! It's OK to not have your shit together!" in such a perky and cheering way that it actually makes you double-take and think, or at least suspect, like: Hold on, do I not have my shit together even nearly enough right now? I mean, obviously it is hard now to chalk the progression of adulthood along the traditional knots in the wood – marriage, mortgage, children, dog, sourness, depression, death – because a lot of those parameters have been made financially unviable, and we are all in this sort of maturity stasis where 30 now doesn't feel anything like 30 did when our parents were 30, and so we are sort of measuring each other and ourselves at once against this traditional and unviable idea of adulthood and adult progression (mortgage, dog, death) and against friends of ours who possibly are further along the traditional path (mortgage, wedding, kids, sourness, futility, a slow shrug towards the grave, car on finance) but also against our own self-hewn idea of adulthood (pretty sure I almost know what tax is now!), and so we are measuring (ourselves) against two or three wildly different axes on an insane chart or graph, we have our legs on two separate train carriages both marked "ADULTHOOD", both slowly but surely drifting apart from each other, us in the middle, slowly doing an agonising and surely fatal splits; and then lists like this come along and shout so falsely it feels like it is hiding something – "HEY! IT IS OKAY! TO NOT HAVE ANY IDEA WHAT YOU ARE DOING! WITH YOURSELF AND LIFE!" – and essentially the lesson from this is: I absolutely do or do not know if it's OK to know or not know what you are doing at any one time in your adult life, amen.
"Hangovers," lists about turning 30 tell us – us new, fresh 30-year-olds – "hangovers, heh heh. Well: they are bad now." I have been under the impression that hangovers have been bad for a while now, really. Barring that time I had pneumonia once and was so manically feverish that I hallucinated an elephant in my bedroom (they really thought I was going to die!) I have, thankfully, never been majorly or significantly ill, which means every time I have felt bad ever in my adult life it has been a direct result of me putting so much beer and tequila into my body that I vomited. I am aware that hangovers are bad. Edging closer to 30 – and, by extension, death – just further underlines I have a finite lifespan, with only a limited number of days left in which I can feasibly have one. This is only good news to me.
I'M NOT SURE THIS COSMO LIST WAS FOR ME, ACTUALLY, IT WAS DISINGENUOUS OF ME TO INCLUDE IT
I AM AFRAID IT IS TIME FOR YOU TO MISGUIDEDLY ATTEMPT TO TAKE UP AND DEVELOP A NICHE SKILL YOU WILL NEVER ACTUALLY MASTER, A BIT LIKE THAT TIME YOU TRIED TO LEARN THE TRUMPET, ONLY WITH MORE PRESSURE NOW BECAUSE WHEN YOUR PARENTS WERE THIS AGE THEY ALREADY HAD YOU AND YOUR BROTHER
Nothing for me quite says "crisis of age + perception of social standing" than someone trying to learn Italian one summer.
A LOT OF PEOPLE TURN 30 AND JUST WANT A LOT OF HOKEY, ONE-NOTE, FORTUNE COOKIE-ASS, WRITE-THIS-IN-A-$2-HANDWRITING-FONT-OVER-A-PURPLE-HUED-BEACH-PHOTO-OF-A-SUNSET-ASS GENERIC-ASS BULLSHIT ADVICE TO GLOSS OVER THE FACT THEY ARE ONE OVERDRAFT CHARGE AWAY FROM HAVING A FULL BLOWN MELTDOWN ABOUT THEIR AGE AND GENERAL SITUATION IN LIFE, BUT HEY, HEY, HEY BUDDY, HEY: HAVE U EVER TRIED JOURNALING
IF YOU HAVE NOT WORRIED ABOUT YOUR BODY FOR THE PAST TEN YEARS THEN NOW IS THE TIME TO TRY, AND IF YOU HAVE WORRIED ABOUT YOUR BODY FOR THE PAST TEN YEARS THEN PLEASE DON'T WORRY: OTHER PEOPLE HAVE FOUND AN INFINITE NUMBER OF INTRICATE AND INEXPLICABLE WAYS TO HATE THEIR OWN BODY, SO AT LEAST I SUPPOSE YOU'VE ONE-UPPED THEM ON THAT

YOUR 30TH BIRTHDAY PARTY BETTER BE FUCKING GOOD BECAUSE YOU'RE NOT HAVING ANOTHER ONE UNTIL YOU'RE 40, YOU DO REALISE THAT DON'T YOU?
I had my 30th party this weekend and it was excellent – all of my friends and almost none of my enemies in a big pub, and I had a load of lovely beers and some fish and chips and drank for so long during the day that my hangover started to set in even before I'd left the pub, let alone gone to sleep or got home – but now I'm starting to think that, actually, it was shit and terrible and now I have to wait ten years to have another one. Look, I should have gone to a beach house: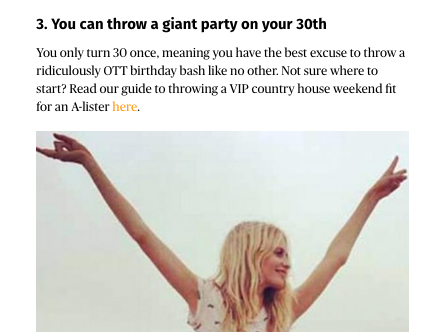 If being 30 involves me giving up the entire weekend to go to someone else's party – at a beach house, for a party they have organised entirely themselves in celebration of themselves, and I have to chip in £200 for my share of the beach house for the weekend and £80 on trains because I left it too late to buy my tickets in advance, and that's before I've bought booze supplies and anything as absurdly extravagant as a present – then, frankly, I have neither the time nor the finances to be a human being in their thirties and formally request to legally change my age back to 29.
'SAVING MONEY' AND 'NOT DRINKING BUT BEING REALLY PREACHY ABOUT IT' ARE THE ONLY TWO HOBBIES VIABLE ONCE YOU PASS 3–0
READING THESE LISTS MADE ME A LOT MORE DEPRESSED ABOUT TURNING 30 THAN JUST THE ACT OF TURNING 30; I MEAN, WHAT THE HELL MAN IT'S MY BIRTHDAY, EVERYONE IS SUPPOSED TO BE NICE TO ME TODAY, WHY ARE THESE LISTS ATTACKING ME FOR NOT HAVING ENOUGH MONEY IN AN ISA YET
Every time anyone has asked me if I dread turning 30 in the past few weeks leading up to turning 30 I have told them honestly that no, I do not dread it, because essentially it's just the end of my twenties, and my twenties were fine and I don't feel like I missed out on anything; I think I exactly had my fill of twenties, I had a good time with them I have had enough of those now, thank you. But now these lists make me think that: i. I should both care and not care so much about being 30; ii. I should have way more money in a savings account, holy shit you are going to DIE ONE DAY; iii. the time is now to give up nightclubs forever and instead buy from eBay an obscure wood instrument or go to dance classes or something; iv. 30th party really should've popped more; v. the next milestone is ever closer to being the last milestone; vi. so we all surely die, we all turn 30; vii. gelato; viii. journaling. I am 30 years old and I have never gone travelling on my own or saved up six months' rent in a high interest yield savers' account. I barely know anything. Bring on death, honestly, because I am not ready for this harsh new reality of life. Bring it on, and bring it on quickly.
Anyway: happy birthday to me!