Each time someone opens the door to All Saint's Church in downtown Toronto, a cold blast of air sweeps through the drafty room.
At 9:23 p.m. on January 2, there are already about 50 people sleeping on gym mats under thin blankets, and another 10 people sitting around, chatting.
It is minus 13 degrees Celsius outside, and with a legal capacity of 80 people, and only about 70 mats available, the church is nearing its limit for the night.
Rented out by Margaret's Housing and Community Support Services during the winter months, the church is now operating as a 24/7 winter shelter.
Toronto's shelters are overcrowded, with the city's 62 shelters and six winter respites at 95 percent capacity — well over the 90 percent limit set to ensure the system functions. And from December 2015 to December 2017, the number of people using shelters in Toronto rose from 4,024 to 5,429 — a 35 percent increase.
Shelters in 'crisis'
An artificial Christmas tree greets guests inside the entrance of All Saint's, and red, gold and silver tinsel line the walls. The murmur of conversation and the odd harsh cough can be heard. Someone retches in a bathroom stall. Near the back of the room, away from the bathroom, the scent of urine is strong.
Thirty-three year-old Jason asks a staff member whether there's any food. She says there's some next door at Margaret's warming centre, and they are bringing leftovers to All Saint's soon. He's hungry but it's so cold outside that he opts to wait, blasting rap from his phone speaker to pass the time.

The four staff members stay busy, checking on patrons, bringing them what they need, making sure the water jug is full. A male staffer sweeps the floor. Suddenly a woman yells "Stop fucking sweeping!" Another woman calls back, "Take your medication."
With extreme cold temperatures the last several nights, city councillors and frontline workers are calling the shelter capacity problem a "crisis."
But when frontline workers first raised the alarm Saturday night about shelters being full, the city called it a "miscommunication," saying 40 beds had been available that night at the Better Living Centre in the city's west end.
The pressure on shelters became a safety issue over the weekend when workers at Moss Park's overdose prevention site raised the alarm about people cramming into their heated trailer for warmth because they had nowhere else to go.
Last month, city council voted down a motion to ask the federal government to open armouries and other federal buildings to allow people to get warm — a protocol available in public safety emergencies. Amid cold temperatures, the hashtag #openthearmouries gained steam on social media.
On Wednesday morning, mayor John Tory relented to pressure and said he would speak with Public Safety Minister Ralph Goodale about whether to open the armoury near Moss Park, the epicentre of Toronto homelessness.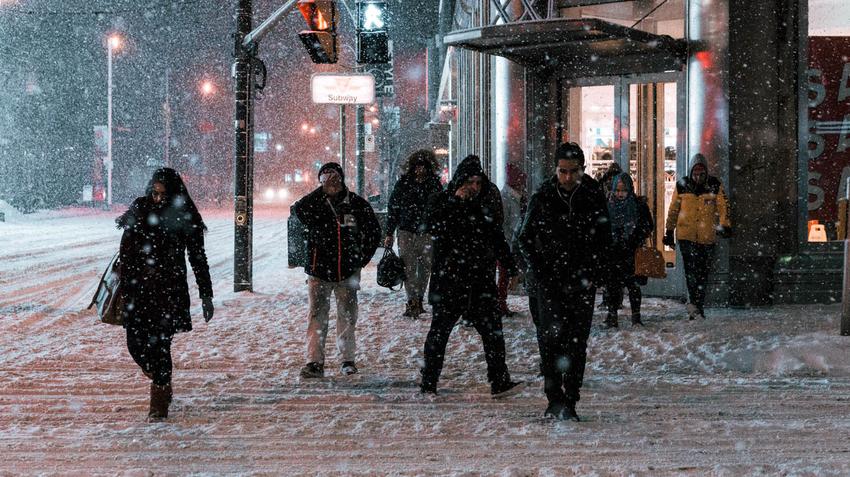 'It happens every year'
Molly Bannerman, who works at the Moss Park trailer, told VICE News that for several nights in a row she has called the city's shelter intake system and 311 trying to find beds at nearby shelters.
"All have been completely at capacity," she said.
"The city is saying it's an isolated incident, but it has happened multiple nights," Bannerman said.

The city's own numbers back her up, with the occupancy rate for the last four nights hovering between 88 and 100 percent. The city has set a limit of 90 percent capacity for its shelters, acknowledging that any higher than that would make the system dysfunctional.
The city is pointing people toward the Better Living Centre, a space at Exhibition Park at the other end of the city where there are 110 beds and is accessible by transit. But Bannerman says it's too far for some people to go, especially if they need to be at their methadone appointment the next morning.
"It's not a new problem, it happens every year," she said of the shelters being overwhelmed.
Margaret's executive director Diane Walter describes Toronto's shelters as "stretched to the seams," with the rising cost of housing and years-long waitlists for affordable and supportive housing adding pressure to the already overburdened system.
The average rent in Toronto has gone up 10 percent since 2016, according to real estate site Urbanation.
"Toronto's a very expensive city, so finding space to provide winter respite services is a challenge," she tells Vice News, referring to a range of spaces Margaret's provides to people experiencing homelessness.
Finding housing 'a hassle'
Jason blasts the verses of Kid Ink from his phone speaker. He likes to play loud rap wherever he goes.
"Gotta stand out," he says with a laugh.
He looks no older than 27 with a shaved face, black earmuffs over his black toque, dangling silver earrings, and small translucent glasses perched low on his nose.
Jason says he's been homeless by choice for the last six or seven years because he likes the lifestyle, but it becomes apparent that finding a home is too much trouble.
"I realize there's blessings to being homeless so I choose to be homeless. I mean I could go get a house in one day and get the government to pay for it but it's too much goddamn hassle. I gotta sit there and war-dial places asking, 'Do you have vacancies, do you have vacancies, do you have vacancies?' And by the time I get one then I gotta go all the way down there and meet the guy and — oh, it's a maybe, you might get it. It's like, fuck that bullshit.
"A lot of places want references and shit. I've been homeless for six fucking years, how am I supposed to give you a reference?"
"Besides, I don't really mind being homeless anyway. It's kind of a blessing in disguise."
He says he's forced to be out in the world, meeting people, relying on people. He knows where to get a shower, where to find free laundry, how to flip almost anything into money.
But when he goes into a fast food joint, coffee shop or stairwell to get warm or sleep, there's a limited amount of time before someone tells him to move along.
"It's sad because, like, we have shelters where people can go for refuge from the elements, shelter is a necessary requirement in our lives. But we could have shelter everywhere if people could just learn to open their doors. ...If we did, you could go anywhere you want, go into the bank and sit there and smoke dope, and do whatever you want with no judgement, or bullshit or anyone telling you to fuck off or get out."
As we talk, a young man stumbles toward us, a faint smile of contentment on his face. He lays down on the floor next to us and closes his eyes.
City bylaws limiting shelter availability
City councillor Joe Cressy pointed at the years-long waitlists for affordable and supportive housing, and the city's current housing crisis as a contributing factors to the shelter overcrowding.
"We have a homelessness crisis, we have a housing crisis, a crisis of inequality," he told VICE News.
One of the biggest hurdles is a policy that limits shelters to major and minor arterial streets. They are not permitted in neighbourhoods, he said.
Council passed Cressy's recent motion requesting a bylaw amendment that would change the rules, but city staff will not report back on that until May 1 — too long in Cressy's opinion.
Cressy, Bannerman and Walter say a long term solution is needed.
Bannerman calls the recent confusion a "symptom of a bigger problem."
"We don't have enough places. The fact that we're scrambling to get people into the Better Living Centre is indicative of the fact we're in a really big crisis around housing. We're continuously pushing people out of the core, we don't have safe places for people to live, shelters aren't the [best] option, warming centre's aren't the best option — we need housing for people [that is] supportive and respectful of people who use drugs."