Photos courtesy of Nunslaugher
Last night, an extreme metal luminary, dedicated Nunslaughter drummer, Cleveland music scene icon, "Mayor of Parma," and beloved friend to many named Jim Konya breathed his last. He was surrounded by his loved ones, and left this earth only after a fierce, prolonged fight that began following a debilitating stroke that unexpectedly felled him last month. Jim's ordeal reached its apex on September 27th, when he suffered another, more severe stroke while recovering from the first. Hope lingered, and Jim fought like hell, but his condition continued to worsen. The decision was made to take him off life support on October 7th. He was 44.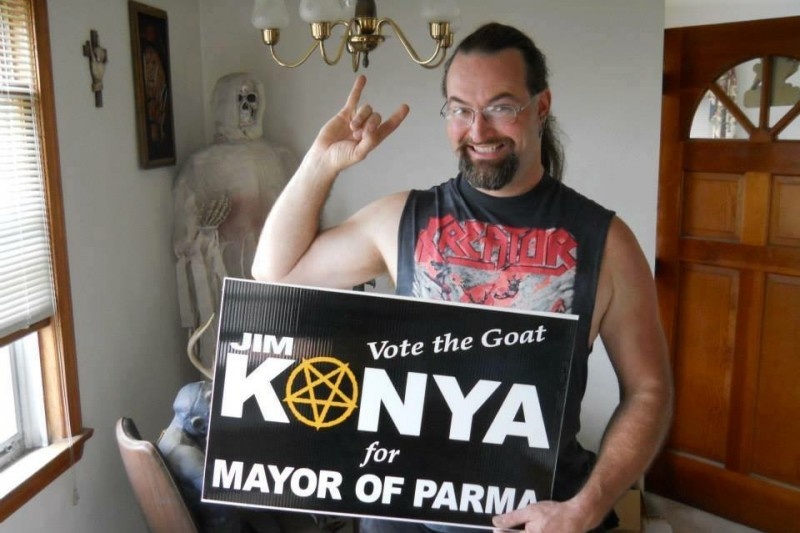 His passing has been met with an outpouring of grief from the metal community, spurring the creation of Facebook support pages and a benefit show at Now That's Class that raised over four thousand dollars for Jim. A GoFundMe campaign originally set up to help cover his medical costs is now accepting donations to cover his final expenses here. The fund greatly surpassed its original modest goal early on as the community rallied around Jim, and one hopes that the continued donations will help ease Jim's family's financial burden during this terrible time.
Longtime label and close friends at Hells Headbangers are also donating all of the proceeds from digital sales of this Spawn of Satan album, which marked the label's first-ever signing. As the label noted, "Jim's the most generous person we know and was a massive inspiration during the formative years of Hells Headbangers. Not only did he take us under his metal wing and teach us how to get an LP made, he introduced us to many great bands over the years and continues to stand by us 110 percent to this day. His death/thrash band The Spawn of Satan was the very first to sign to Hells Headbangers long before we made any footprint on the metal map and without him, we may of never released a single Nunslaughter record or have even become a record label for that matter."
Jim's own legacy and impact upon the world of heavy metal is incalcuable; he's played on so many great records, given so many killer performances, and genuinely touched so many lives that his passing is a huge blow, and he will be deeply missed by the scores of people who he called friends. His musical output is legendary (and extensive!). A multi-talented musician who handled drums and often vocals for the likes of Nunslaughter and Schnauzer to Satanic Threat, Derketa, Gravewurm, The Spawn of Satan, and a handful of others, Jim Sadist didn't just make a mark—he left a smoking crater smack dab in the middle of extreme metal history, and despite his sadistic stage name, did it all with a smile, a joke, and those famous red pants.
Now, we remember, we celebrate his life, and we mourn. Konya's brother-in-arms and Nunslaughter bandmate of fifteen years Don of the Dead posted a short, heartfelt message on the band's Facebook page earlier today, saying, "It is difficult to express the overwhelming sense of loss of Jim. Perhaps in time I will be able to tell everyone more about him but for now I only want to say 'Goodbye Jim, I love you."
Rest in power, Jim. We'll see you in hell.