From the green bank of her front lawn in Clairton, Pennsylvania, in the former heart of America's steel country, Cheryl Hurt and I have an unobstructed view of the largest coke works in the country: the Clairton coke plant. Each year the Clairton plant turns nearly 6,000 rail cars' worth of coal into millions of tons of coke, a high-carbon fuel used in steel production. Right now it is also turning the sky grey. One mile away, down in the valley that Hurt's home overlooks, a great plume of steam and particle pollution rises from the coke works, as if the tangled factory that stretches along the Monongahela River was built to produce perfect cumulus clouds.
"That's all those pollutants that you've read about," Hurt says. Ammonia, benzene, cyanide, lead; a laundry list of toxins formerly trapped in coal ore are now likely airborne before us. Behind us, in the first floor of her two-story yellow brick house, Hurt's six grandchildren study and play in a daycare center that she has run for the last 25 years.
Hurt is a lively 69-year-old with warm brown eyes and short spiky hair dyed red. She is also constantly on the move, tending to her daycare children, her 90-year-old mother, and her small hometown. The air in Clairton is often bad, and Hurt sees her friends and family suffer from asthma, lung infections, and cancer. Aware of the risks of breathing pollution, Hurt keeps an air quality monitor by her front door, which she checks obsessively. "I look to see, okay, how bad is the air? Can the kids go outside and play?" On good days, her kids run around a large fenced-in backyard. On bad days, they stay inside with the windows shut.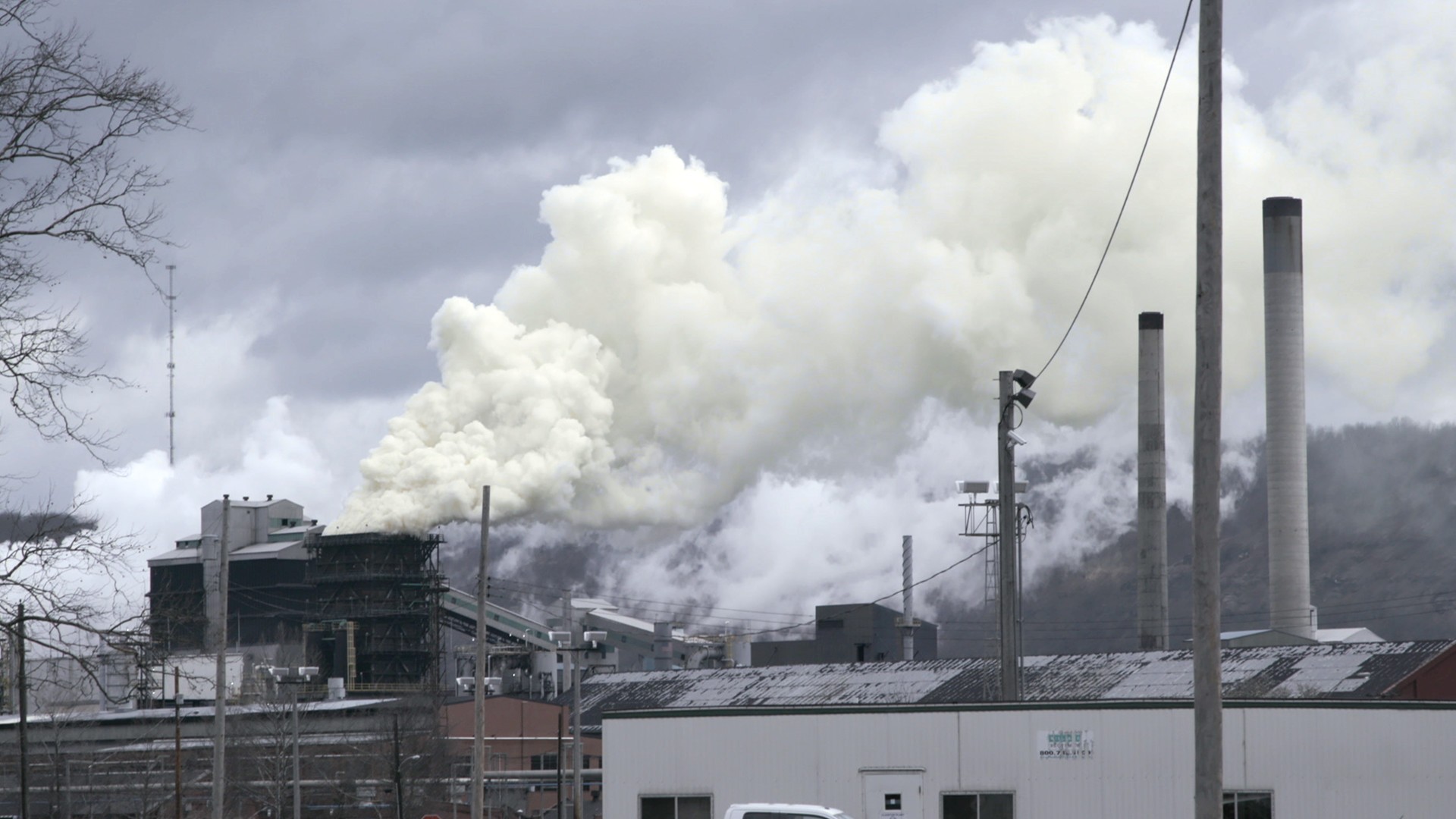 Today her monitor is broken, so we keep our eyes on the Clairton plant. The only good thing about the smog cloud in front of us, Hurt says, "is it's going to cross over, to hit the people over to the other side of the river." Indeed, as the smoke rises from the plant, it appears to drift away from us. It's not that Hurt has anything against the people on the other side. "But we'd rather it go over there than here."
Clairton, Pennsylvania, rises over the Monongahela River around 40 miles east of the upward-stretching, antenna-like border of West Virginia. Though Hurt and her family can watch the emissions drift out of their local air pollution source, like their neighbors across the river who don't have a clear view of the Clairton plant, they are also often hit with pollution from industrial sites that they can't see. Petrochemical manufacturing facilities and coal-fired power plants in Pennsylvania, West Virginia, and Ohio all send toxic smog their way when the wind blows right. In this regard Hurt is not uncommon: Many of us are being poisoned by our neighbors.
Anything with a smokestack likely sits near a downwind border; the most toxic facilities sit the closest.
A new study, published this April in the American Journal of Political Science, found that air polluting facilities across the United States have been systematically sited at state downwind borders, where the particles, soot, and heavy metals they pump out will be carried to neighboring states. The finding came after researchers at multiple universities combined data on the locations of nearly 40,000 industrial facilities across the US with data on prevailing wind patterns. Facilities that produce airborne waste tend to aggregate near downwind borders, the authors found, while those producing solid or liquid waste do not.
Whether on purpose or not, says Jamie Monogan, the study's lead author, states across the country appear to be maximizing their economic benefits from polluting industries while sending the environmental and health consequences of that pollution downwind, "where people have a harder time complaining." From power stations to chemical plants and manufacturing facilities, anything with a smokestack more likely sits near a downwind border; the most toxic facilities, says Monogan, sit the closest. As with much in the government these days, federal programs that could address the problem may be under threat.
As her generation has aged, many of Hurt's friends have developed cancer. Although she can't be sure about the cause, bad air is a legitimate suspect.
If you were to drive from the southeastern United States to Clairton, you could easily pass some of the country's largest power plants—in North Carolina, West Virginia, or, with a quick detour, Ohio. Many of them sit on their states' downwind borders, their smudge-tipped smokestacks dotting the horizon. How did we get here, where many of our polluting industries are aimed like cannons at our neighbors?
One easy answer is that state regulatory agencies are more likely to award air pollution permits to new facilities, and more likely to allow them to be built, if those facilities mainly float their pollution out of state. The Ohio Environmental Protection Agency is answerable to the voters of Ohio, after all, and not to the residents of Clairton, Pennsylvania.
"We've never really found a smoking gun where someone said, 'Locate here because we want pollution to blow into the next state,'" says Monogan, an assistant professor at the University of Georgia. "But, you see the motivation and you see the circumstantial evidence."
In a recent three-and-a-half-year period, the Clairton coke plant committed 6,700 pollution-limit violations—roughly five a day.
Monogan and other researchers suggest that air pollution facilities locate on state downwind borders because it's easier to go there than to go anywhere else. "There's pretty good evidence of this," says David Konisky, an associate professor at Indiana University and one of Monogan's co-authors. "Whatever a firm is trying to site, they want to find locations where they will get less political blowback."
Monogan, Konisky, and their colleague Neal Woods from the University of South Carolina also found that certain characteristics of a state increase the likelihood that its air polluting facilities will find their way to a downwind border. One characteristic is how aggressively states subsidize local economic development: More development incentives for particular locations in the state mean more exported pollution. The other is the number of registered state lobbying groups. The more lobbyists, the more exported pollution.
While pollution levels and lung cancer rates have long been high at state borders, we now know that millions of Americans are being harmed by exported or "cross-state" air pollution, precious few of whom enjoy the benefits that said pollution produced.
In Allegheny County, Pennsylvania, where Clairton is located, a third to half of all airborne pollutants blow in from out of state—from power production and manufacturing facilities like the Cardinal Plant in Brilliant, Ohio, and the Fort Martin Power Station in West Virginia. The rest, as Cheryl Hurt knows too well, is local.
The dangers of bad air first hit home for Hurt ten years ago, when her oldest grandson, Martin, was born. "From the age of a few months we were always going to the hospital," she remembers. Martin developed life-threatening asthma, requiring expensive albuterol and pulmicort prescriptions, portable nebulizers, and sometimes ambulance trips to the hospital.
Martin isn't the only child in town with bad asthma. So many kids on the football team at Martin's school have asthma, Hurt says, that the team's coaches each carry several prescription inhalers to games and practices. "And that doesn't count the moms who come with their own inhalers."
As her generation has aged, many of Hurt's friends have developed cancer. Although she can't be sure about the cause, bad air is a legitimate suspect. According to EPA data, Clairton residents' cancer risks from toxic air pollution exposures are 20 times the national average. An additional worry is degenerative brain disease. Cheryl's mother has Alzheimer's, a disease increasingly being linked to air pollution exposure.
A third-generation steelworker and former Clairton coke works employee, Hurt is president of the Community Economic Corporation of Clairton. She is also, increasingly, an outspoken advocate for clean air, and she is working with community organizers to urge the Clairton plant to clean up its act. While air quality suffers in southwestern Pennsylvania due to a diverse array of industries both within and outside the state, the coke plant that Hurt sees from her porch is one of the worst offenders. According to public documents analyzed by PennFuture, a regional advocacy group, in a recent three-and-a-half-year period the Clairton coke plant committed 6,700 pollution-limit violations—roughly five a day. Although Hurt's children still face smog blown in from elsewhere, the air they breathe would improve significantly if the Clairton plant could just meet basic pollution standards.
Unlike Hurt, most of us will never see the source of the long-range pollutants that reach our homes. Depending on where we live, we may even be the ones responsible for passing pollution on to our neighbors.
Living in central North Carolina, I fall into that latter camp. My electrical grid is fed by power plants, like the Belews Creek Power Station, which sit along our downwind borders. One of the biggest power plants in the state, the Belews Station rises up beside Belews Lake about 20 miles south of Virginia. Surrounded by quiet farmland and rolling, forested hills, Belews can eat 200 railcars of coal a day in its quest to produce energy from superheated steam. Though it provides steady power for the residents of North Carolina, its pollution is scattered across the northeast, degrading air quality potentially in states as far away as Connecticut.
The Belews Station "is huge," says Richard Barron, a reporter for the Greensboro News & Record who once toured the plant. "Just a shock to see." From the outside, immense coal hoppers and silos lead in to warehouse-sized industrial buildings that stretch below four great towering smokestacks. Inside, old-fashioned concrete concourses and generator rooms are overseen by a modern control center complete with a wall of gauges and blinking computer arrays.
Though the rural Belews plant feels "kind of isolated" to Barron, the Attorneys General of several northeastern states feel very connected to it. Last year they sued the EPA to have pollution from plants like Belews, in North Carolina and eight other states, included in recently implemented regulations targeting cross-state pollution. Eric Schniederman, New York's Attorney General, alleged that toxic smog exported from those states threatened "the health of millions."
Like many older coal-burning power plants still in operation across the country, the Belews Creek plant was built before the Clean Air Act entered into force, when there was no unified federal oversight of air pollution. Though Monogan's analyses suggest that exported pollution is a current problem—and one not limited just to power plants—his data also suggest that good federal governance can help. When he limited his statistical tests to consider only power plants built at least ten years after the passage of the Clean Air Act, Monogan found few facilities that were preferentially located on downwind borders.
Federal oversight solved the problem, at least for power plants, by limiting how much any one source could pollute. This removed some of the nation-wide economic incentive for states to pursue industry as much as possible while piping the hot, hazardous byproducts to their neighbors.
The rule would result in $280 billion in annual environmental and health benefits, including tens of thousands of avoided heart attacks, emergency room visits, and premature deaths.
The EPA was, of course, created to tackle national environmental problems, like this one, that individual states cannot address alone. "People recognize this is an area where there is a proper role for the federal government," Konisky says. Both Obama's and George W. Bush's EPA developed rules to limit exported pollution. The Obama-era Cross-State Air Pollution Rule, first finalized in 2011, initially identified more than 1,000 power plants across 28 eastern states that needed to reduce emissions in order to improve air quality in downwind states. "They've tried to sincerely solve the problem," Konisky says.
Naturally, the rule was challenged by power companies and upwind states who felt the EPA had overstepped its authority. In 2014 the Supreme Court settled the issue by upholding the rule, and implementation began in 2015. As a consequence, according to EPA data, toxic cross-state pollutant emissions have already dropped by the millions of tons. The EPA expects full implementation of the rule to result in up to $280 billion in annual environmental and health benefits, including tens of thousands of avoided heart attacks, emergency room visits, and premature deaths.
Still, concerns linger about whether the problem will be truly solved. For starters, some states, including those that sued the EPA in 2016, think their polluting neighbors have unfairly been left out of the rule. Additionally, the current rule only targets power plants, like the Belews Station, leaving manufacturing facilities, like coke works, uncovered.
Of greater concern is the uncertainty posed by the new administration. EPA representatives attest that implementation of existing programs, like the cross-state rule, is "continuing." But so too are Trump's plans to reduce the agency to "tidbits." (His currently proposed budget would cut the agency staff by 20 percent). More telling still, the man now heading the agency tasked with enforcing the cross-state rule, Scott Pruitt, once sued to block it.
In the living room of her home, with her back to the Clairton plant, Cheryl Hurt discusses her reasons to be hopeful. She wears a "Change we can believe in" t-shirt and watches her grandkids with obvious pleasure. "I don't feel powerless about anything," she says. "A good thing about a small community is you have more power. You can organize your neighbors and your friends. Say, 'let's try to stop these things.'"
Despite the health risk it poses to her family, Hurt doesn't resent the nearby coke plant or its owner, US Steel. "I was born and raised here," she says. "My grandfather worked in a steel mill. My father worked in a steel mill. And then I ended up in a steel mill. So three generations of us all in a steel mill. We are used to this. We live with all of it."
Hurt's grandkids play in an open room where large cutouts of Cookie Monster and Big Bird wave from the walls. "US Steel is not the enemy," she says. "I understand more than most that where we live, there's more than just US Steel that impacts our community. The control that has not been placed upon all of these industries—that's where the problem begins and ends." Read This Next: It's Not Looking Good for People Who Live in Big Cities