When the subject of Winnipeg is raised outside of the province of Manitoba, a few dark, recurrent themes tend to be discussed. Mosquitoes, the bitter cold winters, the city's propensity for violent crime and institutional racism. The lack of a truly competitive professional hockey team. But when it comes to punk rock music, a bright light emerges from the dark 'Heart of the Continent.'
"Growing up in Winnipeg, people are always like, 'Do you know Propagandhi?'" Andrew Neufeld told Noisey as he was boarding a plane to begin a Scandinavian tour with his band Comeback Kid. "Everywhere we go, you hear that." Winnipeg has a long, rich history of punk rock music. In the 80s, bands like Personality Crisis, the Unwanted, the Ruggedy Annes (one of Canada's first all-female punk bands), and the Stretch Marks put Winnipeg on the map, touring the continent and releasing records that stand alongside contemporary western Canadian classics from DOA, SNFU, and the Dayglo Abortions.
"My first punk show was Personality Crisis' last show in 1984," Jason Tait, who played drums in Red Fisher, Painted Thin, The Weakerthans, and is now an in demand session and touring drummer, told Noisey via email from a tour stop with Bahamas. "It blew my mind. The punk scene in Winnipeg was pretty amazing at this time. So many local bands, so many bands coming through town."
However, when the 80s gave way to the 1990s, those seminal Winnipeg punk bands broke up or disintegrated, with many of the members moving away, or moving on to new projects. For the kids, like Tait, Hannah, and Samolesky who'd grown up on the punk rock of the 80s, that relative void provided an opportunity to bring their own music out into the world. Before long, they would be among the heart of a tight knit group of weirdoes who would crawl up from city's wintery basements like "limping, half formed machines" to take the stage at Wellington's, Royal Albert's Draft Night, before moving on to bigger stages across western Canada, and later the world.
"Thursday Draft Night at the Albert in the early 90s was the craziest thing I'd ever seen," Hannah recalls. "Huge street battles, people fighting in the streets en masse." Hannah and Samolesky had been writing music as Propagandhi in their parents' basements since 1986, recording and releasing a couple demo cassettes before taking the stage for the first time at the Royal Albert in 1991. At the same time, Red Fisher, a skate punk band in the tradition of the Descendents and ALL, were also beginning to play out more, quickly establishing themselves. Though, at the time, the punk rock pool party was a lonely one.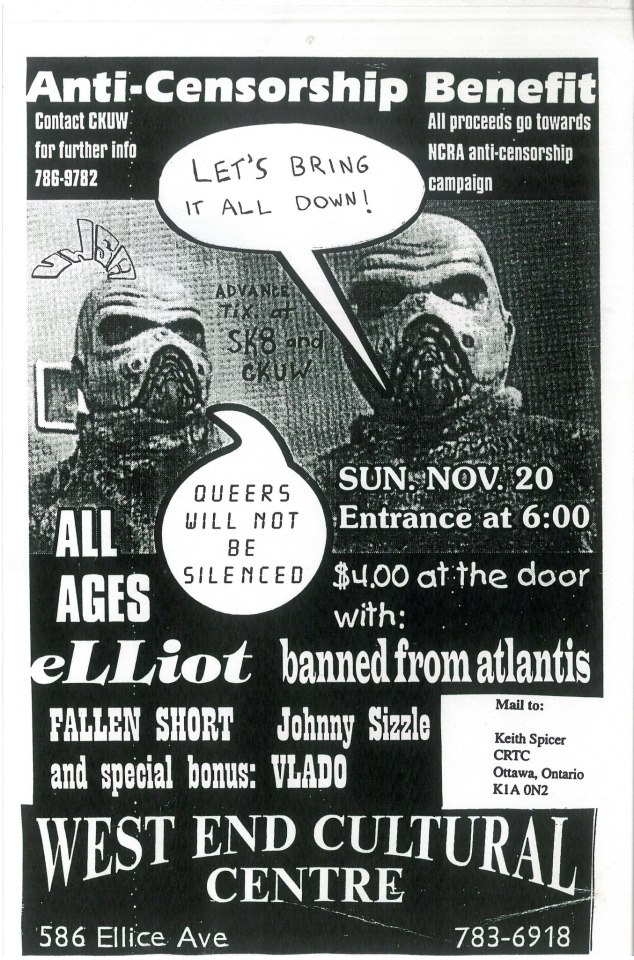 "The scene in Winnipeg, when I first started touring with Red Fisher, was much more metal influenced," Tait recalled. Hannah told Noisey that, "when we started, we weren't playing with punk bands. We were playing with Meatrack, Batsweat, Immortal Possession, Ditchpig, Grog (pre-Ditchpig). Those were the bands we played with. Red Fisher was the closest thing to a punk band [that we played with]." For many young would-be-punks, Propagandhi and Red Fisher became an entry point into what would become a thriving young punk scene within a few years.
"I saw SNFU as a kid," recalls Stephen Carroll, who played in Painted Thin and the Weakerthans, among other projects. "Then all of a sudden I was at the West End all the time for all ages shows, watching Crown of Thorns and then Red Fisher when they came out. The Propagandhi when I turned 18, and bands at the Albert every Thursday, which was our ritual."
Both Red Fisher and Propagandhi set up residences in houses near each on MacMillan Avenue, and began hosting basement shows, which proved to be fertile ground for a young, developing scene of snotty punks.
"You'd think a band like Propagandhi with a political message, and a band like Red Fisher that, at first, didn't really have a political message, with songs about relationship troubles, partying, and how wonderful it was to skateboard, might not get along," JohNNy SiZZle, a member of the scene who in the early 90s hosted a public access TV show that featured many of the key players of the time, told Noisey. "But they did, they got along great together."
Both houses were also just around the corner from SK8 on Corydon Avenue, a local skateboard shop that promoted punk shows, stocked punk tapes from established and local bands, and carried "the granddaddy of punk zines" Maximum Rock'n'Roll.
"We'd go over to Sk8 and they stocked MRR and sold local tapes," Samson, who at the time played in Kelvin High School punk band Toothpick Hercules, recalled. "That's where I bought Fuck the Scene, Propagandhi's cassette, and where I saw the poster that they were looking for a bass player."
Samson tried out, and got the gig. At the same time, Todd Kowalski, a self proclaimed "headbanger" from Regina had moved to Winnipeg for school. Kowalski had been involved in a number of half-formed speed metal and cross over bands since elementary school, and was eager to get involved in the Winnipeg scene.
"I moved to Winnipeg, and started seeing bands," Kowalski told Noisey. "There were a bunch of bands, they weren't blowing my mind, but I liked them. Like Fudge Tongue, Red Fisher, Pontious Pilots, Carpe Diem. I didn't really know anyone in Winnipeg who seemed to have my exact vision. Funny enough, at that time I met this guy, Derek Riel, and he told me I should try out for this band Propagandhi. He played me their tape. I was like 'Fuck, this is awesome.' But he actually told me they wouldn't like me! [laughs] He said 'They all drink and that. They won't like you because you don't drink.' So I was like, oh, whatever, I won't go try out, I guess."
Instead, Kowalski, returned to Regina in the summer of 1991 and formed I Spy, who would release a number of DIY releases over the next five years. Those collected works, Perversity is Spreading… It's about Time!, would be released posthumously on G7 Welcoming Committee Records in 1997.
After playing some shows in Regina, I Spy got a gig at the Royal Albert with Shawn Fedorchuk's pre-Kittens project Batsweat. Chris Hannah, John Samson, and some others from Winnipeg's emerging political punk scene attended the show. A friendship between I Spy and Propagandhi quickly developed, and the two would eventually release, I'd Rather Be Flag Burning split CD/10" vinyl in 1995.
"That was the first split CD I ever bought," Andrew Neufeld, who would form Figure Four shortly thereafter, remembered fondly. "It changed my life."
In the early 90s, though, Propagandhi and I Spy were still finding their feet and other bands were just forming performing regularly at basement shows at the Red Fisher house, Albert Draft nights, or other underground venues like Wellington's, the Cauldron, or the occasional opening spot for touring punk bands. After Propagandhi opened for NOFX at the Albert, Fat Mike of NOFX approached Hannah offered to sign them to his nascent Fat Wreck Chords label. Hannah and Co agreed, not thinking much of it.
But when How to Clean Everything was released in 1993, full of angsty political screeds like "Middle Finger Response" and "Stick the Fucking Flag Up Your Goddamn Ass, You Son of a Bitch," it unwittingly launched the band out of the basement and onto (often hostile) stage around the world.
"I don't know what we were thinking," Hannah told Stylus upon the 20th anniversary reissue of HTCE. "We were way out of our league, unprepared. We thought you practice once or twice every two weeks and you drink a bunch of beers and there you go." How To Clean Everything also proved to be a launching point for many local would be punks, who took the admittedly "immature" political screeds at face value, launching many on a politicized track that would see activism and DIY punk rock replacing skateboarding as principal pass times.
"Propagandhi had a big politicizing influence on me," Hogue told Noisey. "But I think there's this nostalgic idea that it was this 'political' music scene. [But] it was more that a lot of the people involved [in the music scene] were interested in politics and activism … resulting in a lot of benefit shows, some soapboxing on stage, and a pretty big zine culture, which was far more political than the bands were."
Indeed, Zine culture played a huge part in punk rock scenes the world over in the days before the internet made soap-boxing and obsessing over bands as easy as trolling around Twitter on your phone. Winnipeg's DIY scene fervently embraced zine culture in early 90s.
"Winnipeg had some excellent zines," recalls JohNNy SiZZle. "I liked the zines about feminism, Native rights or gay rights, because they would open up my mind to the fact that I wasn't the only one who exists."
"They were a way a lot of us communicated, in a way. Kind of saying the things we couldn't say or didn't want to say," mused John K Samson, who today runs Arbeiter Ring Publishing, a radical publishing house, in Winnipeg. "Zine culture is certainly why Todd Scarth and I stated a publishing house, and is still the ethic, I think, that drives what we do almost 20 years later."
As the 90s wore onward and punk rock became more popular and mainstream, basement shows proliferated, the Albert opened up Sunday afternoons to mixed all ages matinees, providing a place for many new, young bands to cut their teeth. And, as always, there were enterprising young would-be concert promoters who would rent community centers and halls to throw punk and hardcore shows. Newer, and established, bands were given more opportunity to open for the increasing number of punk bands passing through town.
The number of punk and indie bands producing their own tapes, CDs, and 7"s in Winnipeg who also embodied some of the politics behind the DIY ethos continued to evolve and multiply. Painted Thin emerged mid-decade, featuring a rotating cast of players that included ex-members of Red Fisher and Elliot, and future key members of the Weakerthans. Malefaction and Swallowing Shit violently merged metal and grind tendencies with extreme political messaging (see Swallowing Shit's "Pro-Abortion, Anti-Christ" for but one example) and intense performances. And the Bonaduces rose from the ashes of Banned from Atlantis to produce a couple finely tuned pop-punk, "personal as political" masterpieces.
"For me, the culmination of it all was the Bonaduces," states Samson. "I felt that band really lifted the genre to new heights. Doug [MacLean]'s tone and scope of his lyrics provided a template for me and some other people to try and write the songs that I'm still trying to write. I feel like the Bonaduces were really a product of the Winnipeg scene, and I feel they're still a kind of high water mark for that whole scene."
But for a scene that made explicit pro-feminist messages, not only in their songs, album art, and zine culture, women's voices on stage were still notably in the minority, particularly in the early 90s.
"At that time, it was almost entirely male and often pretty juvenile," Samson recalls. "I think that is something that was a huge drawback, and is still an institutional problem with music in every iteration, every genre."
"It was a little nerve wracking putting yourself out there as a young woman trying to play shows and do tours where sometimes me and my band mate were the only girls on the bill," recalls Jo Snyder. Snyder moved to Winnipeg in 1998, and quickly found herself at home in the local music scene, forming Sixty Stories shortly thereafter. "For sure, Winnipeg had a lot of female musicians, but it's just that there has never been a time, and that's still the case, where there's been any sort of [gender] parity in punk music."
One name that came up between nearly everyone interviewed for this piece with regard to women in the early scene was Lisa Smirl. Smirl was a regular fixture on the scene, involved in activism and contributing to zines. She also played in Banned from Atlantis before winning a Rhodes Scholarship to Oxford, completing a PhD in 2000. Sadly, Smirl passed away in 2013.
By the mid 90s, much of the innocence of scene's early years had disappeared. In 1996 Propagandhi released their sophomore LP, Less Talk, More Rock a more fully realized album, both politically and musically, complete with extensive nearly essay length tracts to accompany each set of lyrics. But the confrontational aspect of Prop's live shows had exhausted Samson, who quit the band shortly after the album was released to form the Weakerthans.
"It was difficult for me, at first," Samson said, looking back some nearly 20 years. (The Weakerthans, of course, would go on to become hugely popular, releasing two albums on the local G7 Welcoming Committee in the late 90s before making the jump to Epitaph for their breakout LP, Reconstruction Site in 2003.) "It certainly felt like there had been a hardening of expectations. People wanted something, and I wasn't giving it to them, and they were coming to see that. I have to say that Winnipeg was totally different in that regard. In Winnipeg, I felt like I fit right back into that coming-out-of-the-basement scene in a way."
I Spy had petered out around that same time. Kowalski, who was playing guitar in Mike Alexander's insanely confrontational Swallowing Shit at the time, took over the bass position in Propagandhi. At the same time, Hannah, Samolesky, and Derek Riel formed the explicitly "politics first" G7 Welcoming Committee Records. The label was based out of Winnipeg's anarchist Emma Goldman Autonomous Zone, just down the street from the Royal Albert. The A-Zone became a hub for radical politics in the city, also housing the vegan cooperative Mondragon Café, an early incarnation of Arbeiter Ring Publishing, among others.
The Bonaduces and Painted Thin were both enjoying the peak of their successes, regularly touring North America and Europe, "staying in squats in Germany," while the nascent Sixty Stories, who would enjoy similar success in the early years of the 2000s, along with a whole new wave of punk and hardcore bands (like High Five Drive, Figure Four, the Brat Attack, and many more) who came up going to see these bands were beginning to cut their teeth on the local scene.
However, while the scene seemed to be achieving a creative (and commercial) high watermark, this time also marked the beginning of the end of the once "unified" political punk scene.
"I remember a show where I personally saw the tipping point," recalls Ken Jaworski, a Brandon, MB, based promoter and drummer for dozens of punk bands over the years. In the early 90s, the Red Fisher haydays, even small communities like Brandon were able to grow burgeoning punk scenes, with a handful of exciting local bands that regularly had top bands in the genre making stops in town. "It came to a point where we had PC bands playing on Friday, and decidedly non-PC bands on Saturday. This was bad news for a music scene that was barely large enough to live in the first place."
Today, of those Winnipeg punk bands that formed in those pre- and early-internet days, when ideas were traded in hand folded, poorly photocopied zines and Maximum RockNRoll was still king, only Propagandhi is still going strong, currently touring (somewhat sporadically) in support of 2013's Failed States. The Mondragon Café is closed, and G7W Welcoming Committee Records has long since folded shop, acting today merely as an archival project. However, many of those involved in the scene remain active, in some manner. Arsonfest continues to annually provide a safe space for extreme music and progressive politics to throwdown. Arbeiter Ring continues to publish challenging tomes on colonialism, activism, and poetry.
"I think the essence of what was going on in the mid-90s here is a theme that runs through punk rock culture that rises to the top now and then," Carroll said, "it has waves. Political ideas, when loaded with punk rock, become that much more compelling and powerful. Put an awesome rock song underneath that and boom!"
"I think people were just trying to figure things out [back then]," Kowalski believes. "All these people had something to say. But I think it burnt a lot of people out. Back then, everybody thought they could make the world better. By now, everyone knows the world's going down the toilet."
Benefit shows continue to be organized, bands still form in basements and limp out into the world. New scenes emerge, evolve, mutate, and collapse. If you climb up onto a rooftop in the Exchange, and look north up Albert Street, you can almost see the high-water mark where that wave of idealism, youthful anger and naivete finally broke and rolled back into the gutters.
Sheldon Birnie won't stop until the world knows about Winnipeg's rock history - @bagbuybirnie