feelphotoart / Getty
Take a strand of spaghetti from a pot of boiling water and throw it at the fridge door. If it sticks, your spaghetti is cooked and ready to eat. Take an egg that's been sitting in your fridge for days—maybe weeks—and plop it into a glass of water. If it sinks, your egg is still fresh enough to use. For the next week, take a look under the duvet immediately after your alarm goes off. Do you find a turgid penis staring back at you more often than not? If so, says (now retired) New York City internist Michael Reitano, the person it's attached to probably doesn't have cardiovascular disease, diabetes, hypertension, hormone abnormalities or nervous system disorders. Furthermore, they probably aren't depressed, obese, sleep-deprived, stressed, smoking a lot, or partying too hard.
On the other hand, a penis that's still dozing when its owner is up and at 'em can indicate that something may not be quite right, Reitano says. This notion is backed up by research which shows a strong correlation between erectile dysfunction and a slew of unwelcome outcomes, including cardiovascular issues. Non-adhesive pasta—bad. Floating egg—bad. Most days beginning with a flaccid penis—a sign that something could demand investigation. Enter "Morning Glory": a morning erection logging app brought to us by men's health startup Roman.
Roman provides a platform where users can get an online diagnosis and—if deemed both necessary and safe to do so—a pharmaceutical solution for ED discreetly dispatched to them. Michael Reitano is the company's physician-in-residence and his son Zachariah is one of the company's three co-founders. Zach, who is now 26, started experiencing ED at just 17, which led his dad to speculate that it was an indication of a more serious underlying issue. It was. During a stress test that he underwent to get a handle on what was going on, Zach's heart stopped. Michael was on hand to help bring him back. His heart condition was identified and treated.
The lesson learned from the experience was the spark behind the idea of Roman. Steven Lamm, Medical Director at the NYU Center for Men's Health and member of Roman's advisory board frames the idea of the boner as a barometer like this: "If I could only ask one question to determine the state of a man's general health, I'd ask if he gets morning erections."
As of this week, you don't need to tell Lamm, or anyone else for that matter, about your dawn horn because there's an app for that. This morning the Morning Glory app asked me if I woke with an erection. I got to say "yes" and was treated to a full-screen gif of Shia LaBeouf applauding my daybreak tumescence. I was then taken to a screen that encouraged me to log an erection on two more consecutive mornings. According to Michael, three morning woods in a row is a pretty good streak and a sign that a lot of stuff in your body is working like it should. "Once you start to get to a point where you're identifying that are going three, four, or five days without an erection, it means that you are doing something consistently wrong," he says. "The earlier you figure out what those things are, the better."
---
More from Tonic: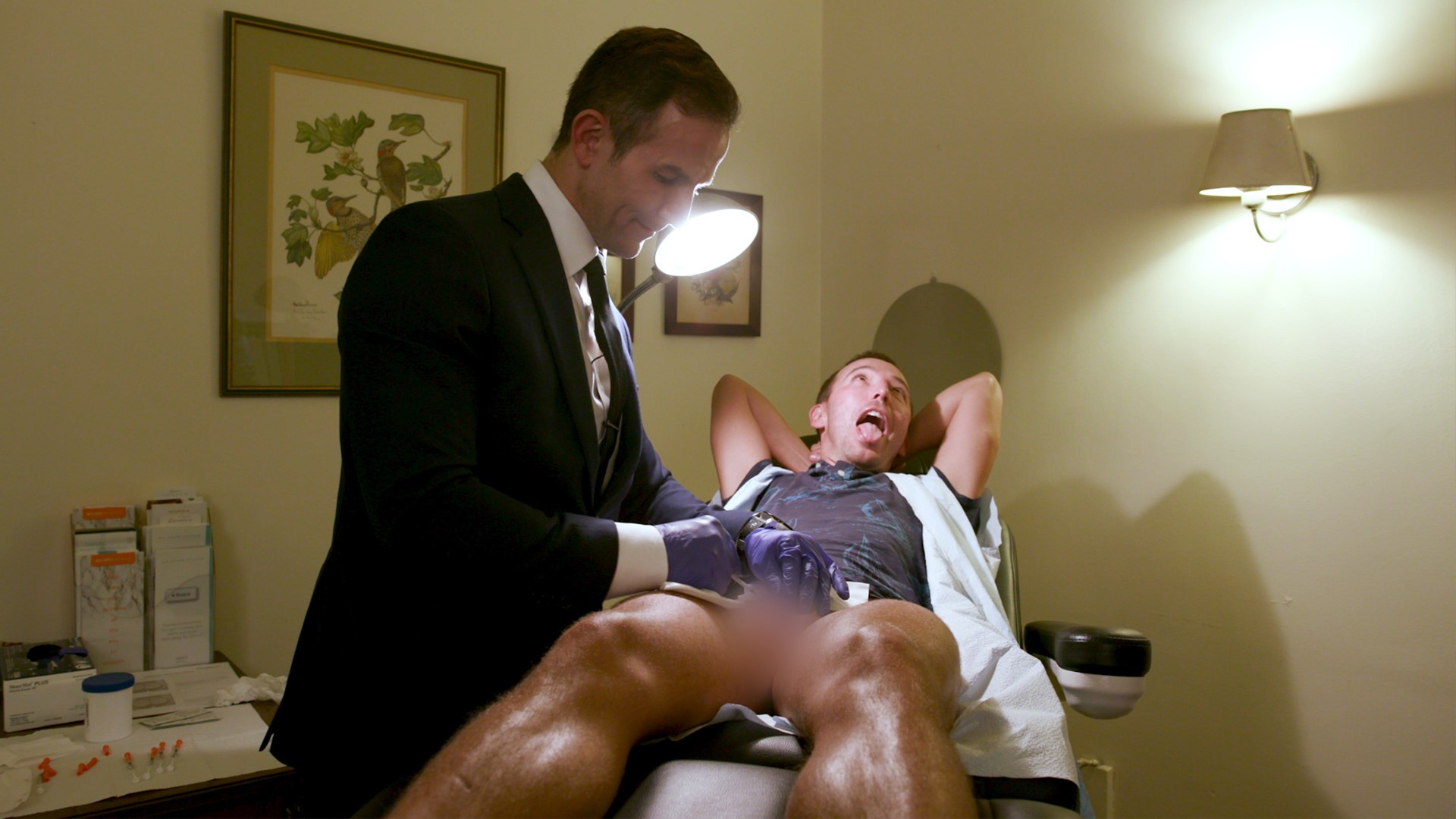 ---
"Morning wood" is usually the last of five nocturnal erections that take place over the course of a night and are related to REM sleep. "They usually happen every 60 to 90 minutes and last for around 25 possibly 30 minutes," says Michael, adding that women experience vaginal changes during REM sleep too. "A person can't observe the first four erections because they are asleep. The only one they can observe is the the fifth one."
Interestingly, there's no definitive answer as to why men get erections in the morning. Michael's take is that nocturnal boners are incredibly important biologically. "Why would your body devote so much energy to ensuring that, for a significant portion of the time you're asleep, you have an erection?" His best bet is that the penis is essentially exercising, though he's quick to concede that a doctor an anthropologist and psychologist would likely have differing opinions about why this happens.
As I mentioned, the app is fun and irreverent—which frankly is not the usual tone taken when talking to men about their erectile function. Ordinarily in commercials, footballs are earnestly thrown through tires on farms, attractive wrinkletons tenderly hold hands in bathtubs on hillsides because, evidently, that sort of thing plays well with the fifty-plus crowd. But the app and the young company behind it aren't especially focused on the people at midlife. Perhaps because it's becoming increasingly clear that the gap between the indignities of orthodonture and acne on the one hand, and an unreliable erection, on the other is shortening. In fact, they can often overlap.
According to a 2012 study from Switzerland, erectile dysfunction affects 30 percent of young men, while an Italian study published the following year found that of 439 men who presented with erectile dysfunction, 114 (26 percent) were under 40 (mean age 32) and nearly half of them had severe ED. Authors of both studies noted that young men are less likely to have other illnesses and more likely to have leaner body masses and higher testosterone levels than older guys and suggested that lifestyle choices were the root cause of their ED. We're talking about smoking, a poor diet, a lack of exercise, drug use, stress, alcohol consumption, even poor sleep hygiene. These are behaviors that, if addressed sooner rather than later, will restore a guy's erectile function and lessen the likelihood of him developing the chronic illnesses typically associated with ED later in life.
Michael goes on to explain that experiencing difficulties with achieving or maintaining erections as a young man increases the likelihood of anxiety when in sexual situations, compounding the problem and creating a vicious cycle that could perpetuate for years and negatively impact not just his relationships with partners, but all other areas of his life.
"That's the stuff people don't report on with regard to ED, especially among young guys," Michael says, dolefully. "That's why the team is focused on removing the hurdles that prevent guys from realizing that something perhaps isn't quite right, getting diagnosed safely, discretely, and acquiring the medication that can often be life changing."
Before I conclude my visit to Roman's office, Zach walks me beyond the set piece startup scene of a bunch of 20- and 30-somethings hunched over laptops at a communal table and into a dispensary. Here, doses of Viagra, Levitra, Cialis and a much less expensive generic sildenafil medication are being picked and sealed into sleek, Roman-branded pouches and readied to be sent out to its growing member base in discrete cardboard boxes.
Earlier Zach likened to a sluggish morning wood to a "check engine" light, leading me to wonder how sending out boner pills wasn't analogous to giving guys a piece of duct tape over the top of that call-to-action.
"We think of the medication like a knee brace," he says. "You wouldn't tell someone who can't walk or run that they shouldn't be able to get their hands on a knee brace. But it doesn't fix their knee, nor does it remove the reality that the knee brace is there. What it does do is give them a part of their life back." Zach adds that it's the same with medication for ED. It costs money, it requires being able to preempt when sexual activity is going to happen, and it's generally not ideal. "What it does do is give people an important part of their life. And we think that that's a much better place from which to address the underlying problem."
The following morning, I have to answer "no" when the app asks about my waking stiff. A gif of cartoon dog knocks over some wooden blocks and my quest to log three consecutive morning woods begins anew.
Read This Next: What Happens If I Use Viagra Recreationally?