Photo by Gabriele Stabile
"Everyone is always asking: I thought you can't fry in olive oil? But you can, you just have to make sure it doesn't get too hot, because once it goes past that point, it's not amazing but disgusting."
Servings: 2-4
Prep time: 15 minutes
Total time: 45 minutes
for the Two-Minute Tomato Sauce:
1 (28-ounce|794 gram) can San Marzano tomato purée
3 garlic cloves, thinly sliced
3 tablespoons olive oil
2-4 Calabrian chiles
a handful fresh basil
kosher salt and freshly ground black pepper, to taste
for the Chicken Parm:
6 large eggs, beaten
8 ounces|226 grams panko bread crumbs
extra virgin olive oil
2 large boneless chicken breasts
two-minute tomato sauce, warm or at room temperature
16 ounces|450 grams Polly-O whole milk mozzarella, thickly sliced
Make the tomato sauce: Get a can of San Marzano tomato purée. Fry up three cloves of garlic, sliced, in a pan with a bunch of tablespoons of hot olive oil: Fry em up real nice. Put a couple of Calabrian chiles in that oil, and fry those up. Throw a handful of fresh basil into the oil, let it wilt, then dump in the San Marzanos. Stir for two minutes over medium heat then let it sit. Add your salt, add your pepper, and it's ready to go. It's the best tomato sauce I ever had, and you don't have to cook it for hours.
Make the chicken parm: Put the eggs in one large baking dish and the panko in another.
Set a rack into a baking sheet and preheat your broiler.
Butterfly the chicken breast, open it up, and then pound it as thin as you can get it. This will take some time, and you should do it on a flat, large surface, as it'll get big. It will also become a crazy shape, like the entire country of Spain, but that's what you want.
Dip the chicken cutlets into the egg, then into the panko, punching them down hard so the panko kind of breaks a little, which will give you nice ridges for frying. Repeat, dipping the cutlet into the panko again, punching down hard and making sure the whole cutlet is covered with crumbs. Put them on a sheet pan and let them sit for 15 to 20 minutes to set up.
Fry the cutlets one at a time: Heat 1 inch (2.5 cm) of olive oil in your largest skillet over medium heat, but watch the oil to make sure it doesn't get too hot. Fry the cutlet on one side for 5 to 7 minutes or until the edges turn a dark golden brown–dark brown is OK, but you don't want to see black. As it cooks, use a spoon to baste the top with some of the sizzling olive oil. When the bottom has browned, carefully flip it over and brown the other side.
While the cutlet cooks, spread the bottom of a large ovenproof plate or baking sheet with a smear of the sauce. When the cutlet is done, place it on the sauce, then dollop on more sauce across the top, making sure plenty of the crispy edges of the cutlet are still exposed. Top the cutlet generously with slices of cheese, again making sure some of the crispy edges of the culet are still exposed. Repeat with the second cutlet.
When both cutlets are ready, broil them until the cheese is well-browned, bubbling, and even slightly charred in spots, at least 5 minutes.
Get recipes like this and more in the Munchies Recipes newsletter. Sign up here.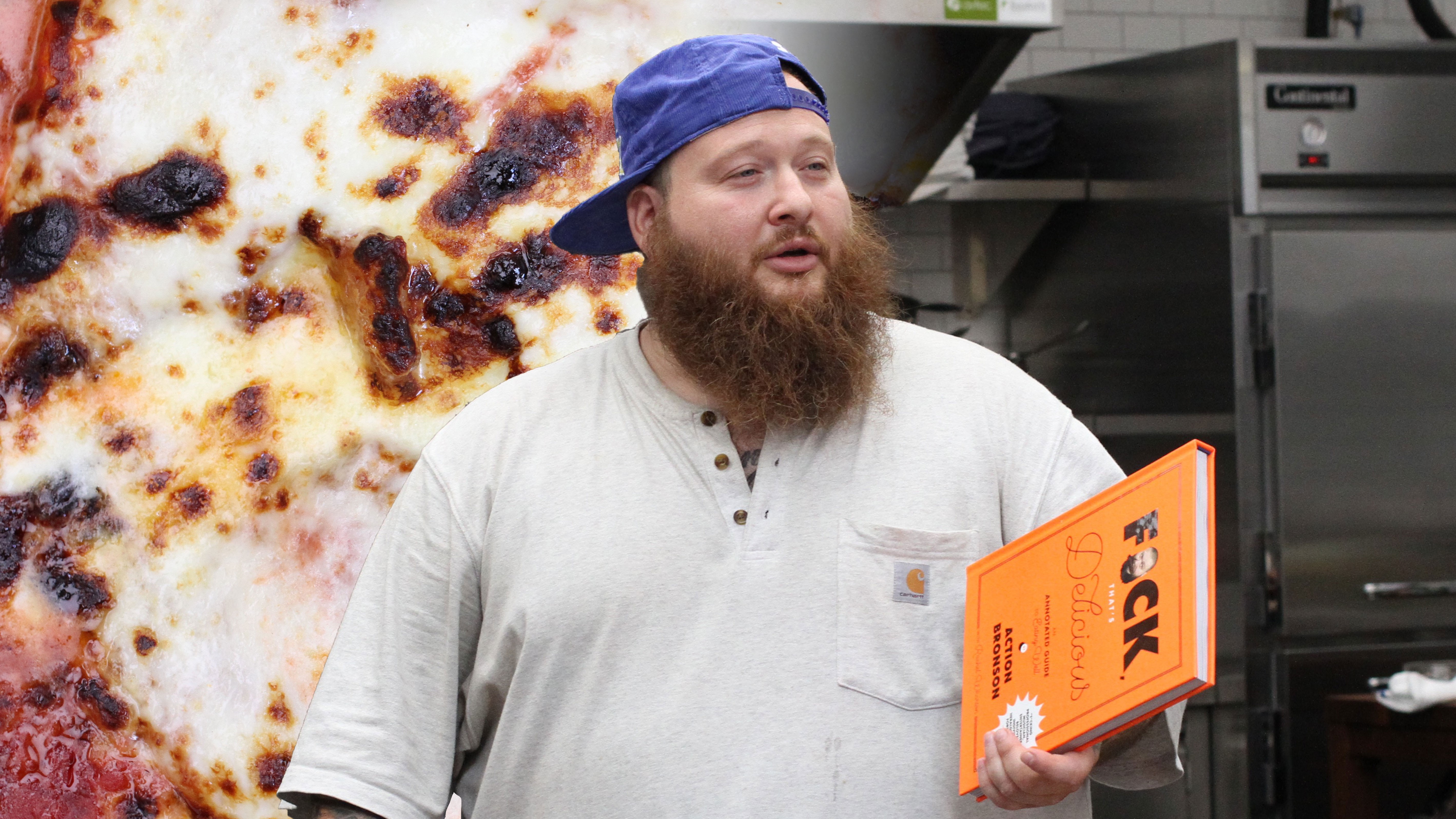 AUTHOR'S NOTE: This recipe was reprinted with permission of the author from the cookbook, F*ck, That's Delicious: An Annotated Guide to Eating Well.