This article originally appeared on Noisey UK.
Sophia Grace is 2015's first pop star. The ones to watch lists may tell you differently, but who could have predicted that one of the biggest smashes would arrive in the year's introductory week? "Best Friends" wipes any competition to the floor. The stats are telling: 5.5 million views in seven days, a Beats pill advertisement in the video, unbounded engagement on social media. It's evident Sophia Grace has slaughtered January—and she's only 11 years old.
In order to understand Sophia Grace's rise, you need to hear about her come up. Released last week, "Best Friends" is the first proper single from the Essex-born pop star whose initial foray into entertainment was an appearance on the Ellen DeGeneres Show, three years ago. Ellen had seen Sophia's rendition of Nicki Minaj's "Superbass" and, in tune with Ellen's commitment to showing brooding mothers things from the internet, Sophia was flown out to the States. What followed was this: a performance with Nicki Minaj; several more appearances on Ellen—in which she performed and hosted interviews on the Red Carpet with the likes of Katy Perry and John Legend; and talk of an appearance in the Johnny Depp-starring film Into the Woods (which was later canned, for reasons related to the obvious age gap between Sophia and her potential co-star). Then came "Girls Just Gotta Have Fun"—a viral smash released in May, 2013, which has since been seen over 61 million times.
"Best Friends," rightfully, slays. Naysayers will foolishly convince themselves the song is garbage, commercial pop music akin to Rebecca Black's "Friday," but that's taking the easy route of condescension. The track is (as my friend tells me) essentially Rich Gang's "Lifestyle" but for those who care about the Parental Advisory sticker: replayable, catchy, and with a hook that's designated to ride, consensual or not, in your head for weeks.
Some will be concerned about what's happening to Sophia Grace's childhood. That's not the problem here, though. For a start, the song's as innocent as anything you'll find in pop music. The track talks about being "best friends for life" and not wanting "boys around"—issues that are as important to tweens as they are to me. If anything, you can see her idol Nicki Minaj's empowerment ethos rubbing off on her, which is surely a positive for any young girl watching "Best Friends." Framing the song as a concern because of Sophia's age is only a symptom of the underlying problems in today's cultural landscape. As Aimee Cliff wrote in her excellent column for The Fader "it doesn't follow that young girls should be silenced because the context we've created for them sucks."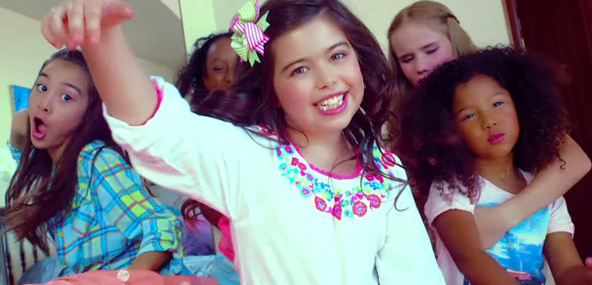 Instead, the only concerning thing about "Best Friends" is that a middle schooler has managed to put the entire British pop landscape to shame. This is not to dispute Sophia's talent—watch the videos of her performing Beyoncé, "Superbass," and the song from Frozen, and you'll see she's deserving of her fame—but other modern pop stars should be ashamed someone half their age has rendered their entire creative output obsolete with the release of one song (here's looking at you, Rita Ora).
Who do we have in British pop who comes close in terms of releasing a song that bangs as hard as "Best Friends"? There's FKA Twigs, of course, but she's not exactly a popstar in the commercially driven sense that Sophia Grace is. From there, it's a bit of a struggle. Cheryl Cole, Pixie Lott, Ella Henderson, Jessie J, Cher Lloyd, Foxes, Paloma fucking Faith—no one comes close in terms of producing such an irrefutably stone-cold ronking stonking knockout of a song. They should be embarrassed of themselves.
"Best Friends" is an incredible exercise in crafting a brilliant pop song. The DJ Mustard-esque production is on point, there's a mid-song breakdown that's reminiscent of PC Music, and it works in almost any situation: the car, the club, while brushing your teeth, and accidentally spilling Aquafresh on your new sweater.
I guess there will be those worried that "Best Friends" is horrific ploy by a marketing team or a devastating story that will only end in tears when Sophia reaches the age of 16. But look: Michael Jackson released his debut album when he was 13, and he kept going for the next 30 years and basically turned out fine, right? Besides, "Best Friends" certainly isn't "Rockin' Robin"—it's way way better.
YAAAAAAAAAAS SOPHIA!
Follow Ryan on Twitter.