This is the third installment of In the Belly of America, a new series in which Canadian Ivy Knight explores the United States through profiles of average (and not-so-average) Americans through their connections with food.
"I was trying really hard to not be gay, and by December of freshman year I was wildly suicidal."
We are in Samuel Themer's tiny apartment in Astoria. The living room window lets in the early morning sunlight, so he sets up his mirror and makeup here to get ready. Sundays are drag brunch at L&W Oyster House, whose mission is to bring Fire Island to Manhattan. Gilda Wabbit, Samuel's drag persona, is their main attraction.
Gilda is informed by Lucille Ball and the idealized women of the late 50s and early 60s, but her happy housewife demeanor is as much a façade as the Lee press-on nails she wears. For Samuel, she represents America.
"The Missouri Synod Lutherans are really conservative and anti-LGBT and anti-women's healthcare rights. I was raised in that church, then I came out in high school. And when I got to college I was really struggling with my faith versus my sexuality," Samuel tells me. "My parents were not sure what to do with me. So I started going to therapy and I spent almost two years studying the language of the Bible—Hebrew, Aramaic. I studied Greek. Then I wrote a dissertation as a sophomore about why it's OK to be gay and Christian."
Samuel is wearing only a pair of boxer briefs as he applies primer, then foundation. A huge bouquet of irises sits on the coffee table, a gift from his fiancé Calvin.
"Therapy really taught me so much—it essentially taught me how to handle myself. As a 24-year old living in New York City you have to be able to handle yourself. I know a lot of people who can't and they are falling apart."
Samuel studied opera and theatre before moving to New York to make it as an actor. As Gilda Wabbit, he channels the plucky gals who come to the big city to make it in showbiz: Nomi Malone in Showgirls, Violet Sanford in Coyote Ugly, Mariah's Billy Frank in Glitter, all wrapped up in an Ellen Green in Little Shop of Horrors aesthetic.
"I read as very queer on stage and people really didn't understand how to fit me into shows. I was tired of getting cast as background," he says.
So one day he decided to put on a dress and perform. Drag pal Brita Filter let him do a number in her show. Samuel chose the song "Getting Married Today"—a trio between a soprano, a tenor, "and a belter." It takes considerable range but he nailed all three parts.
"The audience freaked out and I was hooked from that day forward."
Starting out, his drag name was Beverly Leslie Sills—a mashup of the Will & Grace character and the famed opera singer—but within a year the name felt limiting. He'd been sitting on the Gilda handle for a while so he made the switch and everything gelled. "I wanted to expand what I could do in drag and the name change allowed me to do that—it set me apart from other girls. Now I pay my bills with drag."
Early on, Gilda contacted her local, the Albatross Bar, and offered to host a weekly variety show for free.
"It was really just a ruse to get people into the room and give me space to perform. If I cast a show with ten people, then they bring people and we fill up the room, and I also get to perform for them."
Gilda now has three weekly gigs; L&W Oyster House for Sunday brunch (where she's a fan of the French toast, the "Angry Crab Benedict," and the lobster rolls), Bawdy Bingo at the Albatross on Mondays and Wabbit Hole Wednesdays at Icon.
She's currently teaching herself how to sew, an asset when competing on RuPaul's Drag Race, which is part of her long-term plan. "I like to be funny and I like to sing but I also try really hard to have a message behind what I'm doing. Right now Drag Race is the largest platform that anyone can have."
Speaking of large platforms, her career got a boost when she was unexpectedly snapped on the subway in a photo that went viral this past spring.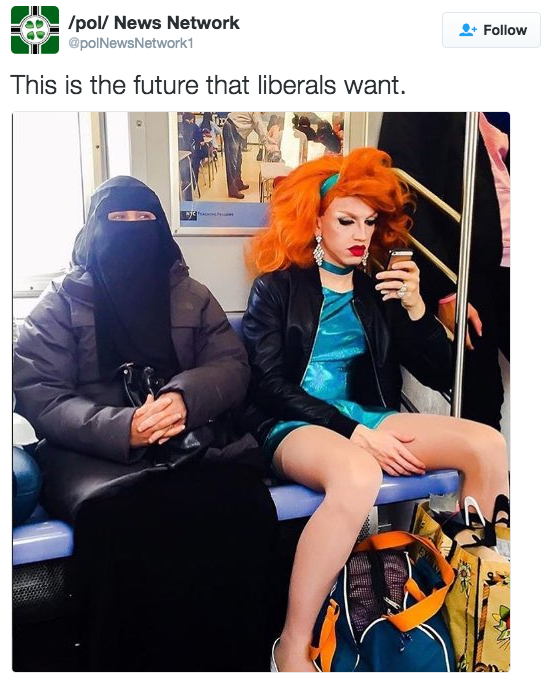 "The outfit I was wearing in the subway picture, that was the very first outfit that I sewed all by myself," she says with pride of the photo by Boubah Barry.
"Barry is an immigrant, and diversity and the idea of people being able to live their own lives as they are, especially in our current political regime, was really important to him."
The photo, which shows Gilda sitting beside a Muslim woman in a niqab quickly went viral after a conservative twitter account (@polNewsNetwork1 – since closed) posted it, writing derisively, "This is the future that liberals want."
"But instead of that sentiment carrying forward as a negative, people were like, 'fuck yeah, that is the future that I want' and started making memes about it. Then Buzzfeed picked it up and everything went crazy."
The photo ignited Gilda's political consciousness, and now she talks about diversity and the importance of resisting the idea that certain people don't belong together. "I think it's important that drag becomes political again. Especially right now with what's happening in America."
She is well aware of the sexism in the gay male community toward women, and against drag queens.
"The prejudice against drag queens in the gay community is deeply rooted in misogyny and sexism," she tells me as she powders her face with Ben Nine Pretty Pink. "There's an internalized homophobia that we are raised with. I work very hard to make a space that is comfortable for female-identifying people, because not every space is safe for them."
Sexist terms like using the word "fish" to describe a queen who looks especially feminine, don't sit well with her either. "I don't use it unless a queen is dressed as a mermaid. Then I'm like, 'Oh, you're serving fish because you're actually serving aquatic realness.' Because otherwise it's a term that's just insulting to women."
Her political message is all about being inclusive, welcoming and empathetic and she believes that the years she spent in therapy are one of her greatest assets, especially for Drag Race. "You need your head in the right fucking space. Therapy helped me find a really good balance, so if I went on TV I could handle the pressure of it. They would rather you fall apart, because that makes good TV. To succeed and make it far, you need to be able to handle yourself."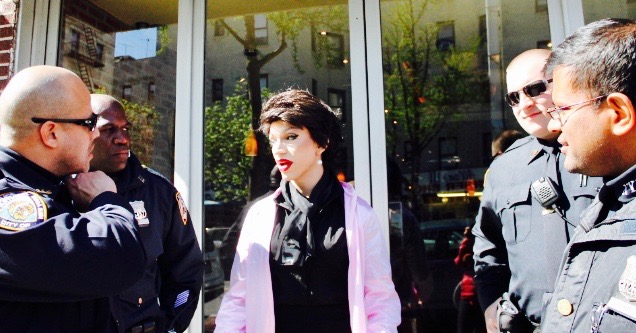 Her act is a blend of lip synch, opera, and sexy banter that avoids the insult humor that often dominates the drag scene.
"I try to be entertaining, and then when I've got you in the palm of my hand I hit you with it. But I also work brunch so I have to be a little clever with my innuendo."
At a recent brunch she was performing a parody about double penetration and then switched over to the tearjerker "Baby Mine" from Dumbo when a two-year-old in the crowd started crying.
In her off time, she's working on her Snatch Game impersonations for Ru: Julie Andrews, Liza Minelli, Kristen Chenoweth, and Liz Taylor.
Outside of his life as Gilda, Samuel is inseparable from his partner Calvin. Both Kentucky natives, they met in college and moved in together right away. They're planning their wedding back home in Kentucky for this fall, and Samuel will take Calvin's last name: "Samuel Penn sounds so American to me," he says. "I'm so into that."
I ask if Gilda's housewife persona bleeds into reality insofar as "cooking for her man" is concerned.
"Have you ever heard of shit on a shingle? It's like refried beans or chili from a can on toast. It's really delicious. I make it all the time."
Aside from that, she eats out a lot in Astoria, or Calvin does the cooking.
We head to Tasty's Diner, just up the street, for The Lumberjack Breakfast—eggs, pancakes, bacon, sausage and toast. On the way she fills me in on the best food in the neighborhood, from her Greek neighbor who runs the Souvlaki Lady food cart to the mozzarella sticks at Tasty's.
"I love kitschy American food, like burgers and fries and putting chicken fingers in a wrap with ranch dressing on it. America is my problematic faith. I love American culture, I love America the country. It's just so fucked up. People would rather believe that America looks like the image I project as Gilda Wabbit—that everyone's happy and very Leave It to Beaver. And it's not."
It's a sunny day in Astoria as we walk along, and Gilda is serving some Rizzo realness. She's humming "There Are Worse Things I Could Do" in her pink satin bomber jacket—today's brunch show is all about Grease. She stops to chat and take some pictures with a gaggle of cops making their way out of the diner. Once inside and seated she realizes she's forgotten to apply her fake eyelashes, so she whips out the glue and puts them on right there at the table, in between sharing jokes with the waitress.
She's the friendly neighborhood drag queen just out for a hot breakfast before heading into Manhattan for work. It fits the narrative of the ingénue with stars in her eyes making her way in the big city.
Look out world—here comes Gilda Wabbit.