Long Beach rapper O.T. Genasis has become an overnight rap star and meme with his cocaine-fueled anthem "Coco," which features him harnessing the vocal cadence of an award-winning Nigerian-folk musician over a monstrous trap beat. Though he seemingly came out of nowhere with his infectious drug ballad, Genasis has been active in the industry for years. He caught his first break with the track, "Jackie Chan," which helped him net the attention of 50 Cent. Soon after, 50 signed him to G-Unit records while helping push his debut 2012 mixtape, Black Belt. However, it wasn't meant to be, and Genasis was released from his contract with the label. Not to be deterred, he returned after a brief hiatus and landed another club hit in the form of "Touchdown." As luck would have it, Busta Rhymes walked in during one of Genasis's performances and was attracted to the energy he brought out from the crowd. After a few meetings, Genasis signed to Busta's label, Conglomerate Records, and dropped a series of well-received freestyles over songs like "No Flex Zone" and "Loyal." Drawing upon a wealth of influences, from the catchy hooks and basslines of Atlanta to the poignant autobiographical lyricism predecessors documenting life on the West Coast, Genasis takes pride on not having a region-based sound. "I'm from the West Coast, but you can hear in my songs that they don't really sound like they're from there," he told me. "I like to put myself in the position where I'm like I can give the [listener] everything and make a record that sounds like it could be from anywhere."
Now, with co-signs from Lil' Wayne and The Game, a spot on the 2014 BET Hip-Hop Awards Rap Cypher, and the one of the best songs about selling cocaine since Stiches' "Brick in Yo Face," Genasis is doing well. We chatted with him to talk about gearing up for his new mixtape, Alarm, taking the fade in high school, and somehow getting into Leonardo Dicaprio's birthday party.
Noisey: You've gotten some serious heat with "Coco" how are you making sure that song and you as an artist don't get swept under the rug?
O.T. Genasis: Yeah, well you know with "Coco" that shit is crazy, but I have a strategic plan pieced together that I can't really give out to you, but just know I'm just working my ass off. The great thing about "Coco" is that for anybody who hears it, it just sticks. Everybody automatically just fucks with it, so me promoting it and doing all that I can for it is going to be a plus.
You're still a relatively new artist, so how the hell did you get into Leonardo DiCaprio's birthday party?
That was in New York and Busta got me into that. I don't even know what the connections were to get into that party, but that was probably one of the craziest parties I've ever been to in my life. Kanye was performing, Swizz Beatz was DJing, and Kim was there. At one point, all the bottle girls came out with 500 bottles, just giving them to people—I'm talking like Ace of Spades. There was a guy from Texas who spent $300,000 on bottles. He was getting big $30,000 bottles. There was another guy who gave Leonardo like $250,000 in a check envelope, and then there was this dude from Malaysia who dropped a million dollars on alcohol. Being around wealthy people like that it's like this is some whole different shit. This is some big boy shit. There were people trying to sell like two bottles of wine from the 1940s, and it was $150,000 for each bottle.
You once tweeted, "In high school I got my first real fade for a bitch." Please explain?
Okay so basically in the area I stayed by there was this park where one of my homie's cousins, this pretty little thing, use to come around and chill with us. So, everybody was chillin' at McDonalds early in the morning because we used to kick it there before going to school and the night before. Her dad got killed in an alley, so she was there crying. After a while she started calming down and dude tried to talk to her, and she was like, "Can you not talk to me right now?" And he took some type of offense to it thinking she was being disrespectful so he called her a bitch. I was there the whole time, and that's my homie's cousin, so automatically I wasn't going to stand for that. Anyway we're about to fight. Then the school police came, so we had to leave. Then when I got to school I was hearing non-stop that some dude said he's going to beat my ass after school. Mind you this was early in the morning, so by the afternoon I forgot about it.
Anyway, we got let out of school early, so me and my homies walked to McDonalds, and there were like 30 dudes waiting for us with these R.I.P. shirts on because one of their people died. So, I'm like, "who the hell are all these people?" and then this big ass dude comes up and says, "you trying to catch my homie's fade?" And I'm confused, and then I see little homie from earlier in his tank top, and I'm like 'all right, whatever let's do it.' So we go across the street, he talks his shit, and everybody came to see it with cameras and all that shit. We get to it, and I beat the dog shit out of him. Anyway, I knew one of his people were feeling some type of way that I beat his ass, so I tried to smooth the situation out. I walk up to dude, and I'm like 'good shit' and he was like, to me, 'Shit, you're still going to catch the fade though.' And, yeah, I got jumped.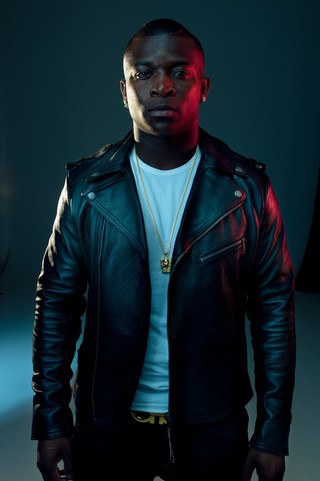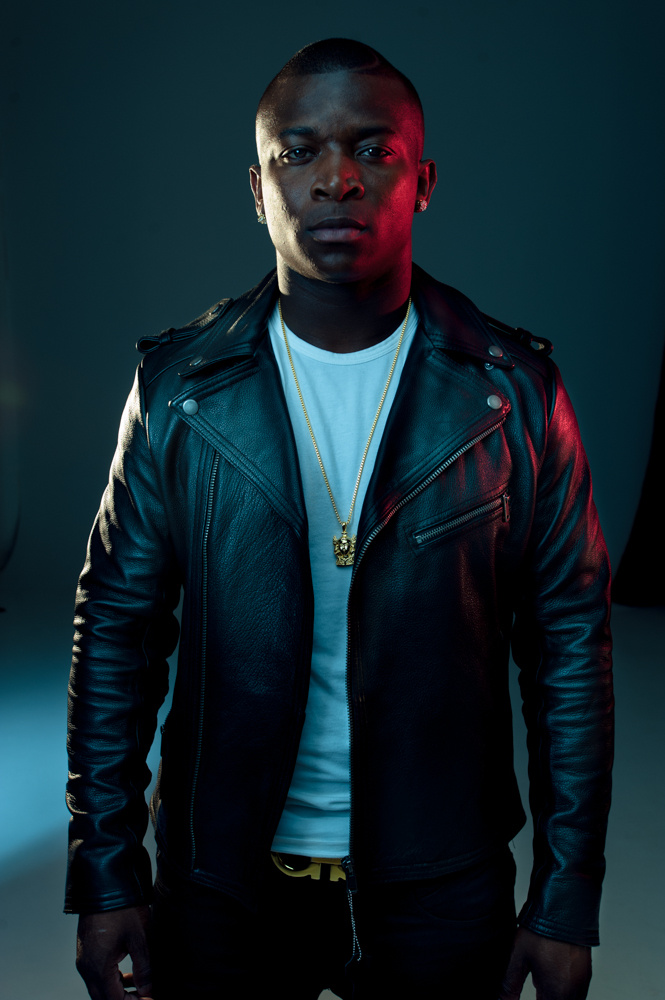 When it comes to living in LA you said that you felt someway somehow you will always be gang affiliated. Is that how it works for you?
That's exactly how it works for me. This is the West Coast, so you got a hood that's on every corner. Within every couple streets you're in a different hood, that's just how it goes down. So, it's either your family, friends, or your friend's friends are gang members, so you'll always be affiliated. Unless you're on some cool square shit like "I'm going to school and I'm keeping to myself" type shit, maybe not, but otherwise you'll always be affiliated in some way.
So you weren't in a gang, but you had your ties to one?
Exactly. I knew a lot of members from family to dudes I used to hang with, but I think being neutral just made it easier for people to accept me. There's always going to be people who don't fuck with you because you're affiliated with this person or you're from here, and that creates problems. That's why you don't see a lot of people from the West Coast throwing their own concerts because shows will get shot up because people who may have issues with you or somebody who might have killed one of their boys will know that's the right place to catch you. Again that's why I keep it neutral and I fuck with anybody. Everybody looks at me like a little brother in a sense. If I was to walk into the club right now and something was to pop off and I'm there by myself, best believe if anything was to happen there would be about 20 to 30 motherfuckers in that club ready to go for me. Because it's like '[Genasis] ain't in this life, but we are.'
In the BET Cypher you said, "My momma said I ain't got it all/ To tell the truth I believe her… 13 tucked the water gun in my drawers / Shot at the police because I thought I was in the movie, Set It Off." Can you talk about that verse?
That's just me pointing out that me and my mother are two very different people. You would think that my mom is probably a little street or hood, but my mom is like Mother Teresa. She has her master's [degree] and all her shit together. And you know she's the one who's always wanted me to go to college and got me out of jail, getting me through probation and just a whole lot of shit. But she would always think I was crazy. So when I say those lines that's basically [how our conversations would go] because I was always doing some crazy shit and because we are so different we didn't see eye to eye a lot.
You're up front about your love for her mother but just as quickly point out that you have to watch out for bitches trying to check you for your money. What is your relationship to women?
Yeah that's funny because I was just talking with someone about that. It's just like, you always want your woman to be like your mother in some way, so when I sit there and think about what my mom went through—coming from Belize and landing here with nothing, going to school while being pregnant with me, still getting her education—and just how ambitious she was. And now you look and you see bitches out there, and they only want you for your money because that's just how it is nowadays. And not to talk down on reality television, but it doesn't help when you see shows like Basketball Wives and shit like that, and some women watch it and think that's how it's supposed to come up in life. They even have shows about ex-wives who are pretty much building their own careers off their ex-husbands, and it's like, none of them are driven to do their own thing. It's like there are no more women, just a lot of bitches and hoes. So that's where my thoughts on that come from.
Is that why you also mentioned that, "At the end of da day niggas will hate, family will change, bitches will come and your significant other won't understand your life...but my son is all I have"?
Yeah because in general when you're on and [successful] everybody will rock with you, and when you start to fall off they stop messing with you. At the end of the day I have another me to look out for, and that's my son, and l have to stick to the program. I know he's going to love me no matter what.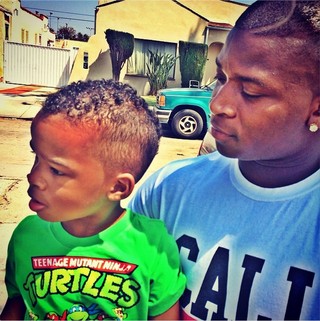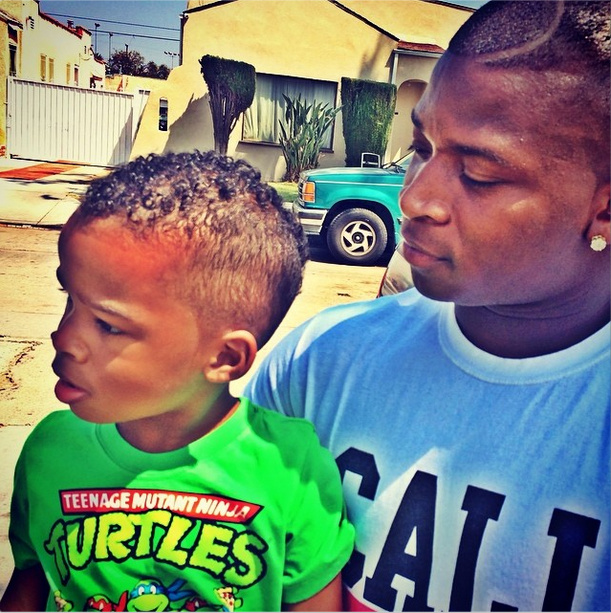 How do you balance being a rapper and being a good father to your son?
Man, my son gives me all the adrenaline I need, and I feed off of him. The other day we went to Chuck E. Cheese and just hanging out and then it's like after I do that I can go home and start [working on] records because I always know who I'm doing this for. It's not just me. It's me and another me.
I know you were supposed to drop a mixtape called, Alarm. Are you still planning to do that or drop any projects for the rest of this year?
Yeah I definitely want to drop Alarm. It's pretty much done, it's just that I can't stop recording. Every time I do, I end up with another song, and it's just another one in the back burner. It's funny because I have people telling me I have to dumb it down to 13 or 14 songs, and I'm like if there are a lot of songs that I love why can't I give it all away and put it on the project?
How does it feel with people like Lil Wayne and The Game giving you co-signs and singing your songs in the club?
It's humbling man, and it's a great experience. When I had that record, I knew what it was, but then when you see the reaction it's some whole different shit. But I appreciate all the love I'm getting, man.