When you think of iconic Brit Awards performances, you probably remember Jarvis Cocker hopping about and bending over to show his bum while invading Michael Jackson's stage in 1996; of Kanye bringing out Skepta, Novelist and about a million grime stars in 2015; of Geri Halliwell's inflatable crotch. Or, at least I do. For those unfamiliar, in 2000, Geri – then freshly split from the Spice Girls – stormed back into public consciousness by entering the stage from in between a giant inflatable stage set of her own legs, complete with a Union Jack "dress".
The Brits have picked up a reputation for offering up average performances from whichever new act the UK industry is relentlessly pushing that year. Until this year's Woke Edition, the nominations had ignored the surging wave in black music overall, with Kanye's 2015 set being the most viable way to sneak in the likes of Novelist, Skepta, Krept & Konan, Jammer and Stormzy. But back in 2000, Geri went in big, and ahead of this year's Brits ceremony on Wednesday evening I decided to track down Robin Harries, the man behind that performance.
He's what's known in the business as a "professional inflatable sculptor". That means that he makes gigantic inflatable props for stadium shows, and pretty much single-handedly created an industry for himself here in the UK after travelling to the US as a younger man and seeing people doing "interesting things with polythene". Fair play. After 30 years in the business, he hasn't just given Geri's crotch the inflatable treatment but has been responsible for stage sets for George Michael, Lady Gaga, and others, built around gigantic inflatable tits, dogs and politicians. Seventeen years since his Geri legs piece, he talks to us from his Suffolk studio about that undeniably British moment – remember Cool Britannia? – challenging mainstream attitudes and a massive "George W Bush" getting a blowjob on stage.
Hi Robin, could you tell me what about inflatables spoke to you?
Robin Harries: The fact that they're very tactile things. They're very soft and you can feel that – Lady Diana touched one once. She was one of the dignitaries at some sort of London event we were at, and as she was walking past she had to give it a squeeze. I got into it by going to art school in the late 60s. Then I left and went to America, where I met some people who were blowing up inflatables more seriously. They were using soft polythene tubing that stretched across lakes and I thought it was fascinating. When I came back to the UK, I worked for a community arts organisation in Liverpool that wanted to make them for children to jump up and down on – and I was like, "Oh I've done a bit of that," so I got the job and started making play structures.
Your inflatables aren't so child-friendly these days…
Well, no they're not really designed to be climbed on anymore! This is much more fun because you get to work with rock bands and stuff.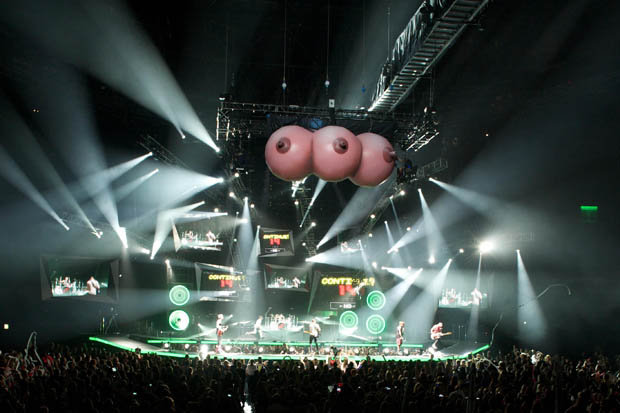 What is the process of making these?
You start with a model – so with Geri, she posed for her legs, and we made a polystyrene model from that which was a tenth of the scale of the real thing. So generally, the process is to wrap the model up in Sellotape, which creates a very thin skin all over it. Then we cut off the Sellotape, plan out the pattern pieces, draw it up and put the polythene pieces together. It takes about six weeks, on average. It can be quite complicated but with the Geri legs, it was fairly straightforward – 'a large pair of legs please!'
Geri was already a Brits icon after her Union Jack dress from a Spice Girls performance in 1997. How did you top it? What happened?
Her production team approached us. They had an idea of this and did a little sketch, and they were looking for something really outrageous and it worked. It was in every national newspaper the next day – it was amazing. I never knew her response though.
Did the seemingly challenging British conversation around women, "girl power" and feminism at that time make it easier for you to be able to transmit a massive crotch at on mainstream TV?
Yes possibly, I'm not sure if we could have done that on television ten years before that. Although the Brits staging it wasn't crude at all, it was more show-girly. But it was out to shock, and it worked a treat. All the pre-show publicity was crazy; journalists were calling me up like crazy trying to get the scoop because they'd heard she was doing something outrageous. It was a real moment.
Didn't you recently create the illusion of Lady Gaga giving birth to her dancers in her stage show?
Yes, she wanted to appear out of a pregnant woman costume. We made a massive ball out of which the top half of her torso popped, with a little air seal around her waist. She was there singing and dancing with a pair of massive legs sticking out of this massive orb, and then about a dozen dancers tumbled out from the zip in between her legs. She was standing inside this inflatable in a box, about 15 feet off the floor and all the dancers just came out.
Is there a psychological element to catering to female artists wanting to recreate birth via your work?
I suppose there is. When you think of the being born image, it's not ground that has been trodden too often – although it is with Beyoncé at the moment.
What are some of your favourite commissions?
We did a good one for George Michael for his tour. It was a cartoon effigy, about 30 feet tall, of George W Bush – with a British bulldog giving him a blow job. George loved it. He thought it was bloody brilliant. He really hated George Bush and Tony Blair and them going to war together, so he was mucking around on stage. He was pulling away at the lead that we put around the dog's collar – a big inflatable British bulldog with a big Union Jack flag on his back – and he hammed it up on stage for ages.
How big is the market for this kind of thing?
Inflatables are really just a construction method if you want to make a big structure. There's a huge market for it now, but there was nobody when I was starting out over here in the 70s. Now, there's a massive inflatable making industry in India and China – India has the biggest in the world. But the opportunities are endless really so they've just grown and grown.
What do you do with Geri's legs them after?
I think we've still got them in the studio!
So what are you working on right now?
I'm currently modelling a wax figure of a female nude, that's about 23 inches tall.
I know you're retiring soon. Before you do, what would be your fantasy job?
I don't know… probably being commissioned by the Labour Party to make an image of Nigel Farage or something.
You can find Kieran on Twitter.
(All images courtesy of Robin Harries)